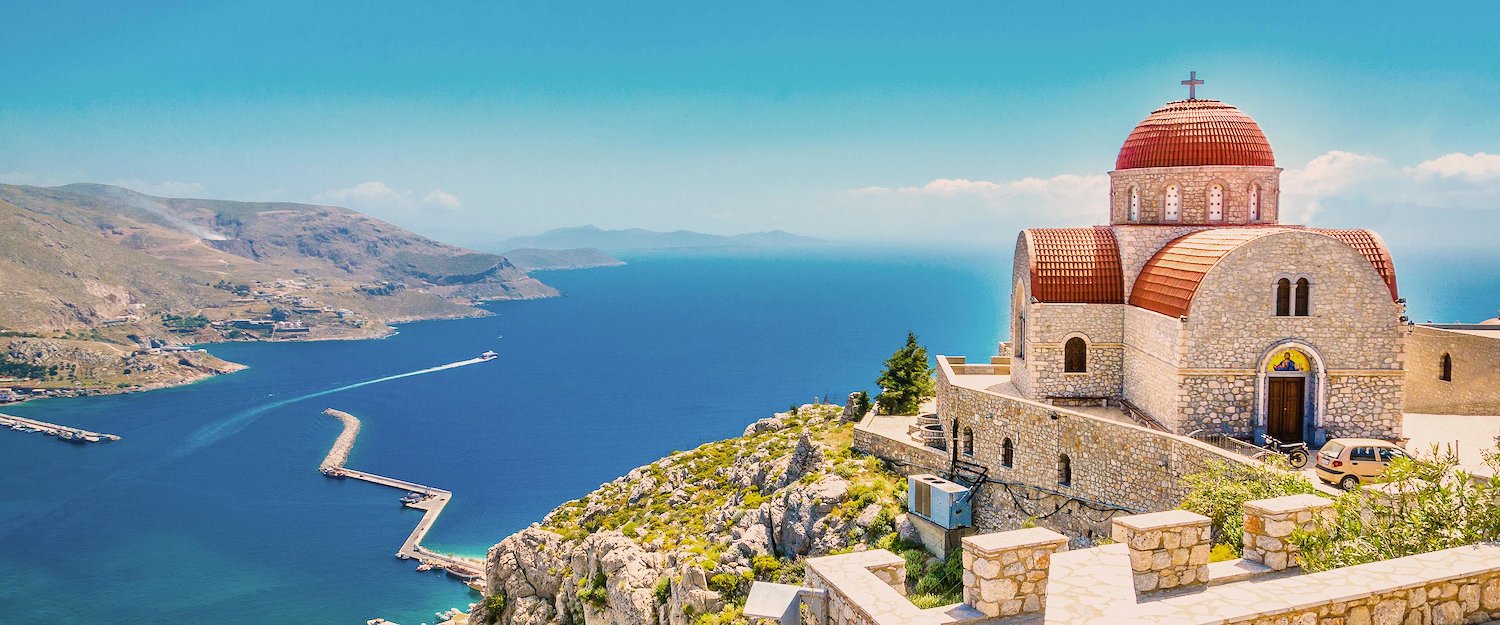 Other property types in Greek Islands that might be interesting:
Prices and availability
Current Vacation rental prices Greek Islands
$239 annual average
Apr
May
Jun
Jul
Aug
Sep
Oct
Nov
Dec
Jan
Feb
Mar
Average price per week
Current vacation rental availability Greek Islands
48% annual average
Apr
May
Jun
Jul
Aug
Sep
Oct
Nov
Dec
Jan
Feb
Mar
Percentage of available rentals
Vacation rentals on the Greek Islands
Explore thousands of islands of a rare beauty
From the whitewashed houses, blue-domed churches, turquoise Aegean Sea and delicious gyros, the Greek islands are without doubt one of the world's most spectacular vacation destinations. Find a vacation rental on one of the large islands such as Crete or Rhodes, which have weeks' worth of places to explore in their own right. Or go island hopping and find fabulous rentals for a day or two on each. Visit the popular islands of Santorini and Ios for food and fun, or head off the beaten track to the likes of the gorgeous Serifos and Leros, with their remarkable nature and traditional way of life perfectly preserved.
Traditional Greek vacation rentals overlooking the sparkling Aegean Sea.
The typical architecture of the Greek Islands has become famous around the world. Find vacation rentals in sugar houses with flowered gardens and gleaming white walls, housed in a labyrinth of paved paths that create a whimsical fairyland for you to explore. There is nowhere else in the world where you will be able to find vacation rentals like those on the Greek islands!
Vacations on the Greek Islands
The area and getting around
Find an island that is just right for you
An island-hopping vacation offers you the best chance to take in as many fabulous Greek Islands as your time allows. Most flights lead to Athens, from where you can easily catch a boat to the island group of your choice. The Cyclades in the north are home to some of the most popular islands, including Mykonos, the most glamorous of the Greek Islands, and Santorini with its iconic cliff-side sunsets and black-sand volcanic beaches.
A lifetime of islands to discover
In the Dodecanese islands to the south you will experience the historical influences of the plethora of cultures that have passed through. Its highlight is Patmos, where life is in tune with the monastery bells where St John experienced his Revelations. The Ioanians to the west are slightly cooler than the rest and boast abundantly forested mountains and countless olive and cypress trees. The group includes the romantic island of Kythira with its unspoiled wilderness and countless hiking trails.
Travelers and activities
The Greek Islands for partygoers
The party scene on the Greek Islands is centred around Mykonos, which is famous worldwide for its enormous all-night clubs. Clubbers simply cannot miss the mega open-air club of Cavo Paradiso, where thousands of people dance to the beats of international DJs under the Greek stars. Make sure to book a table in advance! For a club/lounge bar hybrid, check out Atsra, known for its eclectic crowd, unique atmosphere and character. The vibe is more casual in the early evenings, but at dusk it becomes a hip joint where you can rub shoulders with people from all walks of life.
The Greek Islands for beach lovers
With literally thousands of beaches to choose from on the Greek Islands, is there one that could be called the very best? Yes, there is! And it is Crete's Elafonissi Beach, named one of the world's top 25 beaches on TripAdvisor! Elafonisi is actually an island separated from the coast of Crete by a shallow, warm lagoon and a sandbar. It boasts brilliant white sand with pink hues and turquoise lagoon-like waters that ripple as they pick up the breeze. It is a widely exotic place, a natural reserve and a shelter for rare loggerhead sea turtles!
There are an incredible 5,000 islands in Greece!
Top 5 travel tips in the Greek Islands
1. Visit the powdery white beaches of Naxos
Naxos is a mix of winding alleyways and gorgeous waterfront scenes with a vast countryside filled with mountain villages, unspoiled beaches and heritage sites.
2. Explore a butterfly-shaped island
Butterfly-shaped Astypalaia's hilltops are covered with historic whitewashed villages and it boasts one of the most picturesque towns in the Aegean, named Chora, with a castle and blue domed church towering over the town.
3. Experience the color of Smyi
Instead of the whitewashed villages so prevalent on the Greek Islands, Symi's capital town of Ano Symi comes replete with neoclassical colorful buildings that descend the hill slopes to the water's edge.
4. Hike the longest gorge in Europe
Located on the largest Greek island of Crete, there is an undeniable raw beauty to this 16 kilometre canyon, with its soaring cliffs and needlenose passageways, and it makes for one of Europe's most spectacular hikes.
5. Visit the set of Mamma Mia
Situated on the island of Skopelos, you can climb the same steps up to the church where the wedding was held in this much loved film. Worked up an appetite? Nearby there are some fantastic tavernas serving fresh seafood and traditional offerings like moussaka and souvlaki!
FAQs: Vacation Rentals in Greek Islands
On average, what was the cost for vacation rentals in the Greek Islands last year?
Last year, rentals in The Greek Islands had an annual average price of around $234 per night.
When are vacation rentals cheaper in the Greek Islands?
Travelers who want to save as much as possible travel to the Greek Islands in December, November, or March, which are the months that offer the most discount, with average prices of $204, $204, and $209 per night, respectively, based on the previous year.
When are vacation rentals more expensive in the Greek Islands?
When it comes to looking for a vacation rental in the Greek Islands, the most expensive months are, in order of highest to lowest, August, July and September, with average prices per night of $307, $296, and $254, respectively.
Is the Greek Islands a good location for a last-minute getaway?
If you decide to put the Greek Islands on your bucket list, we suggest planning your visit ahead of time because it tends to be very high in demand, with an annual average of 57% of rentals booked the previous year.
What are the best months for a last-minute getaway?
The months that offer the most accommodation options are, on average, May (with an availability of 63%), June (58%), and April (57%), according to the trends observed in the prior year.
When are there fewer vacation rental options available in the Greek Islands?
According to data from last year, the months when it is most difficult to find accommodation in the Greek Islands are, in order, August (with 26% of available rentals), January (31%), and December (32%).
How many rentals are there in the Greek Islands?
Holidu works with 72 different partners to give you a choice between 49,000 properties we have in the Greek Islands.
Vacation destinations in Greek Islands
Vacation destinations nearby
Holidu compares hundreds of websites to find your perfect holiday rental for the best price.