Vacation Rentals in Portugal
Start comparing over 23677 rentals in Portugal and book at the best price!
Best vacation rental deals in Portugal
Vacation rentals with free cancellation
Vacation Rentals in Portugal
Pet-friendly Vacation Rentals
Vacation Rentals with Pool
Vacation Rentals with Internet
Find Vacation Rentals in Portugal
Highlights Portugal
Worth a trip all year round
Ideal for water sports enthusiasts and active holidaymakers
Excellent cuisine
Paradise for culture lovers
Other property types in Portugal that might be interesting:
Prices and availability
Prices
November
December
January
February
March
April
Oct 23 - Oct 30
$166 per night
Oct 30 - Nov 06
$163 per night
Nov 06 - Nov 13
$158 per night
Nov 13 - Nov 20
$155 per night
Nov 20 - Nov 27
$155 per night
Nov 27 - Dec 04
$156 per night
Dec 04 - Dec 11
$156 per night
Dec 11 - Dec 18
$159 per night
Dec 18 - Dec 25
$167 per night
Dec 25 - Jan 01
$179 per night
Jan 01 - Jan 08
$188 per night
Jan 08 - Jan 15
$176 per night
Jan 15 - Jan 22
$161 per night
Jan 22 - Jan 29
$162 per night
Jan 29 - Feb 05
$162 per night
Feb 05 - Feb 12
$160 per night
Feb 12 - Feb 19
$163 per night
Feb 19 - Feb 26
$168 per night
Feb 26 - Mar 05
$169 per night
Mar 05 - Mar 12
$168 per night
Mar 12 - Mar 19
$171 per night
Mar 19 - Mar 26
$175 per night
Mar 26 - Apr 02
$178 per night
Apr 02 - Apr 09
$184 per night
Average price per week
Availabilities
November
December
January
February
March
April
Percentage of available rentals
Vacation rentals in Portugal
Holidays in Portugal's metropolises
Apartments in the large cities of Lisbon, Porto, Braga, Faro, Setubal and Coimbra exude a special charm. This is due to the unique location of the modernly furnished accommodations, which are usually within walking distance of the numerous historical buildings and sights. The range of holiday apartments is particularly large in the state capital of Lisbon, which has direct access to the sea in addition to its old town.
A vacation rental on the coast
Those who want to spend their holidays at the sea will find countless comfortable accommodations at Portugal's coasts. The offer ranges from holiday apartments in the picturesque Algarve to spectacularly situated fincas on the steep cliffs of the Atlantic Ocean in the Regiao Centro. A holiday apartment on the "island of eternal spring" Madeira or on the Azores, which also belong to Portugal, promises you bathing fun and peace at the same time.
Peace and relaxation in the hinterland
The holiday in the hinterland of the Algarve and central Portugal is much quieter but no less interesting. You will live in a generously equipped finca in the region of Alentejo, where you will be accommodated among orange groves, olive trees and cork oaks in cosy places like Evora, Elvas, Marvao or Moura. Alternatively you can rent a vacation rental with pool and large garden on the outskirts of Portoalegre.
Holiday in Portugal
Travelers and Activities
Active holidays in Portugal
The spectrum of possible leisure activities for active holidaymakers in Portugal is at least as varied as the breathtaking landscape. Particularly on the coasts of the Algarve and on the coastline facing the open Atlantic Ocean, water rats get their money's worth thanks to considerable waves and a stiff breeze while windsurfing and kitesurfing. In the quieter bays in the south as well as at the mouth of the Tejo you can go on a stand-up paddling trip or a diving trip. A kayak tour on the Tejo itself, which takes you through wild and romantic gorges, promises even more action. If you want to stay dry, you can explore the coasts, the hinterland and the mountains by mountain bike or hiking boots from your finca.
Paradise for culture lovers
Portugal's past, in which the country was alternately under the rule of Romans, Teutons, Christian kings and Muslim caliphs, has left numerous traces worth seeing for cultural tourists. Among the absolute highlights are the countless castles and fortifications such as the Castelo de São Jorge in Lisbon, the Christ Knight Castle in Tomar, the city palace of Sintra and the Castelo do Queijo in Porto. In addition, there are impressive sacred buildings such as the Cathedral of Faro and interesting museums such as the Museum of Modern Art and the Tiled Museum, which is one of the most beautiful museums in the country.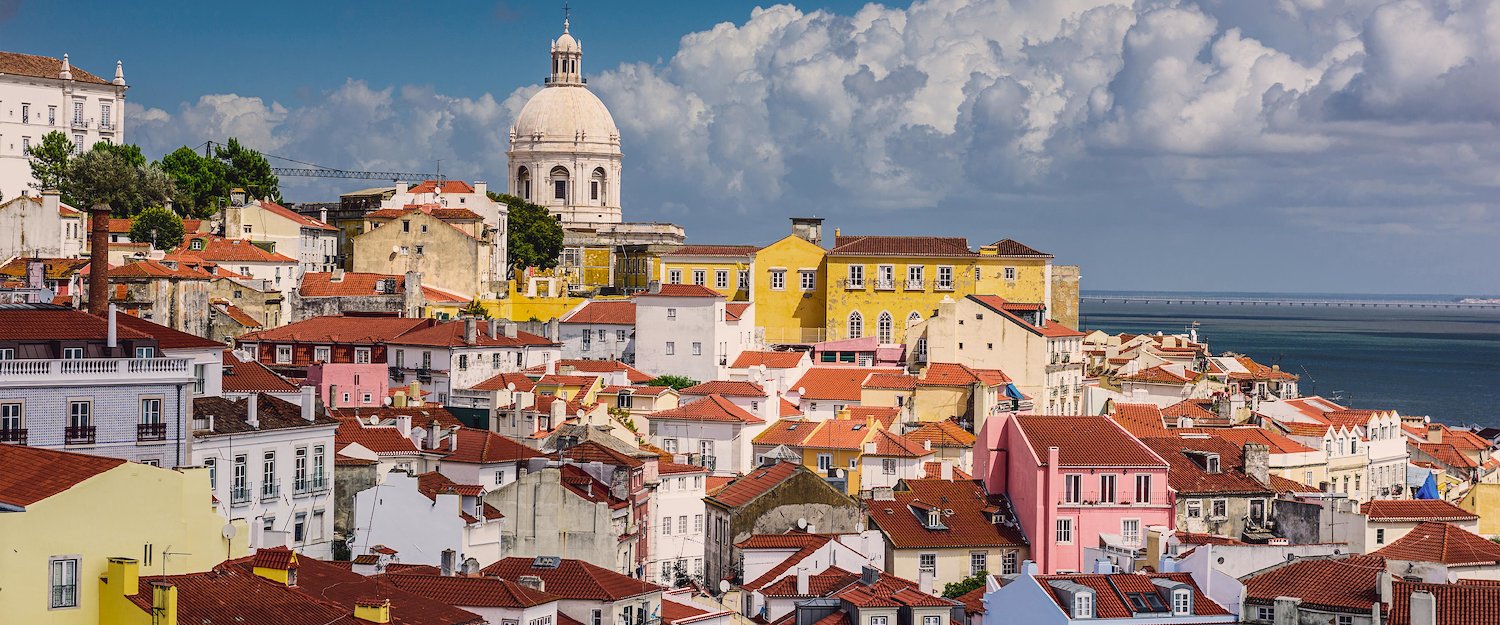 Things to know
Best travel time
Thanks to the geographical differences between the mountainous north and the slightly hilly south, which is also close to the African mainland, Portugal is in principle worth a trip all year round. While the Algarve and the west coast are particularly attractive for bathing tourists between June and September, active holidaymakers should plan their stay in the southern half rather for spring and autumn, as it is significantly milder at this time. City tours through Lisbon are also much more relaxed outside the high season. However, you should book your vacation rental in the north for the summer because of the much lower rainfall.
Regular events
Religious holidays play an important role in Portugal and are therefore often celebrated with pompous processions, to which tourists can also feel warmly invited. Particularly worth seeing are the festivities during Holy Week (Semana Santa), on the Festa da Cruzes in May and on Saint Anthony's Day in June. Other highlights are the music festival Vilar de Mouros, the jazz festival in Estoril and the Festival de Marisco in August, where everything revolves around seafood in Olhao. The programme is rounded off by the Dias Medievais in September, when countless knights, jugglers and craftsmen populate the castle of Castro Marin.
"Portugal is the oldest country in Europe and has been within the same borders since 1139."
Top 5 travel tips
Panoramic trip over the Ponte Vasco da Gama
With a length of 17.2 kilometres, the monumental bridge over the Tejo ranks 8th among the longest bridges in the world today. Take the opportunity to take a panoramic trip from Lisbon to Montijo and let your gaze wander over the river with its deep blue water from a height of 155 metres.
The last bratwurst before America
A visit to Cabo São Vicente, the most south-westerly point of the European mainland, is very impressive, especially because of the 70 meters steep rocky cliffs. Who wants to strengthen himself after looking beyond the symbolic edge of Europe can do this with a real German bratwurst. The visit to the Bratwurst stand on the rock plateau, run by German emigrants, is documented by a document certifying the consumption of "the last Bratwurst before America".
By ship to Benagil Sea Cave
Over millions of years, the wild Atlantic has transformed the soft rock of the south coast into a Swiss cheese, which is interspersed with countless caves, grottos and connecting passages. Immerse yourself in the fascination of these unique cave systems by heading for the Benagil Sea Cave by excursion boat, which can only be reached from the sea at high tide.
Panoramic view over Lisbon
For a unique view of Portugal's capital Lisbon, climb the 75-metre-high viewing platform of Cristo Rei, a statue of Christ based on the original Brazilian sugar loaf.
Portuguese cuisine
Portuguese cuisine is influenced by culinary influences from all over the world, partly due to Portugal's colonial past. A remnant of the Moorish rule, however, is the preference for desserts. You should therefore try the Pastéis de Nata puff pastry. Those who prefer a hearty meal can look forward to grilled fish and the fish soup Cataplana de peixe as well as a hearty sip of port wine.
FAQs: Vacation Rentals in Portugal
How much do the vacation rentals in Portugal cost on average?
Based on our data, Portugal has an average price of $160.97 per night, a relatively high one for a country in Europe.
During which months are vacation rentals cheaper in Portugal?
Travelers who want to be budget-friendly should travel to Portugal in February, January, and March, which are the months that offer the most discount, with average prices of $125.57, $125.95, and $132.9 per night, respectively, based on data collected in 2020.
When does the price of vacation rentals in Portugal go up the most?
At the time of booking a vacation rental in Portugal, the highest prices are usually seen in the month of July (with an average of $208.65 per night), followed by August ($204.12), and June ($188.94).
Is Portugal a good location for a last-minute getaway?
It's worthwhile to be proactive in Portugal as only 55% of the accommodations are available throughout the year, according to our 2020 data.
Which months offer the highest availability?
The months when it's easiest to find available accommodation in Portugal are May (the average amount of properties that are available reached 61.6% of the total in 2020), April (60.5%), and November (60.25%).
When are there fewer vacation rental options available in Portugal?
The month with the highest average booked rental figures is August (only 35% of properties were available on average in 2020). Followed by July (47.25%), and September (52.75%).
How many rentals does Holidu have in Portugal?
Holidu offers around 53000 accommodations in Portugal from 104 different providers, so find the perfect type of accommodation you are looking for. We've got you covered!
Vacation destinations in Portugal
Holidu compares hundreds of websites to find your perfect holiday rental for the best price.