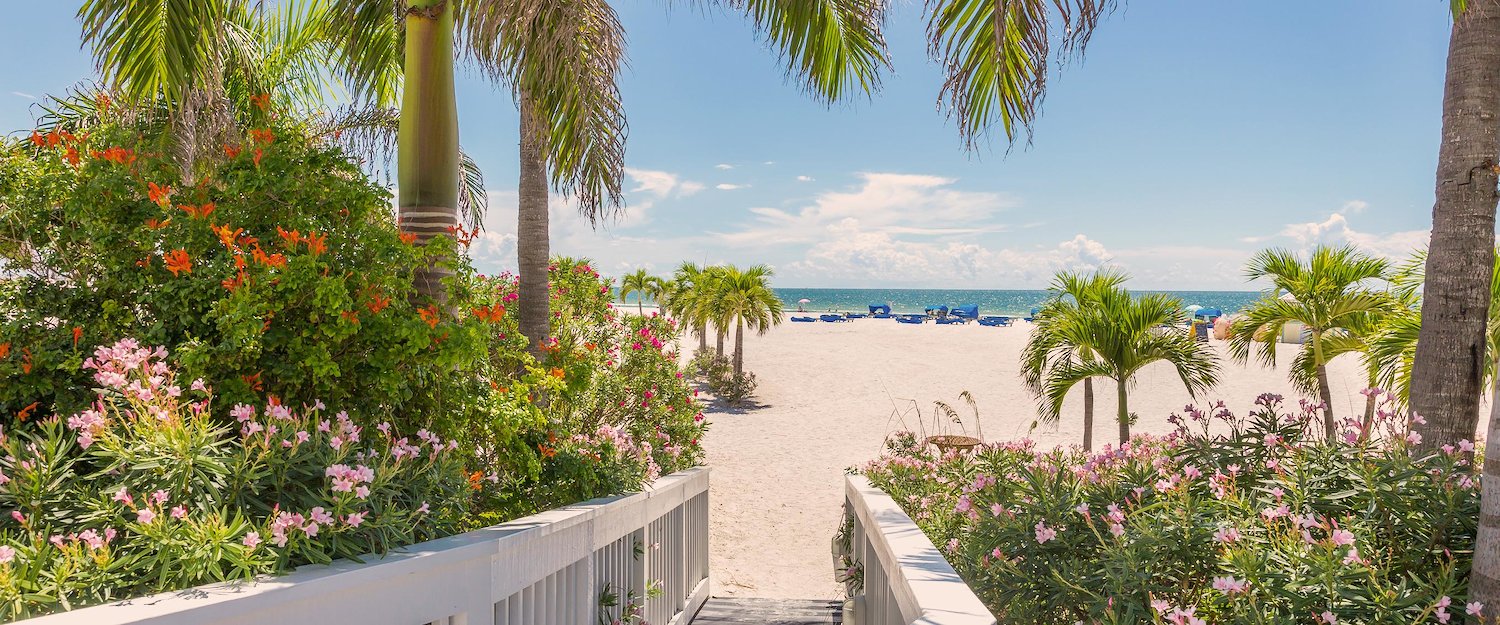 Prices and availability
Vacation rental prices Stuart
$355 annual average
Average price per week
Vacation rentals availability Stuart
32% annual average
Percentage of available rentals
Vacation rentals in Stuart
A dreamy coastal gem
Stuart is a beautiful coastal gem on Florida's Atlantic Coast. This small, charming city offers its visitors a peaceful and tranquil vacation experience. Here you'll find golden beaches with crystal clear, swimmable waters. Explore green parks where you can enjoy nature to the fullest. Dine at top-rated restaurants and browse boutique shops to fill your stomach and your luggage. Stuart is the place to have a relaxing and stimulating vacation at the same time. It's perfect for beach goers, families, and history lovers.
Finding your perfect Stuart vacation rental
Vacation rentals in Stuart reflect the same charming, beachy quality the city displays. Rentals are full of bright natural light and comfortable furniture that will make you feel at home. A lot of the rentals come with a pool to splash around in during the warmer months. You can even pick a rental with a sauna to take the level of luxury up a notch. Families and large groups can opt for a variety of oversized rentals, with enough bedrooms and bathrooms to comfortably accommodate up to 12 people. Choose from several rentals that offer the opportunity to stay just steps away from the beach! Whatever your travel preferences may be, you'll be sure to find the perfect rental for your beach getaway in Stuart.
Vacations in Stuart
The area and getting around
Arriving in Stuart
The closest airport to Stuart is West Palm Beach/Palm Beach International Airport. The airport is 35 miles from Stuart. There are no shuttle services to Stuart, but you can take a taxi or rent a car at the airport. Rideshare apps such as Uber and Lyft are also popular choices for getting to and from the airport. It takes about 45 minutes to get to Stuart with any of these options. If you prefer to get to Stuart via public transport, you can fly into Fort Lauderdale Airport and take a bus to Stuart. The bus runs five times a day and gets to Stuart in about two hours.
Getting around Stuart
Walking around is considered the best method for getting around downtown Stuart. Everything is close together and reachable on foot. If you plan to see any attractions outside of Stuart, a car is the most convenient method for getting around. There aren't many options for public transit for the areas surrounding Stuart. You can also easily take a taxi or use a rideshare app if you prefer not to drive.
Travelers and activities
Stuart for history lovers
Stuart offers a variety of options for history enthusiasts. Head to the Elliott Museum. The museum is named after a well-known inventor who was also a collector. At the museum, you can view the things he invented and collected, which include a wide range of historical items, from sewing machines to baseball cards. The antique car collection is definitely a must-see! Another place not to miss is the Stuart Heritage Museum. This charming museum was built in 1901 as a general merchandise store. Today, it's filled with thousands of historical items for visitors to enjoy.
Stuart for families
Stuart is a very family-friendly city, and it's filled with endless options for families of all ages. Take your family to Sandsprit Park for a day of playing games, picnicking, and birdwatching. Go for walks and enjoy some quality time together. Another place for families is Florida Oceanographic Coastal Center. Spend a day here to learn interactively about protecting nature and sea animals. You can also feed and pet stingrays, watch sharks, turtles, and many other animals. There are also several walking trails to explore the scenic natural surroundings.
Stuart had a mascot alligator named Dirty Ben back in the 1920s.
Top 5 travel tips in Stuart
1. Stroll along the Riverwalk
Riverwalk offers a scenic and peaceful walk along the seaside. This charming walking area is lined with great restaurants, boutique shops, and art galleries. There are benches available as well if you want to soak in the views and watch the boats come and go.
2. Go snorkeling at Stuart Beach
Stuart beach offers golden sands and crystal clear waters to its visitors. Swim, snorkel, or go for a sunset stroll on this peaceful beach. Many beautiful shells are waiting to be found on this beach as well, should you want to go shelling.
3. Hike at Halpatiokee National Park
Halpatiokee National Park is the perfect place to spend an active day. You can play softball, baseball, and football in the designated fields. There are also courts to play tennis, and picnic spots to relax and rest. Make sure to book the picnic spots ahead of time.
4. Splash around at Bathtub Reef Beach
Bathtub Reef Beach derives its name from the way the reefs protect the beach in the sense that they make the sea here a stable, warm body of water. There are some shallow areas where you can enjoy this bathwater-like quality of the sea. There's also a lifeguard on duty to make sure that beach-goers are protected in case of the rare shark sighting.
5. Spend an afternoon at Shepard Park
Shepard Park offers scenic riverside walks and incredible sunset views. During your walk, you may come across a huge variety of birds and other small animals. The park also has a picnic area where you can make a relaxing stop and a playground for children.
FAQs: Vacation Rentals in Stuart
How much did it cost for a vacation rental in Stuart last year?
Stuart is one of the cheapest cities in the USA. An overnight stay there costs on average $259 per night.
What time of year offers, on average, the best vacation rental prices in Stuart?
After analyzing our data from last year, the months that are the cheapest in Stuart are June, May and February, with average prices of $191, $212, and $229, respectively.
In which months is it more expensive to rent a vacation rental in Stuart?
Last year, the month that showed the highest annual average prices in Stuart was December, with an average price of $342 per night. This was followed by September, with an average of $279, and then January, with $277.
Is Stuart a good location for a last-minute getaway?
We recommend you to book in advance in Stuart as only 11% of the accommodations remain free throughout the year, according to last year's data.
When are more vacation rentals available?
The months when it's the easiest to find available accommodation in Stuart are September (the average amount of properties that are free reached 32% of the total last year), October (27%), and August (19%).
How many vacation rentals are there in Stuart?
Holidu has around 60 vacation rentals in Stuart, provided by 2 different partners.
Vacation destinations nearby
Holidu compares hundreds of websites to find your perfect holiday rental for the best price.