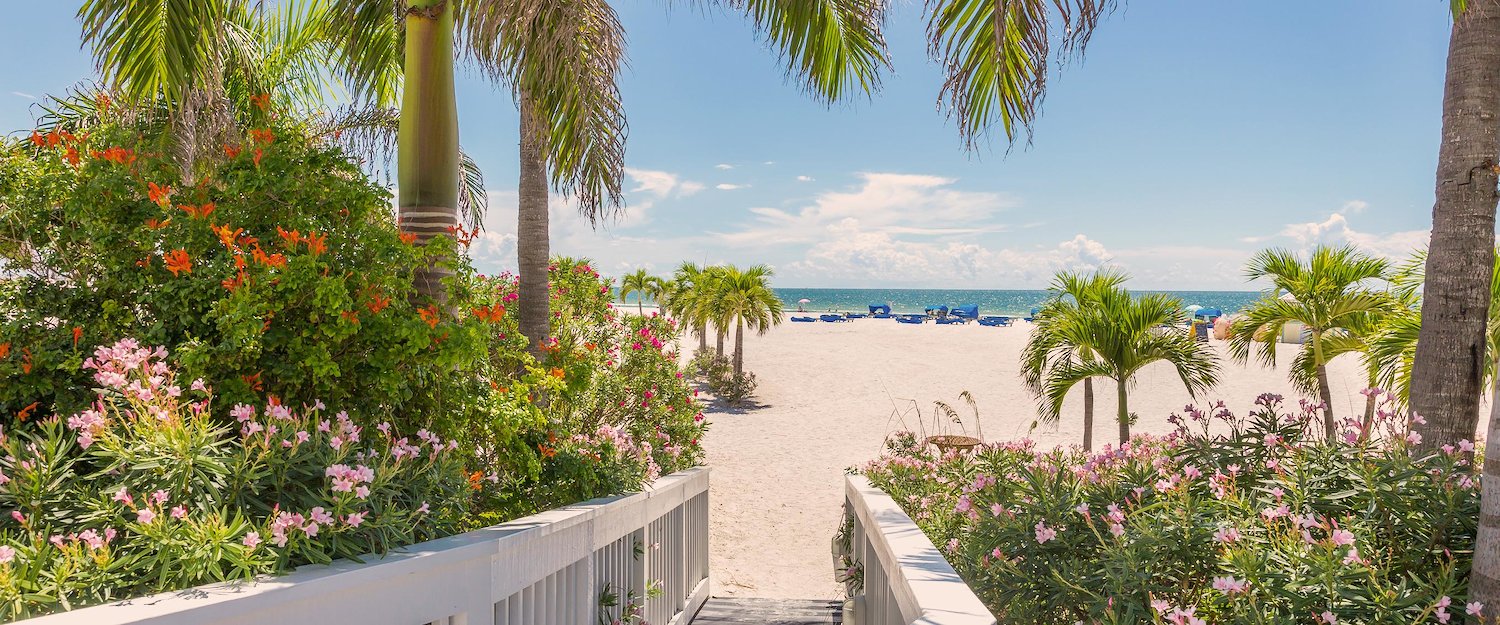 Prices and availability
Current Vacation rental prices Vero Beach
$291 annual average
Oct
Nov
Dec
Jan
Feb
Mar
Apr
May
Jun
Jul
Aug
Average price per week
Current vacation rental availability Vero Beach
13% annual average
Oct
Nov
Dec
Jan
Feb
Mar
Apr
May
Jun
Jul
Aug
Percentage of available rentals
Vacation rentals in Vero Beach
Stunning rental location by the beach
Named by Holidu as one of Florida's most searched tiny towns, Vero Beach is a small Florida city that can be found on the Atlantic coast. Its coastal location has beaches on a barrier island across the Indian River Lagoon which provides a unique atmosphere to its visitors. You will be able to discover its white sands and moderate climate with vacation rentals in Vero Beach. The city has plenty to offer, from the mesmerizing beaches to the natural reserves, this location is ideal for anyone that wishes to get away from the metropolitan lifestyle. If you prefer spending your time by the water, Vero Beach will be able to accommodate you with plenty of water sports and stunning beaches to relax on with family and friends. On the other hand, the nearby nature preserves are ideal for going on a hike and exploring the nature that surrounds the area. Nevertheless, there are also plenty of shops, restaurants and bars to enjoy if you wish to spend the afternoon in the city center.
Explore the vacation rentals
When it comes to its vacation rentals, Vero Beach is certainly not shy of choices. Plenty of its rental properties can be found just a stone throw away from the beach. However, if you wish to be closer to the city center to enjoy its local venues, then you will also be able to find many condos in the area. You will have the choice to spend your day in the private pool, invite your friends over for an afternoon barbecue in your garden, or sip a glass of wine with a loved one while admiring the city from your porch. Nonetheless, once you have spent some time in Vero Beach, you will understand why it is so beloved.
Vacations in Vero Beach
What to do and how to get there
A small city with plenty to do
The number of activities you will find in Vero Beach are endless. You can enjoy the white sand beaches of the area, choose a water sport such as paddleboarding or kayaking, go hiking through the famous Florida lagoon, spend the day in the city center shopping at the local boutiques, the list could go on forever. Being a small city with a population of fewer than 20,000 people, you will be able to enjoy a peaceful vacation while visiting this stunning coastal area. However, the city is also located close to some Orlando and Miami, which can easily be reached by car with the main road that connects to Vero Beach.
Enjoy the local cuisine and unique attractions
There are plenty of unique attractions that Vero Beach has to offer. South Beach Park provides you with wide beaches filled with volleyball courts. In the downtown area, you can discover the history of the local citrus industry. On the outskirts of the city, you will find places such as the McKee Botanical Garden and the Pelican Island National Wildlife Refuge. After spending your day visiting all these amazing attractions, you will surely have built up an appetite. Many local restaurants in Vero Beach come highly recommended. Some notable mentions are Vero Prime, which can be found in the city center and offers a fine dining experience, as well as Ocean Grill, which is located near the beach and will provide you with some of the freshest seafood in the area.
Travelers and activities
Vero Beach for history lovers
If you want to discover more about the local history of Vero Beach, head over to the McLarty Treasure Museum which is in North Hutchinson Island. This little museum will paint you the story of the 1715 fleet of eleven Spanish ships filled with gold, silver, copper and many other riches. All of these ships sunk near the shores of Vero Beach during a hurricane and to this day, many treasure seekers are still in search of the "Queen's Jewels." On the other hand, another historical site to visit is the Hallstrom Farstead. This beautiful home was created in 1904, is now part of the Indian River County Historical Society, and is filled with the original furnishings and archives from the Hallstrom family.
Live the local side of Vero Beach
Head on over to the Vero Beach's Farmers Market for a true taste of the local life. This market is usually held every Saturday and will provide you with the chance to try out some of the locally made products. You will be able to find fresh fruit and vegetable stands, vendors selling loose tea, pastry and bread, freshly made salsa and guacamole, freshly cooked breakfast sandwiches and BBQ ribs, sausage and chicken. On the other hand, if you are looking for a more hands-on experience, you are advised to visit the Horbuckle Family Farm. This family-run business allows its visitors to come by and pick up their fresh fruit straight from the ground, whether it's strawberries, oranges or whatever is in season.
Did you know that with only a population of under 15,000 Vero Beach became a town in 1919 and only in 1957 was the first bridge built to connect the mainland with the barrier islands?
Top 5 travel tips for Vero Beach
1. McKee Botanical Garden
To experience the local vegetation, head on over to this 18-acre botanical garden. This garden features a vast botanical collection, award-winning art exhibitions and events. It was also listed on the National Register of Historic Places, and it has been endorsed by the Nature Conservancy as a project of national significance.
2. Vero Beach Museum of Art
Any art lovers should not miss out on this museum. The art museum offers you the chance to be immersed in this institution's cultural leadership by presenting you with world-class exhibitions, exceptional works of art, and innovative programs in art education.
3. Riverside Theater
One of the best ways to spend a lovely evening out is by catching a show. The Riverside Theater is a stunning venue that provides weekly theater shows, concerts and more. Some of the musicals they have produced in the past are Billy Elliot and Almost Heaven.
4. Walking Tree Brewery
An alternative way to spend your afternoon is to check out the local brewery. The Walking Tree Brewery is the ideal place for any beer lover, whether you decide to go there with friends and have a beer while playing cornhole or to take a tour of the facility and learn more about the brewing process.
5. Indian River Citrus Museum
The city of Vero Beach has a long history in the citrus industry. Check out this local museum to know more about the city's importance in the industry and how it influenced the economic growth of Vero Beach.
FAQs: Vacation Rentals in Vero Beach
On average, how much do vacation rentals in Vero Beach cost?
Last year, rentals in this destination had an annual average cost of around $356 per night.
Which months allow you to save the most on vacation rentals?
According to last year, the months with the most reduced prices in Vero Beach are January, December and May, with average prices of $270, $276, and $299, respectively.
During which months are vacation rentals more expensive in Vero Beach?
Last year, the month that had the highest annual average in Vero Beach was March, with an average price of $500 per night. This was followed by February, with an average of $442, and then April, with $423.
Is Vero Beach a good location for a last-minute getaway?
It is recommended that you book your stay well in advance when visiting Vero Beach, as only 5% of our properties are usually available throughout the year.
When are more vacation rentals available?
The months when it's the easiest to find free accommodation in Vero Beach are August (the average amount of properties that are available reached 19% of the total last year), October (10%), and September (10%).
How many vacation rentals are there in Vero Beach?
Our catalog features around 40 properties from 2 partners, giving you plenty of choices when searching for your next dream vacation rental!
Vacation destinations nearby
Holidu compares hundreds of websites to find your perfect holiday rental for the best price.