TOP 30 - The best lakes in the United Kingdom
The summer months tend to see sun-worshippers flock to the coast to spend a day at the beach, but this means that the beaches are usually packed full of tourists and not the most private place to relax. So why not turn your attention to a different kind of refreshing escape – lakes!
From the Scottish Highlands to the unbeatable National Parks which are scattered across the nation, the UK boasts unbeatable landscapes and some spectacular lakes. But which lakes are the most highly rated?
1. Ullswater, Lake District – 4.9/5, 547 reviews
Championing the list today is Ullswater, located in the spectacular Lake District, Cumbria. This is the second largest lake in England and stretches to seven and a half miles long! It is also the third deepest English lake at 250 feet deep. Ullswater is surrounded by stunning mountains and rolling hills, making it the perfect destination for hiking, mountain biking and many more outdoor activities including watersports on the lake itself.
Ullswater credit kayugee via Flickr
2. Buttermere, Lake District – 4.9/5, 293 reviews
Next up is another lake situated within the Lake District, Buttermere. There are plenty of lovely walks surrounding the lake which are suitable for families too and you can even stumble upon a number of waterfalls. Take a pit stop during your day and visit one of the pubs or the coffee shop and enjoy ice cream, a pastry, or treat yourself to a cold pint of beer!
Buttermere credit Colin Gregory via Flickr
3. Wast Water, Lake District – 4.9/5, 290 reviews
Wast Water lake can be found in the valley of Wasdale and is the deepest lake in England at 258 feet! This stunning location is often dubbed as a "photographers dream" and one of the best views in England. Again, expect to find here a number of scenic walking routes which guide you around the natural beauty this area has to offer. You can even try your hand at some stand up paddle boarding on the lake!
Wast Water credit Andrew Hayward via Flickr
4. Llyn Idwal, Snowdonia – 4.9/5, 214 reviews
Next up is the first Welsh location, Llyn Idwal. This is a small lake that lies within Cwm Idwal in the Glyderau mountains of Snowdonia. This small glacial lake boasts surreal beauty which has been likened to the type of view you would expect on Game of Thrones. There is a pebble beach which can be used for sunbathing during the summer months, but don't expect the mountain lake waters to be warm!
Llyn Idwal credit Denis Egan via Flickr
5. Llyn y Fan Fach, Brecon Beacons National Park – 4.9/5, 133 reviews
Llyn y Fan Fach is an epic lake of approximately 10 hectares and lies within the Brecon Beacons National Park in Wales. The area's glacial past can be clearly noticed in its breathtaking landscape of the lake, rivers and wild mountain range. Enjoy a hike in a tranquil part of the country.
Llyn y Fan Fach credit Angel Ganev via Flickr
6. Glaslyn, Snowdonia – 4.9/5, 131 reviews
Glaslyn lake is the biggest nature reserve owned by Montgomeryshire Wildlife Trust in the Cambrian Mountains. The lake sits at the bottom of three peaks and is often a pitstop for hikers en route up or returning down from the Snowdon summit. Take a dip in the water, if you're brave enough to brace the cold! But the beautiful backdrop will be worth the chill. In the summer months the reserve is covered with white cottongrass and purple heather!
Glaslyn credit Andy Lowe via Flickr
7. Llyn Brianne, Cambrian Mountains – 4.9/5, 124 reviews
Llyn Brianne is a manmade lake headwaters of the River Tywi in Wales, on the edge of the Cambrian Mountains, a sparsely populated area of the country. Take a long stroll with your dog or perhaps grab your bike cycle around the reservoir and admire the beauty of the lake from every angle as you feel at one with nature.
Llyn Brianne credit Trevor Rickard 
8. Loch Muick, Cairngorms National Park – 4.9/5, 106 reviews
Now for the first of two Scottish lakes, or rather lochs, we have Loch Muick. Loch Muick is located 8 miles south west of Ballater in Aberdeenshire and is part of the Balmoral Estate. This loch is located at the foot of Lochnager, one of the finest mountains in Scotland. If you are interested in animal spotting, you're in luck here! From red squirrels and deer to salmon and trout, this loch is home to many wildlife species.
Loch Muick credit Nick Bramhall via Flickr
9. Loch Lomond, Loch Lomond and The Trossachs National Park – 4.8/5, 1661 reviews
Perhaps the most famous lake in this ranking, in 9th place is the magnificent Loch Lomond. This is Scotland's biggest lake, stretching 22.6 miles long and is split between the lowlands of Central Scotland and the Highlands. This freshwater loch is popular with watersports lovers. There are many charming villages scattered around the loch.
10. Lake Vyrnwy, Powys – 4.8/5, 393 reviews
Rounding up the ranking today is the wonderful Lake Vyrnwy, located in Powys, Wales. This lake is one of Wales' hidden gems, nestled in the remote and scenic Berwyn Mountains. Here you will find waterfalls, green countryside and many walks which are suitable for all ages and abilities. This lake can be easily reached by car from the likes of Liverpool and Manchester and is the perfect place to begin your exploration of the Welsh mountains.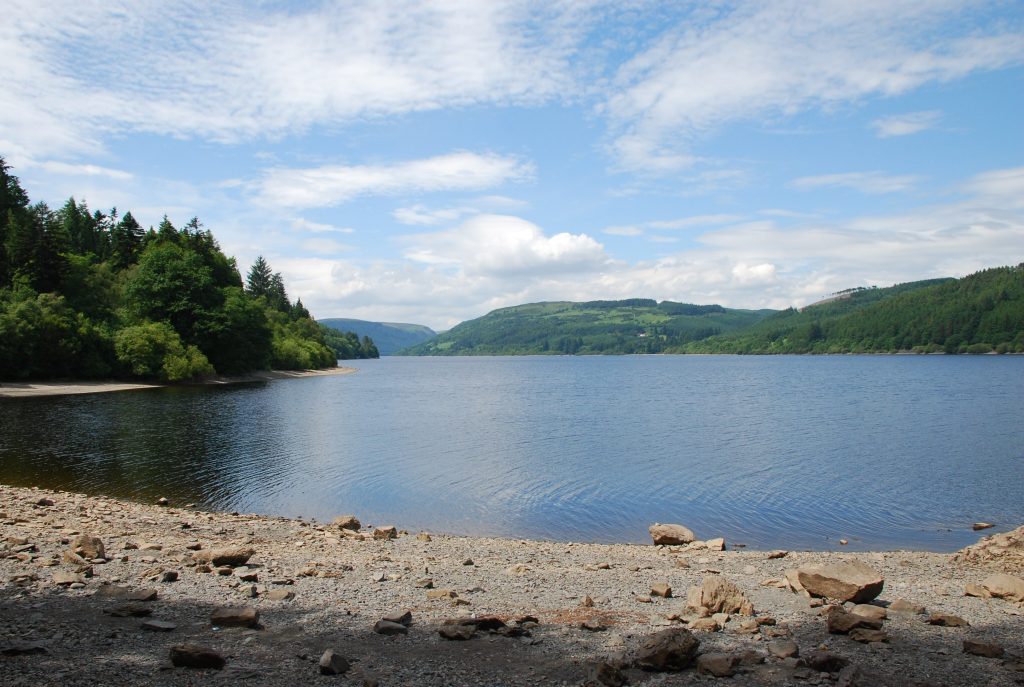 Lake Vyrnwy credit Richard Szwejkowski via Flickr
Ranking: 11 – 30
Tarn Hows – 4.8/5, 298 reviews
Clumber Lake – 4.8/5, 281 reviews
Derwentwater – 4.8/5, 221 reviews
Entwistle Reservoir – 4.8/5, 217 reviews
Loch Linnhe – 4.8/5, 216 reviews
Silent Valley Reservoir – 4.8/5, 213 reviews
Coniston Water – 4.8/5, 180 reviews
Burrator Reservoir – 4.8/5, 174 reviews
Loch an Eilein – 4.8/5, 159 reviews
Llyn Padarn -4.8/5, 153 reviews

Loch Tay – 4.8/5, 143 reviews
Loch Cluanie – 4.8/5, 140 reviews
Loch Leven – 4.8/5, 124 reviews
Malham Tarn – 4.8/5, 119 reviews
Pontsticill Reservoir – 4.8/5, 113 reviews
Haweswater Reservoir – 4.8/5, 112 reviews
Derwent Reservoir – 4.8/5, 112 reviews
Loch Etive – 4.8/5, 103 reviews
Windermere – 4.7/5, 854 reviews
Loch Awe – 4.7/5, 227 reviews
Holidays by the Lakes
Holiday rentals and lettings near lakes have always been well booked in summer. Accommodations near lakes are sometimes already 90 percent booked in the high season. Holiday homes are particularly popular with holidaymakers in the Corona crisis. This type of accommodation has little contact, so you can cater for yourself and arrive in your own car. Travellers currently value these possibilities very much. With a little luck and above all flexibility, it is still possible to find free accommodation. Those who are not fixed on a certain period of time or who are looking for a holiday home a little further away from the respective lake will find it in any case.
>> Here you will find your perfect holiday home at the best price <<
Methodology
This ranking has been compiled by Holidu, the search engine for holiday rentals. Data used from Google was the number of reviews and the highest score of reviews for lakes in the UK (gathered: August 2020). All lakes that are marked as such on Google were included and those with 100 or more reviews were used in the final count. In total, about 12,500 lakes have been counted in this study.
Other posts in this category: