Vacation Rentals in Tenerife
Start comparing over 4846 rentals in Tenerife and book at the best price!
Best vacation rental deals in Tenerife
Vacation rentals with free cancellation
Vacation Rentals in Tenerife
Pet-friendly Vacation Rentals
Vacation Rentals with Pool
Vacation Rentals with Internet
Find Vacation Rentals in Tenerife
Highlights Tenerife
Worth a trip all year round
Countless varied beaches
Pure nature in the Pico del Teide National Park
Paradise for cyclists
Other property types in Tenerife that might be interesting:
Popular Destinations in Tenerife
Prices and availability
Prices
November
December
January
February
March
April
Oct 30 - Nov 06
$140 per night
Nov 06 - Nov 13
$139 per night
Nov 13 - Nov 20
$139 per night
Nov 20 - Nov 27
$141 per night
Nov 27 - Dec 04
$141 per night
Dec 04 - Dec 11
$144 per night
Dec 11 - Dec 18
$147 per night
Dec 18 - Dec 25
$154 per night
Dec 25 - Jan 01
$169 per night
Jan 01 - Jan 08
$169 per night
Jan 08 - Jan 15
$151 per night
Jan 15 - Jan 22
$141 per night
Jan 22 - Jan 29
$141 per night
Jan 29 - Feb 05
$141 per night
Feb 05 - Feb 12
$140 per night
Feb 12 - Feb 19
$142 per night
Feb 19 - Feb 26
$146 per night
Feb 26 - Mar 05
$148 per night
Mar 05 - Mar 12
$147 per night
Mar 12 - Mar 19
$146 per night
Mar 19 - Mar 26
$148 per night
Mar 26 - Apr 02
$153 per night
Apr 02 - Apr 09
$154 per night
Apr 09 - Apr 16
$153 per night
Average price per week
Availabilities
November
December
January
February
March
April
Percentage of available rentals
Apartments in Tenerife
A holiday apartment in Santa Cruz
If you are looking for a vacation rental in Tenerife, you will find it especially along the coasts of the volcanic islands. A vacation rental in the north of Tenerife promises ideal conditions for nature lovers and cultural travellers who want to explore the island from the capital Santa Cruz de Tenerife. Just a few kilometres from the airport you can either stay in the cosy historic centre or in one of the multi-storey apartment buildings from where you can watch the sun rise over the Atlantic Ocean from a view from the window.
Living in the North
It is much quieter than in the lively centre of the island capital along the lonely coastal sections in the north and northeast of Tenerife. Idyllic places like San Andrés, Almaciga, Bajo el Roque and Bajamar are nestled between black volcanic rocks and green palm groves far away from the tourist hot spots. You will also be particularly pleased to live in the large vacation rentals on the north-west coast, which not only offer space for the whole family, but also often have their own pool. In the hinterland of the coast, rustic fincas nestle against the subtropically overgrown volcanic slopes, where you can let your soul dangle with a view of the sea.
A vacation rental in the south
The many sandy beaches make the holiday resorts in the south of Tenerife especially popular with bathers. This applies both to the holiday apartments and vacation rentals in south-eastern towns such as El Tablado, Arico and El Médano and to the south-west coast, where municipalities such as Alcála, Callao Salvaje and the town of Los Cristianos are particularly popular with those seeking relaxation. A vacation rental on the slopes of the volcano Pico del Teide also guarantees breathtaking holiday moments, from where you have a view of half of the island or alternatively pitch your tents in the Parque National del Reide inside the volcanic caldera.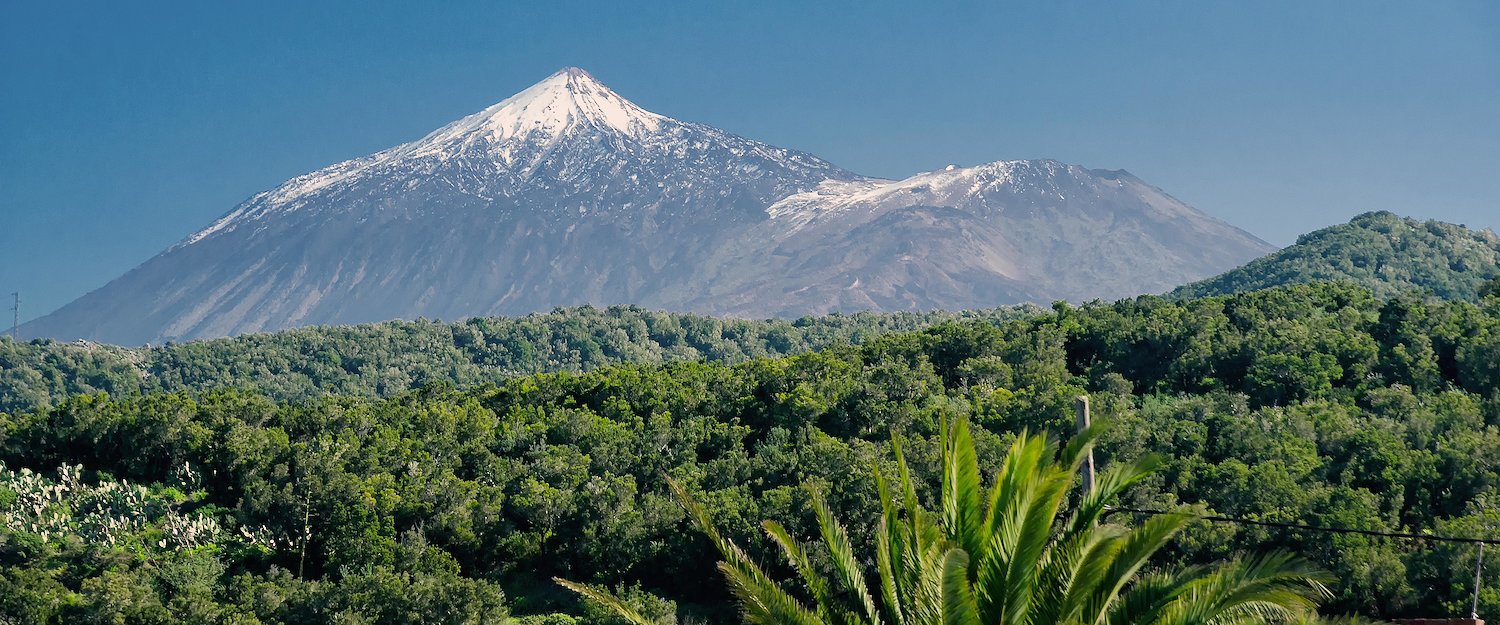 Holidays in Tenerife
Travelers and Activities
Tenerife for cyclists
Due to the challenging terrain, Tenerife is an ideal environment for cyclists, so that even many professional cyclists and triathletes hold training camps around the Teide for several weeks. The picturesque coastal roads and mountain passes offer a rich repertoire of different routes, so that you hardly have to drive a route twice, even during a holiday of several weeks. While racing cyclists are mainly drawn to the well-asphalted roads, mountain bikers are raving their way through the volcanic landscape on action-packed tours, taking along one or the other fast-paced single trail. Thanks to the high density of bicycle shops, there is also a sufficient number of rental bikes for every application, which can even be delivered to the door of your vacation rental if you wish.
Tenerife for families
A vacation rental on Tenerife is the ideal starting point for a family holiday, as the numerous beaches invite you to take a bath and relax. Besides the black volcanic sand beaches, the island is also characterized by almost Caribbean beach sections like the Playa das Teresitas and the Playa de Troya. Off the beaten track, family attractions such as the Siam Water Park, which takes you to the maritime world of Southeast Asia with its numerous attractions, are waiting for you. There are also excursions to the jungle park "Parque Las Águilas", the leisure centre "Loro Parque" and the science museum in La Laguna.
"Did you know that the flag of Tenerife is the same as that of Scotland?"
Things to know
Best travel time
Tenerife's climate is mild all year round thanks to the Gulf Stream and makes the largest of the Canary Islands an attractive destination because of the low temperature fluctuations from January to December. While bathers and water sports enthusiasts spend most of their time on Tenerife from June to September, active holidaymakers such as hikers and cyclists are attracted to the island as early as February, with the season extending well into November. Winter refugees get their money's worth even between December and February thanks to constant average maximum temperatures above 20 degrees Celsius.
Regular events
The programme of events on Tenerife is primarily characterised by cosy harbours, folk festivals and church festivals, which provide more than enough variety all year round. Among the absolute highlights are the Carnival of Santa Cruz de Tenerif in February and the feast of the Virgin of Candelaria, which commemorates the patron saint of the Canary Islands. The programme is complemented by the Good Friday Procession and the "Fiestas del Santisimo de la Laguna" in September.
Top 5 travel tips
Ascent to the Teide
At 3,718 metres, Pico del Teide is the highest mountain in Spain and is worth a visit for its monumental size alone. In addition, it is an active volcano whose summit you can reach either on foot through the beautiful national park or by cable car. Once at the top you will enjoy a breathtaking view over the island and the volcano crater.
Pyramids of Güimar
The pyramids of Güimar are unique witnesses of the island history and remind in their stepped form of the Maya pyramids in the rain forests of South America. Not least for this reason, some interpretations by scientists suggest that the art of building pyramids swashed from Europe to South America. Get to the bottom of this puzzle as part of a guided tour and find out what the six buildings are really all about.
Whale Watching on Tenerife
Tenerife is one of the few places in the world where you can watch whales in the wild all year round. In the harbours of Los Gigantes, Playa de las Americas or Costa Adje, board one of the excursion boats and visit dolphins, pilot whales and the so-called "whale kindergarten", where especially many mothers with young animals roam the Atlantic.
A side trip to Santa Cruz
The city of Santa Cruz de Tenerife with 200,000 inhabitants is one of the great highlights on the island, especially as it has a lot to offer families and culture enthusiasts as well as night owls. Stroll through the picturesque "Plaza de la Candelaria", relax in the "Parque de la Granja" or visit the art and culture centre "Tenerife Espacio de las Artes".
The island kitchen
If you want to discover the traditional island cuisine for yourself, you should look for a restaurant where you can also find the locals. There you can get the spicy potatoes (Papas arrugadas) cooked in brine with the famous mojo sauce as well as grilled fish and seafood. You should also try the gofio made from wheat, corn, chickpeas, honey, raisins and almonds, often served with dishes such as conejo en ajo (rabbit in garlic sauce).
FAQs: Vacation Rentals in Tenerife
How much do the vacation rentals in Tenerife cost on average?
The corona crisis strongly impacted the travel industry in 2020. Last year, rentals in Tenerife had an annual average cost of around $137.62 per night.
During which months are vacation rentals cheaper in Tenerife?
]If you would like to get the most out of your money, the cheapest months to visit Tenerife are April ($129.4 the average per night for accommodation), October ($130.08), and September ($131.31).
During which months are vacation rentals more expensive in Tenerife?
In 2020, the month that showed the highest annual average prices in Tenerife was January, with an average price of $150.32 per night. This was followed by February, with an average of $145.58, and July, with $144.8.
Is Tenerife a good location for a last-minute getaway?
It is better to book your stay in plenty of time when visiting Tenerife, as only 52% of our accommodations are usually available throughout the year.
Which months offer the highest availability?
In 2020, the months with the most vacation rentals available of the year in Tenerife were May, June and October, with average availabilities of 70.2%, 66.5%, and 62.2%, respectively.
When are fewer rentals available in Tenerife?
According to data from 2020, the months when it is most difficult to find accommodation in Tenerife are, in order, February (with 26.4% of available rentals), January (32.5%), and March (41.25%).
How many rentals does Holidu have in Tenerife?
Holidu collaborates with 54 different partners to give you a choice between 11000 vacation rentals we have in Tenerife.
Vacation destinations in Tenerife
Vacation destinations nearby
Holidu compares hundreds of websites to find your perfect holiday rental for the best price.