Hidden Gems for Uluwatu
Find great things to do in Uluwatu
Located about 45 minutes from Seminyak and Canggu, this rolling, limestone hills of this peninsula is home to some of Bali's top luxury villas and hotels, scenic beaches and world-class surfing breaks, making it a mecca for surfers worldwide. There are additionally delicious food spots and trendy sunset bars to explore.
In our Bali travel guide you will find great things to do in Uluwatu.
1. Hidden Gem Uluwatu: Nyang Nyang Beach
If you want to escape the crowds and spend a day at a lonely beach, this is the place to go. Nyang Nyang Beach is unlike any of the beaches in the area. One of the longest stretches of white sand around, there are still only a literal handful of people on it at any given time. Because it takes about a 30-minute hike to get to this shore, not many beachgoers are willing to come here.. But during the hike you will already be rewarded by the breathtaking view of the coastline. You should probably wear more than just flip flops as the trail can be rocky or slippery depending on the recent weather. But every step is worth it, as this will be the most beautiful beach in Bali you will see.
Nyang Nyang Beach / © Instagram: janbrunato
2. Hidden Gem Uluwatu: Bukit Café
Situated in between the two stunning Bali beaches Bingin and Padang Padang on Jalan Labuan Sait, Bukit Cafe is a fresh and innovative eatery. There is beautiful seating inside and outside. Whether you are popping in for a quick, generous breakfast, lunch between surf sessions or for a delicious dinner, Bukit will offer everything your foodie heart is craving for. How about vegan pancakes with a fruit overload? Or a smoothie pitaya bowl? The bright and airy interior features rustic, elegant decor with natural elements. So bring a good book or your laptop and spend the morning here.
Bukit Cafe / © Instagram: balieats
3. Hidden Gem Uluwatu: Morning Light Yoga
When traveling to Bali, yoga is more or less a MUST. In the area of Uluwatu, the "Morning Light Yoga" studio is a good address to visit. Find your flow and rebalance at their renowned, open-air, teak wood temple for yoga. Drop-in classes are held everyday and are open to all levels of experience, but we have to say the sessions are challenging. The shala sits on the cliff neighbouring Uluwatu Surf Villas, just steps from the beautiful, white sandy beaches, making this the most idyllic location to do something for both your body and your soul. There is always one session in the morning and one in the evening.
Morning Light Yoga/ © Instagram: kerrywheeler
4. Hidden Gem Uluwatu: Kellys Warung
Kelly's Warung is situated right in front of the famous Bingin Surf Break with front row seats to watch all of the action. This is therefore the perfect place to sip your healthy smoothie and watch the surfers for a while. Or, even better, to take a little break after doing some of your own surfing. Try the colourful Pitaya Bowl for breakfast, and the large wraps for a post-surf lunch. Of course it is also a good place for a aperitif with a cold beer.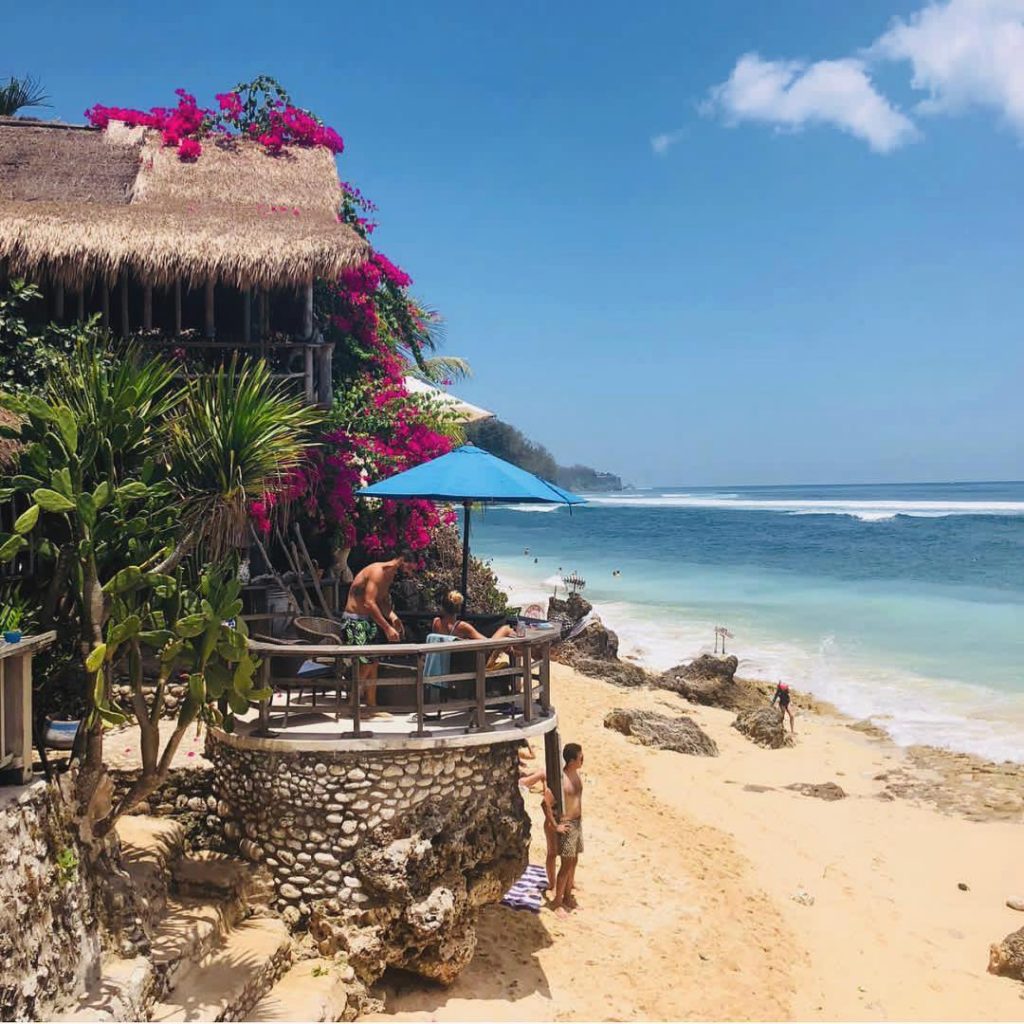 Kellys Warung/ © Instagram: samanthaflook
Other posts in this category: