Vacation Rentals in Hawaii
Start comparing over 2993 rentals in Hawaii and book at the best price!
Vacation Rentals in Hawaii
Popular Vacation Rentals in Hawaii
Vacation rentals with free cancellation
Pet-friendly Vacation Rentals
Vacation Rentals with Pool
Vacation Rentals with Internet
Find Vacation Rentals in Hawaii
Highlights Hawaii
White, sandy, tropical beaches
Freshly picked tropical fruits
Year-round sunny weather
World famous surfing and snorkeling
Engaging cultural presentations
Other property types in Hawaii that might be interesting:
Prices and availability
Prices
June
July
August
September
October
Average price per week
Availabilities
June
July
August
September
October
Percentage of available rentals
Hawaii Vacation Rentals
A Variety of Tropical Homes There are many places to stay when visiting the tropical island paradise of Hawaii. The majority of tourists spend their time on the most populated island of Oahu. While staying in Oahu's capital city of Honolulu, you are within easy access to your standard modern amenities in the many high rise apartment buildings overlooking Honolulu bay. As a central meeting point, staying in Honolulu also puts you within easy access to luxury shopping, amazing nightlife, and many tourist sites. On the other side of Oahu, the North Shore gets noticeably greener and is famous for having a more laid-back surfer vibe. Tropical beachfront vacation homes are more popular to stay in here as locals flock to the world famous Sunset Beach and Waimea Bay. Many visitors also take connecting flights to the big island of Hawaii, Kaui, and Maui which are more famous for their rich landscapes including active volcanoes, Cliffside waterfalls, and dense lush vegetation.
Vacationing on the Hawaiian Islands
Orientation
Hawaii is located in the middle of the Pacific Ocean within the Polynesian range of islands. The seven islands of Big Island, Oahu, Kaui, Maui, Molokai, Lanai, Niihau and Kahoolawe are all accessible via boat and plane, with the international airport located on the island of Oahu. There are many tours and cruises available between the islands to help you explore the natural beauty and historic sites. Having a rental car is convenient, as cities and rental homes can be spread out and public transportation can be very unreliable.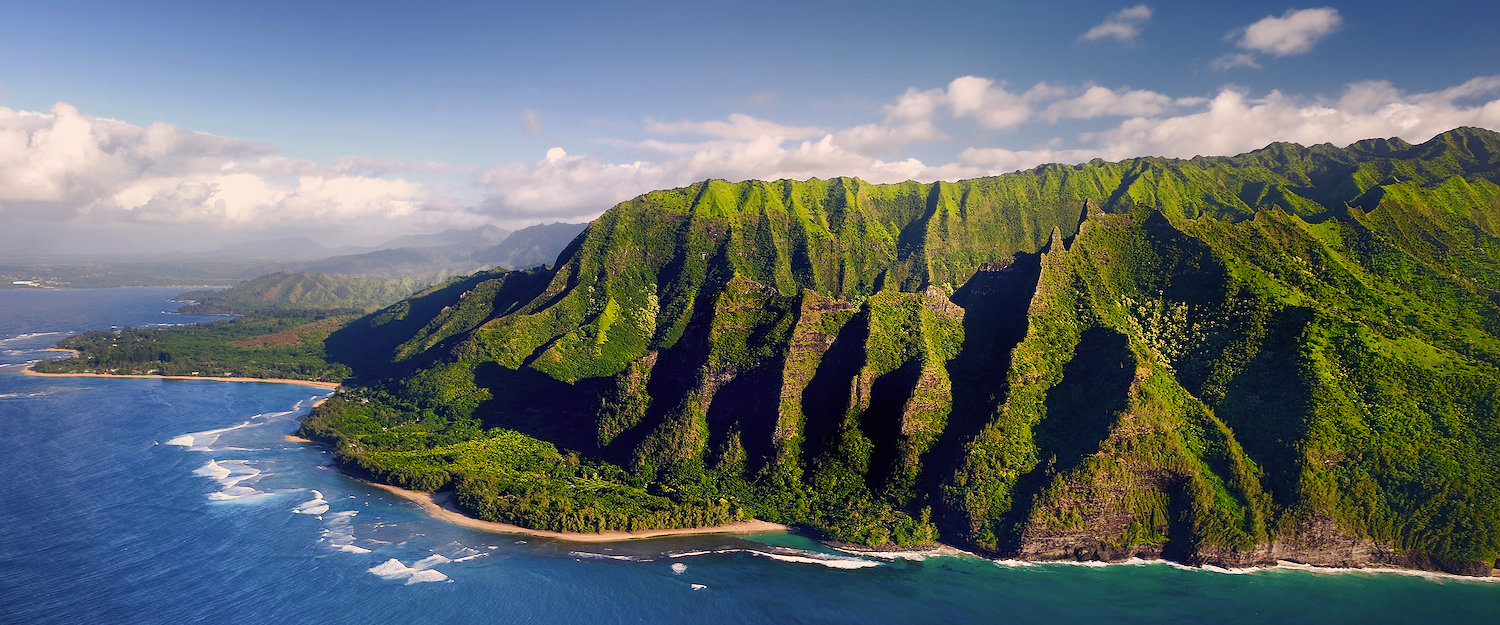 Activities
Hawaii for Families
For those traveling with children, the Honolulu Bay on Oahu has the best calm beaches and kid-friendly cafes to keep little kids busy, safe, and having fun. Visit the nearby Aloha Stadium for an afternoon stroll where you can shop for unique souvenirs while sipping on freshly cracked coconut juice!
Hawaii for Hikers
Kauai is the perfect destination for hiking-enthusiasts, with many trails and breathtaking ocean views to take in. In a rental car, you will also be able to take one of the most scenic drives in Hawaii on the Holo Holo Koloa Scenic Byway.
Hawaii for Surfers
Surfers will love the North Shore city of Hale'iwa, where many professional surfers have started their career. Some of the most famous surfing competitions are still held here at several beaches along the North Shore in November.
The Hawaiian word for "hello" and "goodbye" are the same word: Aloha.
Top Things to do on Hawaii
1. Pearl Harbor
A trip to Honolulu wouldn't be complete without a visit to the Pearl Harbor memorial site. It is here that in December 1941 the Japanese attacked the US Military base, prompting America's entrance into World War 2. Take a ferry out to see the sunken ships and pay tribute to the dark history of Hawaii's capital.
2. The Hanauma Bay Nature Reserve
The Hanauma Bay Nature Reserve on Oahu is a great place to visit for snorkelers and divers. There are many coral reefs, colorful fish, and even wild sea turtles to swim beside within the calm waters of the bay. The Reserve is also within an easy reach from the nearby capital Honolulu for a nice day trip with the family outside of the city.
3. In Laie
In Laie on the North Shore of Oahu, the Polyneisian Cultural Center is a great place to learn about Pacific Island Culture. There are many cultural dance performances, recreated villages, and crafts to learn first -hand about the ancient people of Hawaii.
4. The Dole Plantation
The Dole Plantation in Wahiawa is the perfect pit-stop between Honolulu and the North Shore for grabbing a bite of fresh pineapple. Tour the active pineapple farm, pick up some interesting souvenirs, and try some interesting pineapple concoctions.
5. Diamond Head Mountain
For the truly athletic, hike up to the imposing mountain of Diamond Head which overlooks Honolulu Bay. Though only 3 miles, this hike is a pretty steep trek and is not for the faint of heart. However, the views from the top are worth the extra effort when it comes to getting the best Hawaiian selfie.
Useful Information
Before you go: Hawaii's climate falls into two categories: the dry season running from April to November and the rainy season which lasts from November to March. During the rainy season, the beaches currents can be very strong and it is advised to swim with caution--especially on the North Shore of Oahu. The islands have several unique holidays and festivals including King Kamehameha Day in June and Prince Jonah KuhioKalanianaole Day in March
FAQs: Vacation Rentals in Hawaii
What is the average price for vacation rentals in Hawaii?
We can see from our data that Hawaii has an average price of $394.35 per night, a relatively high one under the regions in the USA.
During which months can you find the best price for vacation rentals in Hawaii?
Those who want to be budget-friendly should travel to Hawaii in October, June, and September, which are the months that offer the most discount, with average prices of $342.73, $371.7, and $371.87 per night, respectively, based on data collected in 2020.
During which months are vacation rentals more expensive in Hawaii?
When it comes to looking for a vacation rental in Hawaii, the months when you will pay the most are, in order of highest to lowest, January, February and March, with average prices per night of $476.4, $460.14, and $429.57, respectively.
Do I need to plan a trip to Hawaii well in advance?
If you decide to put Hawaii on your bucket list, we recommend planning your vacation ahead of time because it tends to be very high in demand, with an annual average of 69% of rentals booked in the year 2020.
When are more vacation rentals available?
The months that offer the most accommodation options are, on average, September (with an availability of 51.75%), August (46.8%), and July (46.75%), according to the trends observed in 2020.
Which months is it more difficult to find available vacation rentals?
The months with the lowest properties available in Hawaii are, in order, January, February, and March with respective average availability figures of 3.5%, 3.6%, and 11.5%, based on data collected in 2020.
How many vacation rentals does Holidu have in Hawaii?
Holidu offers around 19000 properties in Hawaii from 11 different partners, so find the perfect type of accommodation you are looking for. We have everything you need!
Vacation destinations nearby
Holidu compares hundreds of websites to find your perfect holiday rental for the best price.