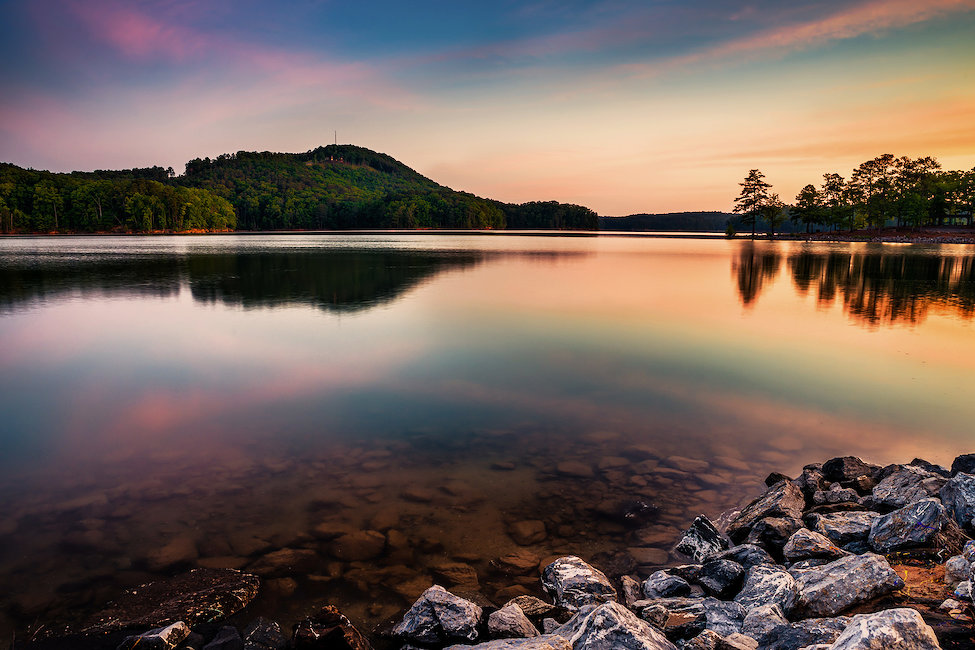 Other property types in Lake Lanier that might be interesting:
Prices and availability
Current Vacation rental prices Lake Lanier
$489 annual average
Jul
Aug
Sep
Oct
Nov
Dec
Jan
Feb
Mar
Apr
May
Average price per week
Current vacation rental availability Lake Lanier
56% annual average
Jul
Aug
Sep
Oct
Nov
Dec
Jan
Feb
Mar
Apr
May
Percentage of available rentals
Vacation rentals in Lake Lanier
Vacation rentals locations
Are you planning to have a getaway with your loved ones? If yes, then search for vacation rentals in Lake Lanier. The best thing about this type of accommodation is that they are affordable but offer you a luxurious stay. Lake Lanier is a reservoir located in the north-eastern region of Georgia. This lake is famous for its recreational activities like boating, fishing, and water skiing. It was created by constructing the Buford Dam between 1957 and 1959. The lake is surrounded by natural beauty and skyscrapers. What a beautiful town to visit!
Excellent vacation rentals for everyone
Every vacationer wants a perfect vacation. Everyone desires the perfect getaway, whether for business, recreation, or both. The best thing about vacation rentals in Lake Lanier is that they can accommodate up to 8 people. So you don't have to worry about where everyone will sleep. Plus, you won't have to worry about sharing a bathroom with strangers. The properties are also child-friendly and pet-friendly, so don't worry about bringing your furry friend. The condos come with a fully stocked kitchen, which means you don't have to worry about every meal from breakfast to dinner. The bedrooms are also made of high-quality mattresses, sheets, and pillows. Hot tubs, pools, and cable TV are also included in the amenities. Air conditioners and heaters are available in every unit.
Vacations in Lake Lanier
The area and getting around
Attractive neighborhoods
Lake Lanier offers a great alternative to noisy and expensive resorts, with tons of possibilities in the field of relaxation. The lake is very near Atlanta, which is known for its business-oriented society. The museums such as the Center for Civil and Human Rights, the Georgia Aquarium, World of Coca Cola, High Museum of Art are worth visiting. The Blue Ridge Mountains and the Chattahoochee National Forest are also near the lake. Here you will enjoy the beauty of stunning views of the lake, cliffs, and waterfalls. The lake also has a vast number of boat trips and rentals. Furthermore, River Street in Savannah is a great place to visit. It is a historic district with cobblestone sidewalks and charming restaurants, shops, galleries, and coffee bars.
Fabulous area to stay
If you are looking for an excellent area to stay and rest for a while, then vacation rentals in Lake Lanier are the best thing to look into. The area is excellent with security and other amenities like grocery and modern bathrooms. And of course, the picturesque view and environment will make you want to stay there for a more extended period. The shops and restaurants are also conveniently located, and you can find everything in one place. If live music is your thing, then you are in for it. Several types of music concerts are held at Lake Lanier, including the Dockside concert series. So if you are a live music fan, this place is perfect. Liquor stores are also present so that you can have that pleasant drink by the lakeside. Rental cars are available too to ease transportation from one location of interest to another.
Travelers and activities
Lake Lanier for sports and nature fanatics
Lake Lanier has got many things to offer for anyone visiting this location. The city is widely known as a top water-sport destination, featuring some of the best places for diving, boating, and fishing. However, it is also an ideal location for outdoor activities such as hiking and biking, allowing everyone to enjoy what they like. Nature lovers will find this city very pleasant, as it is surrounded by many parks and preserves where rare species of plants or animals can be found.
Lake Lanier for culture and history lovers
Culture and history lovers should check out Lake Lanier to satisfy their craving for adventure. While rental properties in Lake Lanier provide numerous activities related to the outdoors, there are also attractions designed for the culture-inclined. Lake Lanier is steeped in history, with significant events on or near the lake. Numerous locations offer living history programs allowing visitors to learn more about local Native American tribes, early settlers, and "Old South" lifestyles. The Chattahoochee River has cultural significance to Native Americans, and the Tugaloo Indian Mound is a prehistoric Native American settlement. Traditional foods and entertainment, artisans demonstrating their crafts, and hands-on activities are available at the "Old South" plantation on Lake Lanier Islands.
Did you know that vacation rentals in Lake Lanier offer views and amenities like air conditioning and heaters? The lake is near the city of Atlanta, and it's known for its business-based society.
Top 5 travel tips in Lake Lanier
1. The Lake Lanier Drive-In Theater
The theater is a three-screen theater that is a blast from the past. The atmosphere is very nostalgic, and every inch of the place screams a good time. It has been around since the mid-1950s, and to this day, it still hosts classics. It is a great place to visit while in the town.
2. Chattahoochee River
The river has cultural importance, making visiting it an enjoyable and educational experience. It is filled with natural beauty, especially when it is in full spring bloom, which you can enjoy from a boat or a raft.
3. The Buford Dam Walking Trail
It is one of the best spots in Lake Lanier. The Buford Dam has a fascinating history, which can be learned about by taking a short hike. It is very scenic, and it is a great spot to take someone if you're looking for something different.
4. Lake Lanier Islands
This is the ultimate place for fun. There are activities for everyone, and the place is always buzzing. The summer season usually brings thousands of people to the islands, so it will be a great place to visit.
5. Lake Lanier Watersports
The main thing to do here is go kayaking. It is a fantastic experience; you will find yourself paddling around and admiring the natural beauty. It is excellent exercise, and you will love every second of it.
FAQs: Vacation Rentals in Lake Lanier
How much does it cost to book a vacation rental in Lake Lanier?
Last year, rentals in this destination had an annual average price of around $478 per night.
During which months are vacation rentals cheaper in Lake Lanier?
According to the previous year, the months with the most reduced prices in Lake Lanier are February, June and March, with average prices of $445, $461, and $464, respectively.
When does the price of vacation rentals in Lake Lanier go up the most?
Following the data observed last year, costs per night for accommodation here are usually higher, on average, during the months of October ($507), November ($503), and August ($493).
Is Lake Lanier a good location for a last-minute getaway?
When visiting Lake Lanier, we recommend you to plan ahead as 82% of rentals are usually booked, according to last year's data.
When are more vacation rentals available?
The best months to find free accommodation in Lake Lanier are January (the average amount of properties that are free reached 46% of the total last year), February (34%), and October (32%).
Are there many rentals in Lake Lanier?
Holidu has 200 properties in Lake Lanier, provided by 2 different partners.
Vacation destinations nearby
Holidu compares hundreds of websites to find your perfect holiday rental for the best price.