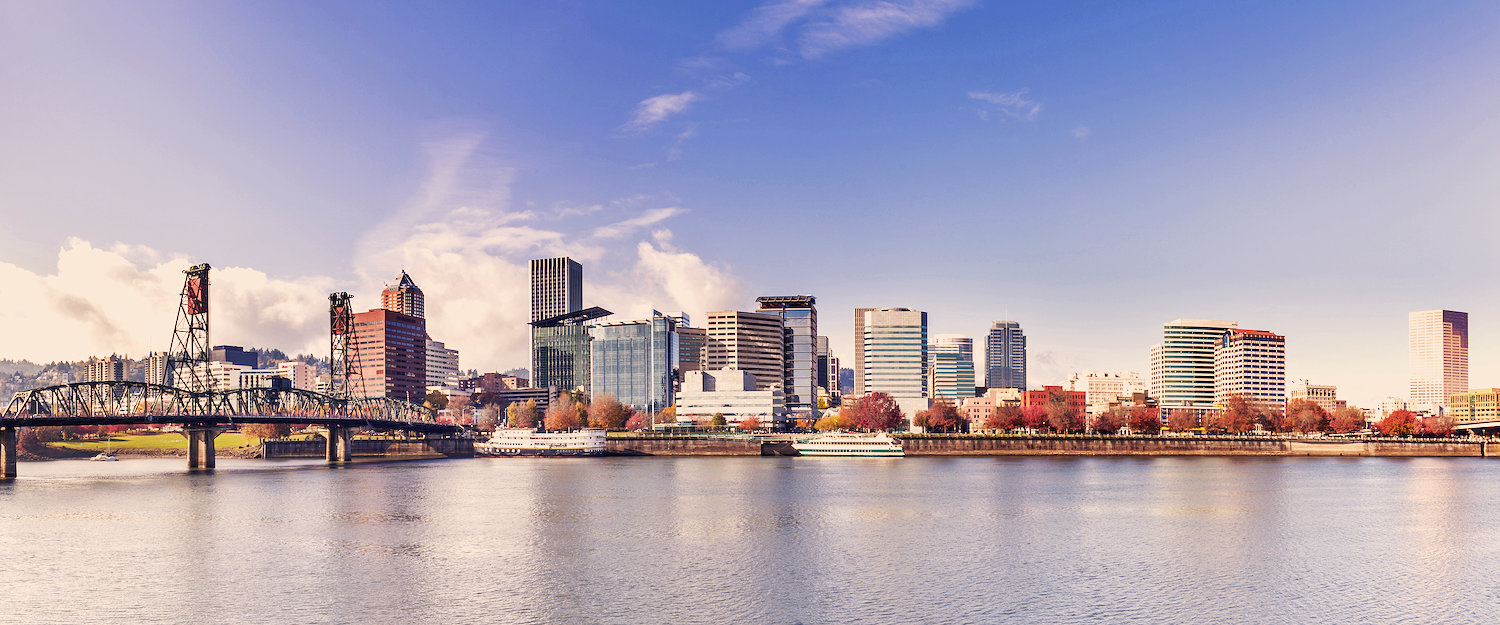 Prices and availability
Current Vacation rental prices Portland
$380 annual average
Average price per week
Current vacation rental availability Portland
25% annual average
Percentage of available rentals
Vacation rentals in Portland
The City of Roses
Portland is truly one of the most eclectic and unique cities in the entire USA. Set in northwestern Oregon, the city is known for its many parks, bike paths, top-rated restaurants, mountain views, and family-friendly attractions. It's also famed for its large number of trendy cafés, microbreweries, and hip coffee shops. Whether you're a nature lover, a coffee connoisseur, or just a curious traveler, there's something in Portland for every type of traveler.
Finding your perfect Portland vacation rental
Choose from a wide range of vacation rental options around Portland. Opt for a rental situated in the heart of downtown Portland, just a short walk away from restaurants, cafés, and shops. Or stay in a rental closer to nature near one of the city's many green parks. Vacation rentals in Portland boast an urban-chic design style and are fully equipped with all the appliances, furnishings, and decor you will need to feel at home throughout your stay. Pet-friendly rentals are available for people traveling with pets!
Vacations in Portland
The area and getting around
Arriving in Portland
If you'll be arriving to Portland by plane, the closest major airport is Portland International Airport, which is just 12 miles from the center of the city. From the airport, you can take a train, a taxi, or a bus to reach the city center. Car rental companies are available both at the airport and in the city if you plan to rent a car during your stay.
Getting around Portland
Portland is considered one of the most walkable cities in the entire country! On top of that, the city has an excellent public transportation system and is also very bikeable. You can rent bikes from a variety of bike rental companies throughout the city. Many attractions in the downtown center of Portland are reachable on foot. If you plan to visit any attractions outside the city limits you will need a car.
Travelers and activities
Portland for families
Portland is an magnificent family-friendly destination with endless activity options for families of all ages. Browse the colorful shelves of new and old books at Powell's City of Books, which also has an onsite coffee shop. Stop by Voodoo Doughnuts, Portland's most renowned doughnut shop where you'll find a variety of fresh doughnuts with creative, ultra-unique flavors.
Portland for nature lovers
There's no shortage of natural wonders to explore around Portland. Head to Forest Park, a leafy neighborhood set on the northwestern edge of Portland with over 80 miles of hiking trails. Also, a trip to Portland isn't complete without a visit to Multnomah Falls. These spectacular 540-foot-high waterfalls are surrounded by stunning forests and are only a 30-minute drive outside of Portland.
Did you know that there's a volcano in Portland? Mount Tabor is an extinct volcano in southeast Portland that stands at 636 feet high!
Top 5 travel tips in Portland
1. Stroll through the International Rose Test Garden
No visit to Portland is complete without a visit to the International Rose Test Garden, which happens to be one of the most impressive rose gardens in the world. Over 10,000 rose bushes with more than 650 varieties bloom each year from late May through October here. Stroll through the colorful gardens and make sure to take plenty of photos of the picturesque setting!
2. Take a walking tour of the city
A walking tour of Portland is one of the best ways to see and experience all that this unique city has to offer. Several tour companies offer different walking tours throughout the city. Explore all the different neighborhoods around the city and learn about each place from the knowledgeable local tour guides. Food walking tours are also available and include some of the best culinary offerings in the city.
3. Visit Pittock Mansion
Take a tour of the spectacular Pittock Mansion which is famed for its impressive architecture and artistic design style. The mansion was built in the early 1900s and features a French Rennaissance-style of architecture. Spend an afternoon walking the grounds, take a tour of the château, and enjoy the scenic views.
4. Explore Washington Park
Washington Park is a spectacular 410-acre park located two miles west of downtown. The park consists of two museums, a zoo, an arboretum, an archery range, memorials, statues, open fields, walking paths, and more. It's the perfect place to spend a warm, sunny afternoon with the entire family.
5. Try the food trucks
A large portion of Portland's renowned culinary scene consists of top-rated food trucks which are locally referred to as food carts and can be found all over the city. Head to the heart of downtown Portland to Pioneer Courthouse Square where you can find a slew of food truck options. Portland State University at the south end of downtown, Third Avenue, and The Cart Blocks at Alder Street are all home to food cart pods with a wide range of offerings from Thai, Mexican, Indian, Korean, Egyptian options and more!
FAQs: Vacation Rentals in Portland
What was the average price for a vacation rental in Portland last year?
Last year, rentals in Portland had an annual average cost of around $296 per night.
What time of year offers, on average, the best vacation rental prices in Portland?
]If you are looking to get the most out of your money, the cheapest months to visit Portland are January ($246 the average per night for accommodation), March ($267), and December ($267).
During which months are vacation rentals more expensive in Portland?
When booking a vacation rental in Portland, the highest prices can usually be seen in the month of May (with an average of $368 per night), followed by June ($346), and then August ($318).
Should I plan a trip to Portland well in advance?
It is better to book your stay well in advance when visiting Portland, as only 29% of our properties are usually available throughout the year.
Which months offer the highest availability?
The months that offer the most accommodation options are, on average, June (with an availability of 75%), May (70%), and July (34%), according to the trends observed in the prior year.
When will it be harder to find an available vacation rental in Portland?
During this period, the availability is very low (10%). It is therefore preferable to reserve early.
How many rentals does Holidu have in Portland?
Holidu offers around 570 properties in Portland from 6 different providers, so find the perfect type of accommodation you are looking for. We've got you covered!
Vacation destinations nearby
Holidu compares hundreds of websites to find your perfect holiday rental for the best price.