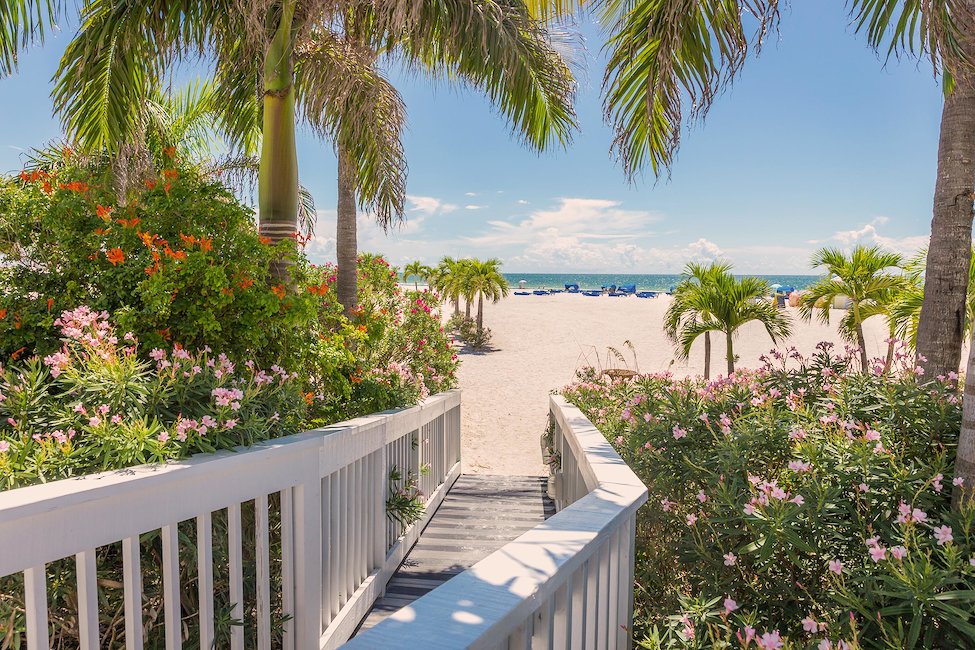 Popular Destinations in Pine Island
Prices and availability
Current Vacation rental prices Pine Island
$248 annual average
Jun
Jul
Aug
Sep
Oct
Nov
Dec
Jan
Feb
Mar
Apr
May
Average price per week
Current vacation rental availability Pine Island
54% annual average
Jun
Jul
Aug
Sep
Oct
Nov
Dec
Jan
Feb
Mar
Apr
May
Percentage of available rentals
Vacation rentals in Pine Island
Peaceful Pine Island locations
Pine Island is one of those vacation destinations that keep calling you back due to its peace and comfort. It is the largest island in Florida. The island is located in Lee count on the Gulf of Mexico coast southwest of Florida. The magnificent Intracoastal Waterway passes through the western side of the island. Interesting Pine Island has been zoned as an agriculture area, and you can get some of the best tropical fruits such as mangoes and lychee. Taking a vacation in Pine islands feels like going back in time since it is one of Florida's last authentic fishing islands.
Vacation rentals for everyone
Whether you are traveling solo or with family, you will always get a quiet and perfect vacation rental on Pine Island. The properties are clean, peaceful, and well decorated. They are fitted with all the necessary amenities such as high-speed Wi-Fi to ensure you remain connected to the grid. The vacation rentals are located in a stone's throw a distance from the sandy beaches. The properties are spacious enough to accommodate your playful pets and kids. In case you want to do some cooking, the vacation rental features full furniture kitchens.
Vacation rentals in Pine Island
The area and getting around
An island filled with activities
Pine Island has so many outdoor activities for its all-year-round visitors. You can decide to take it on the waters by hiring a kayak and exploring the shallow waters of Pine Island. Take the kayaks for fishing, touring the mangroves, or do some sunset paddling. You can also travel the island in style using jack's ponton tiki boats and watch the sunset or make a burial trip for a family member who wants their ashes scattered in Pine Island.
An island of many attractions
Pine Island offers unique and beautiful pastime locations. Make a trip to Matlacha Menagerie on pine Island Road and have a glimpse of the islands' fine art. Try out some hand panting at the pine island art association center. Pine Island offers numerous scenic and beautiful parks. Go to the Calusa Heritage Trail and witness a 2000-year history of the Calusa Indians, the island's original inhabitants.
Travelers and activities
Pine island for food lovers
Visit the Matlacha town in Pines Island and have a taste of the island's finest delicacies. The island food joints offer seafood and delicious burgers. Visit Bert's grill, an Italian joint that provides everything for a few bucks; if you want to have your breakfast just next to the shoreline, visit Big Breakfast coffee shop. If you want to have a bite of the freshest catch of the day, go to Capt'n Con's. If you want a five-star hotel experience, go to Tarpon Lodge and get some seafood and scallops and an extensive list of wine brands.
Pine island for fishing enthusiasts
In Pine Island, fishing is an industry and a sport. There are countless fishing guides who are more than ready to put you on that lunker you always dream about.There is a vast selection of fish species on your target. You can also try kayak fishing, and there are numerous joints to hire a kayak in case you didn't bring yours. Pine Island has one of the world's most fishing bridges located on Route 78 in Matlacha. Line yourself along the bridge and try catching some fish as they traverse along with the Matlacha Pass.
Did you know that the waters of Pine Island are the best for kayaking and canoeing!
Top 5 travel tips for Pine Island
1. Cabbage Key
This is a 100-acre island located about six miles from Pine Island. The hotel was built in the 1940s and is well known for the Dollar Bill Bar. There are more than $70,000 signed dollar notes from patrons hanging all over the bar.
2. Sanibel Causeway
This is a magnificent causeway that connects San Carlos Bay and Sanibel Island. The causeway features two-lane bridge spans and two artificial causeway islands. The causeway spans over 3 miles and has a beautiful view, especially at night.
3. Causeway island park
The Causeway Island Park is an excellent place to swim, paddle, or even and sunbathe as you watch the blue waters of the sea. The island is accessible via vehicle. The best thing about this Park is that you can bring your pet to the Park.
4. Charlotte Harbor preserve state park
The state park spans over 45,000 acres and covers up to 100 miles of shoreline. The Park has a free entry policy. The Park is a good site for hiking, fishing, paddling, and observing wildlife. The Park also provides a perfect opportunity to watch wading birds.
5. Randell research center
Located on the scenic western side of Pine Island, this historical research center occupies about 67 acres. This research center is open to the public and visitors. The center was established to teach and preserve the history, archaeology, and ecology of Southwest Florida.
FAQs: Vacation Rentals in Pine Island
On average, how much do vacation rentals on Pine Island cost?
With an average cost of $260 per night, Pine Island lies at the lower end of the price range for vacation rentals in the USA.
Which months allow you to save the most on vacation rentals?
Those who want to be budget-friendly should travel to Pine Island in September, May, or June, which are the months that offer the most discount, with average prices of $221, $227, and $228 per night, respectively, based on the previous year.
During which months are vacation rentals more expensive on Pine Island?
At the time of booking a vacation rental on Pine Island, the highest prices are usually found in the month of February (with an average of $342 per night), followed by March ($317), and then January ($293).
Is Pine Island a good location for a last-minute getaway?
It's worthwhile if you can book your stay with plenty of time when visiting Pine Island, as only 35% of our properties are usually available throughout the year.
Which months offer the highest availability?
The most available months are, on average, May (with an availability of 78%), June (73%), and August (53%), according to the trends observed in the prior year.
When are there fewer vacation rental options available on Pine Island?
The months with the lowest properties available on Pine Island are, in order, February, March, and April with respective average availability figures of 0%, 2%, and 9%, based on the previous year. During this period, the availability is only 4%. It is therefore recommended to reserve early.
How many vacation rentals are there on Pine Island?
Our catalog features approximately 60 vacation rentals from 3 partners, giving you plenty of choices when searching for your next dream vacation rental!
Holidu compares hundreds of websites to find your perfect holiday rental for the best price.