Other property types in New Orleans that might be interesting:
Popular Destinations in New Orleans
Prices and availability
Current Vacation rental prices in New Orleans
$519 annual average
Apr
May
Jun
Jul
Aug
Sep
Oct
Nov
Dec
Jan
Feb
Average price per week
Current vacation rental availability in New Orleans
42% annual average
Apr
May
Jun
Jul
Aug
Sep
Oct
Nov
Dec
Jan
Feb
Percentage of available rentals
New Orleans Vacation Rentals
A New Orleans-Style Vacation Home Waiting For You
When you travel to New Orleans, get ready to be wooed by French charm and Creole culture. There are plenty of beautiful chateaus and apartments that make for a great vacation rental choice. These are situated right in the heart of the city, along the Mississippi River and close to the famed French Quarter. Keep close in any of the charming cottage rental homes close to Magazine St., the premier shopping street in New Orleans and the city's entertainment district at Bourbon Street.
A Wide Choice Of Location
Charm and French ease are steeped deep in the city of New Orleans so you have a wide choice of vacation rentals to choose from. It all depends on the kind of experience you're after. Want to saunter out onto the balcony and looking out at the streets below from your vacation home? Would you love to have the fresh smell of beignets trying to waft to you while you bask on a garden terrace? You can enjoy the rustic charm of French cottages and chateaus right in the city, that are fully furnished with upscale modern amenities inside every rental home.
A New World French Luxury Awaits
That Southern American charm and hospitality is a long-standing New Orleans tradition. Coupled with an interesting Creole and French culture, New Orleans opens her arms wide and welcomes travelers with world class amenities like wrap-around balconies, old-world parlours, lush courtyards, rooftop gardens and private hot tubs.
Vacationing in New Orleans
The "Big Easy"
There's a reason why New Orleans has earned the nickname "Big Easy". New York may never sleep but it's New Orleans that never winds down on its parties. Well-known for its constant nightlife, a rich tradition of live-music scene and its Creole-inspired cuisine, New Orleans is truly a melting pot of French, African and American cultures. It's biggest draw, of course, is the late-winter carnival Mardi Gras, with dawn-to-duskstreet partiers, parades and intricate costumes.
Multiple Districts, Multiple Cultures
With so many cultural and historical influences, New Orleans has a "quarter" for everything. Located on the banks of the winding Mississippi, the "American Quarter" is directly north and west of the river and includes Canal Street, which divides uptown from downtown. Of course, there is also the famed "FrenchQuarter", the Central Business District, and Bayou St. John, to name a a few. Besides the beautiful French and Southern American influences on architecture, you'll also find the streets lined with 800 year old oaks, low-hanging willows and lazy Cypress trees.
Getting Around New Orleans
Moving around the city goes faster and with much less hassle if you wither walk, bike or take public transport. Cars are more of a hassle in a city this tightly packed. Those staying in the French Quarter can certainly walk everywhere. You can hail a taxi if the hour gets too late but rapid transit and buses as well as charming streetcars are easy to hop on and hop off of. The best way is undoubtedly renting a bike from rental companies in the French Quarter or Marigny.
Activities
New Orleans for Families
New Orleans is the place to be for families with kids of all ages. Start the day off with a hearty French breakfast from Cafe Du Monde and then hit up the famed Audubon Zoo with creatures such as a Komododragon, mischievous sea lions, stunning white Bengal tigers, and even an obliging but rare family of white alligators. You can also check out the Louisiana Children's Museum, with over 100 hands-on exhibits and chow down at Johnny Po' Boys, where the portions are large and the Creole-style food is cheap.
New Orleans for Culture Enthusiasts
Those who want to bask in New Orleans' history and culture can take advantage of many activities. First off, plan to come in late winter (around early March) and you'll catch the non-stop party and revelry that is Mardi Gras. Expect the streets of the French Quarter to be brightly lit and full of the smells of incredible "Nawlins" street food. Speaking of which, you can catch a cooking class at Cookin' Cajun and learn how to whip up authentic Louisiana fare from expert chefs. There are also plenty of outdoor music venues with live music streaming out in the evenings.
New Orleans for Nature Lovers
The weather is always right on in New Orleans — which is what makes the city so perfect for exploration on foot or bike. For those who want to experience the great outdoors, start at City Park, which is the perfect spot for 800 year old oak trees and cool river breezes. You can also venture a visit to Governor Nicholls Street Wharf in the French Quarter for incredibly calm views of the Mississippi River and the Gulf of Mexico, while steamboats serenade you with calliope tunes.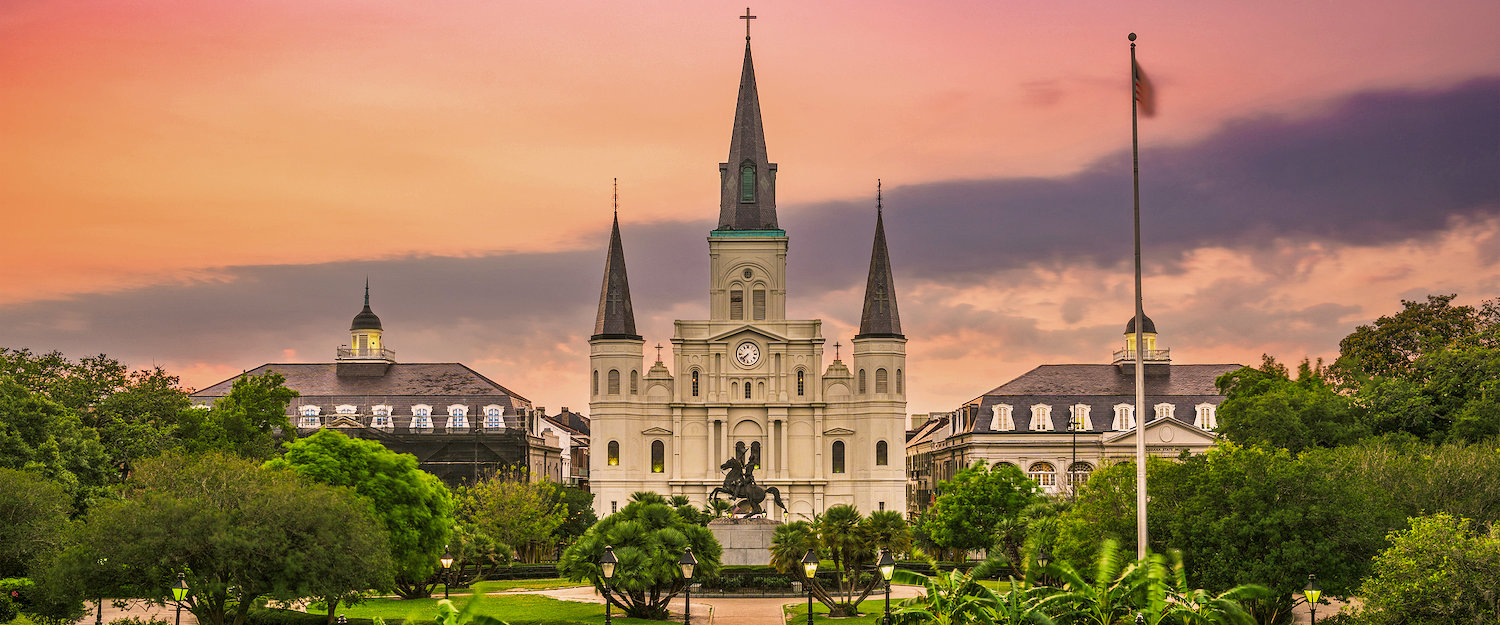 Top 5 Things to do in New Orleans
1. Beignets for Breakfast?
Indulge in amazing French cuisine at the famous Cafe Du Monde. The beignets are made fresh to order and are absolutely delightful: sweet, soft and crunchy on the outside. The outdoor seating seals the deal.
2. Dance The Night (And Day) Away
"Nola", as it's called, is all about the party. Check out the Saturn Bar's monthly dance party with60s and 70s old-school tunes you can shake your booty to.
3. Bluegrass and Jazz
Creole culture has a rich bluegrass music tradition and the South is famed for its jazz musicians. Check out any of the live music venues or ReBirth Brass Band at Maple Leaf Bar.
4. Take A Trip
Within New Orleans, that is. Hop a ride on the charming St. Charles Street streetcars. The beautifully restored streetcars have open windows and rich mahogany seats, perfect to take in the romantic and bustling city.
5. The House of Dance and Feathers
For those who are culture-curious, learn about the history the African-American culture, of the MardiGras Indians and the pleasure clubs through the eyes of the personal collection of the museum's owner Ronald Lewis.
There are only two things: love, all sorts of love, with pretty girls, and the music of New Orleans or Duke Ellington. Everything else ought to go because everything else is ugly. – Boris Vian, Renaissance Man
Useful Information
Climate in New Orleans
Climate in New Orleans is beautiful year-round and the city experiences four distinct seasons — though even "winter" is quite mild and cold snaps are rare. Hurricane season is from Jun to November with September being the most active month.
New Orleans Festivals
Every year, travellers and residents alike gather for the beloved Mardi Gras festival and Jazz fest that overtakes the city. There are also a number of smaller celebrations that go on like Southern Decadence and costume balls.
FAQs: Vacation Rentals in New Orleans
On average, how much do vacation rentals in New Orleans cost?
New Orleans is one of the most expensive cities in the USA. For a stay here you pay around $413 per night.
When are vacation rentals cheaper in New Orleans?
If you would like to save the maximum during your vacation to New Orleans, travel in May ($340 per night on average), June ($357), or August ($366), to find the lowest prices for the whole year.
In which months is it more expensive to rent a vacation rental in New Orleans?
At the time of booking a vacation rental in New Orleans, the highest prices can usually be seen in the month of February (with an average of $525 per night), followed by November ($450), and then March ($449).
Are there usually many vacation rentals available in New Orleans?
You should book your stay with plenty of time when visiting New Orleans, as only 32% of our properties are usually available throughout the year.
What time of the year can I find more available vacation rentals?
Last year, the months with the most vacation rentals available of the year in New Orleans were May, June and August, with average availabilities of 96%, 73%, and 37%, respectively.
During which months is it more difficult to find available vacation rentals?
According to data from last year, the months when it is most difficult to find accommodation in New Orleans are, in order, February (with 12% of available rentals), October (12%), and March (14%). During these three months, the availability is only 13%. It is therefore preferable to book far in advance.
How many vacation rentals does Holidu have in New Orleans?
In New Orleans we work with 4 different providers to give you a choice of 1,800 properties, so you will not be short of options!
Holidu compares hundreds of websites to find your perfect holiday rental for the best price.