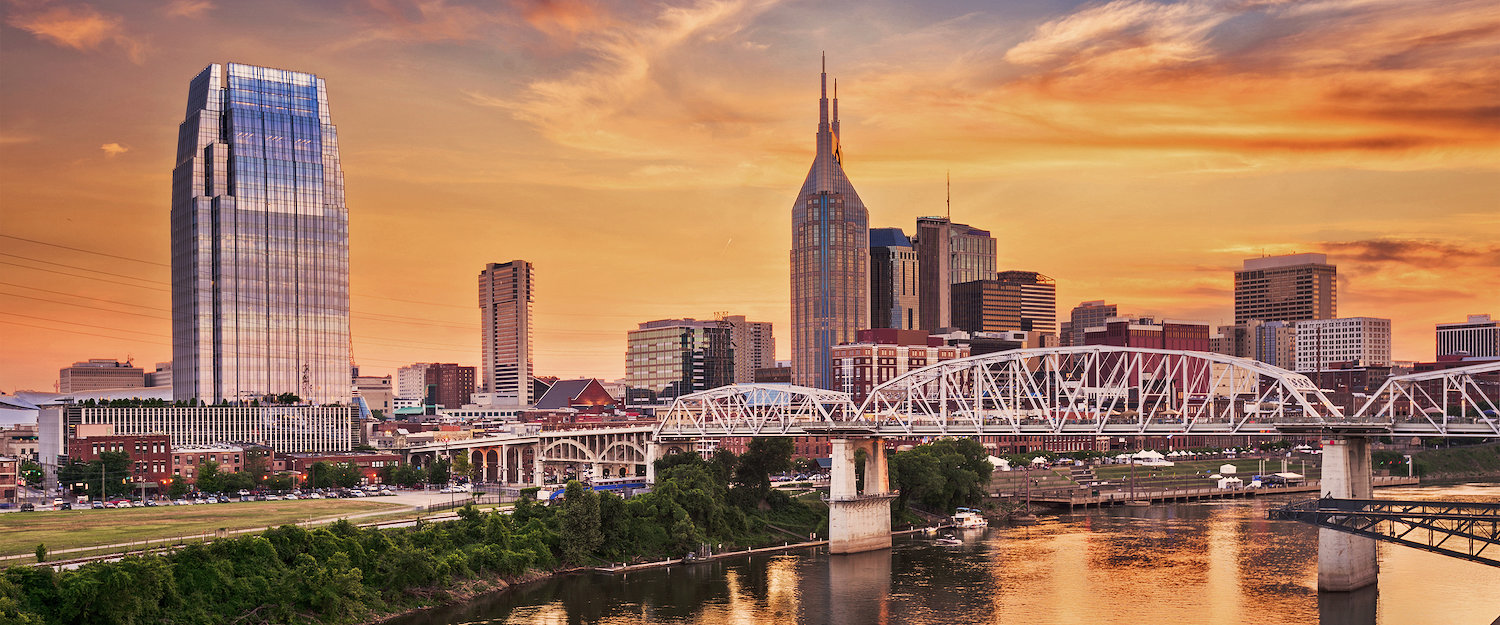 Other property types in Nashville that might be interesting:
Prices and availability
Current Vacation rental prices Nashville
$492 annual average
Jun
Jul
Aug
Sep
Oct
Nov
Dec
Jan
Apr
May
Average price per week
Current vacation rental availability Nashville
41% annual average
Jun
Jul
Aug
Sep
Oct
Nov
Dec
Jan
Apr
May
Percentage of available rentals
Vacation rentals in Nashville
Peaceful Nashville locations
Take a trip and explore the streets of Nashville and hills in the Middle of Tennessee with numerous captivating scenes. Nashville lies on the north-central side of Tennessee. The town borders Kentucky on the north. The city is found in Davidson County along river Cumberland. This urbanized town makes perfect for a family getaway plan. Spend a few days in this music city before going back to your everyday hustle and bustle. Come for a vacation in this gorgeous city and mesmerize all your senses.
Vacation rentals for everyone
Nashville offers safe, comfortable, and peaceful vacation rentals. Different vacation rentals are available depending on your family size. If you want to tag your family along, Nashville offers spacious accommodations to ensure there is plenty of space for your playful kids. Pet-friendly properties are also available. The properties have a fully furnished kitchen in case you want to have the barbecue under some moonlight. Most vacation rentals in Nashville are fitted with all necessary amenities such as high-speed Wi-Fi to ensure you can still like one of your friend's pictures on Instagram. Get yourself a cozy vacation rental as you enjoy scenic views around this marvelous music city.
Vacation rentals in Nashville
The area and getting around
A town full of activities
A vacation in Nashville is coupled with activities day and night. The city offers a handful of outdoor activities. They say there is always something going down in one of Nashville's streets. Common activities around the city include professional sports, virtual cooking classes, and competitions, live music, online author events, not to forget art exhibits and awards shows. Truly Nashville is a beehive of activities. In Nashville is all about having a good time away from the busy everyday schedule.
A city full of many attractions
Nashville city is filled with numerous attraction sites. There are multiple Greek temples and Greek Revival Mansions all over Nashville. Nashville has a story to tell, and you can unearth some of its history by visiting Nashville Museum and mesmerizing over some gorgeous artifacts and memorabilia. Being a music city, Nashville has a duty to honor the music, and there are numerous musical attractions throughout the city. Come to Nashville full of energy because of their countless wild attractions and thrilling adventures in Nashville to help you escape from the chaotic work life.
Travelers and activities
Nashville for food lovers
Nashville is a food scene ranging from local delicacies to vegan options and gluten-free dishes; Nashville has everything to offer. Discover the many food joints in Nashville that make the city to be a top culinary destination. The city offers a chef-driven restaurant and classic dining spots for the love of your life. With over 60 restaurants, come to Nashville, have some local delicacies and discover your soon-to-be favorites. The city also offers late-night dining spots coupled with great live music that will make you lose track of time!
Nashville for the art enthusiast
Art is the heart of Nashville city, and creativity and art thrive effortlessly. The artworks in the city's gallery are diverse, painting the diverse history of the city. There are countless art galleries, murals, street art, and public art that will feed your art spirit. The city hosts numerous art festivals and art crawl throughout the year. Ensure you catch one of these events in your next vacation in Nashville. Get yourself a painting, drawing, scripture, or ceramic to act as a souvenir after a vacation in Nashville.
Did you know that Elvis Presley recorded over 200 songs at Nashville's historical RCA Studio B!
Top 5 travel tips for Nashville
1. Country Music Hall of Fame Museum
This historical museum is one of the largest state-owned museums and research center. The museum has been dedicated to preserving, showcase and interpreting American vernacular music. Currently, the museum has one of the world's largest music collections.
2. Grand Ole Opry
Grand Ole Opry is used to host weekly American county music concerts. This features a bar and restaurant and is conducive for kids. Visit this site and enjoy weekly live radio shows featuring classic and brand-new country songs and acts.
3. Ryman Auditorium
This giant auditorium is located on 116 5th Avenue, North of Nashville. The auditorium has a sitting capacity of about 2362 people. In its early days, the auditorium served as the home of the Grand Ole Opry. Currently, the arena is used to host live music performances.
4. The Parthenon
It is located in the Centennial Park, and the Parthenon is a complete replica of the original Parthenon built by Greeks in Athens. The Parthenon was designed by a legendary architect Sir William around 1897. The Parthenon has been used for a long time to hold art galleries and exhibitions.
5. Andrew Jackson's Hermitage
This historical museum is located 10 miles east of downtown Nashville. This historical site covers over 1000 acres and was a private property belonging to Andrew Jackson. The museum gives a history of Andrew Jackson, who was the seventh president of the US.
FAQs: Vacation Rentals in Nashville
What was the average price for a vacation rental in Nashville last year?
Nashville is one of the most expensive cities in the USA. An overnight stay there costs on average $495 per night.
What time of year offers, on average, the best vacation rental prices in Nashville?
If you would like to save as much as possible during your vacation to Nashville, pack your bags and travel there in April ($415 per night on average), February ($447), or March ($449), to find the lowest prices for the whole year.
When does the price of vacation rentals in Nashville go up the most?
Last year, the month that showed the highest annual average prices in Nashville was November, with an average price of $558 per night. This was followed by October, with an average of $550, and then June, with $547.
Is it necessary to plan a trip to Nashville well in advance?
So you don't run out of accommodation options in Nashville, it is necessary to think ahead as 74% of rentals are usually booked, according to last year's data.
What are the best months for a last-minute getaway?
The most available months are, on average, May (with an availability of 70%), June (44%), and July (28%), according to the trends observed in the prior year.
When are fewer rentals available in Nashville?
The months with the lowest properties available in Nashville are, in order, April, March, and February with respective average availability figures of 9%, 10%, and 15%, based on the previous year. During this period, the availability is very low (11%). It is therefore recommended to book early.
How many vacation rentals does Holidu have in Nashville?
In Nashville we collaborate with 5 different providers to give you a choice of 2,600 properties, so you will not be short of options!
Holidu compares hundreds of websites to find your perfect holiday rental for the best price.