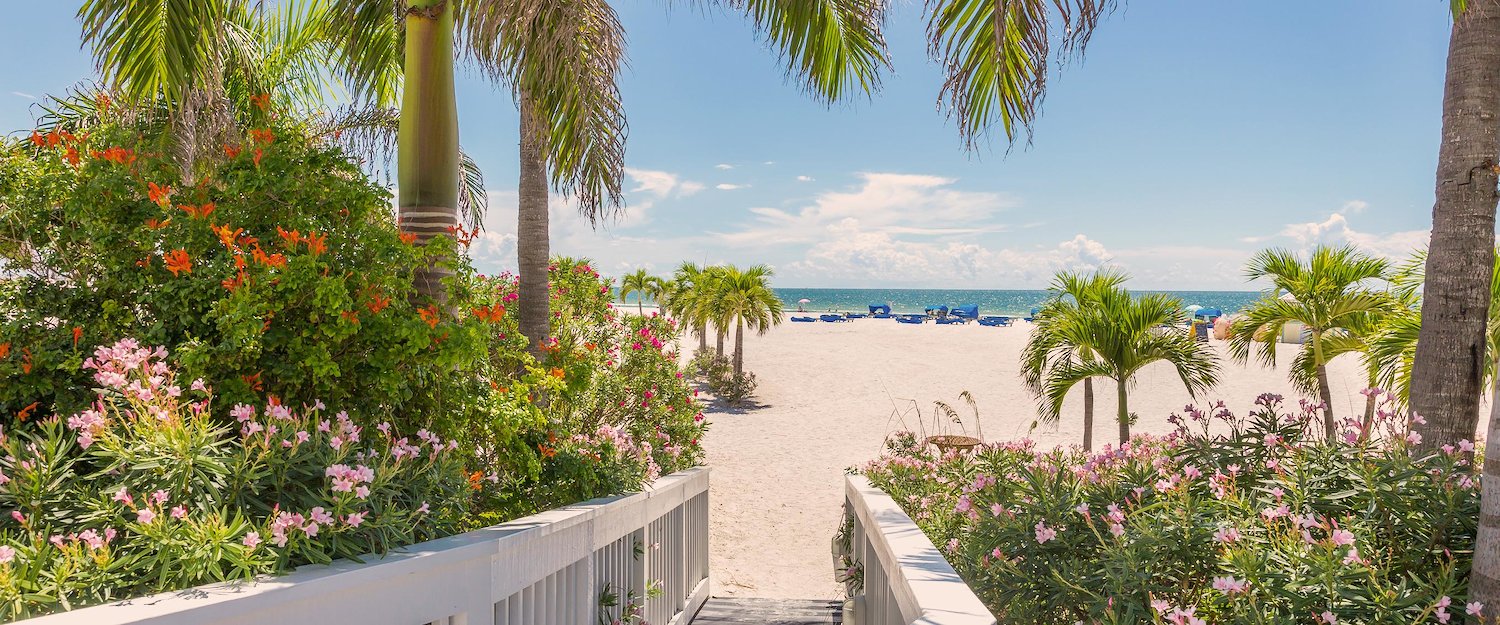 Other holiday ideas and property types in Delray Beach that might be interesting
Prices and availability
Current Vacation rental prices Delray Beach
$398 annual average
Oct
Nov
Dec
Jan
Feb
Mar
Apr
May
Jun
Jul
Aug
Sep
Average price per week
Current vacation rental availability Delray Beach
51% annual average
Oct
Nov
Dec
Jan
Feb
Mar
Apr
May
Jun
Jul
Aug
Sep
Percentage of available rentals
Vacation rentals in Delray Beach
Wonderful rental locations by the beach in Florida
If you want to spend your next vacation in the sunny state of Florida, do not miss out on Delray Beach. This city is part of Palm Beach County in the state of Florida and it's the perfect location for travelers looking for a relaxing destination since its population is just 60,000 inhabitants. However, you will find that a handful of Florida's main cities are located just a short drive away. The history of Delray Beach can be dated back to its first inhabitants, as well as the Tequesta Indians which inhabited the area at various times. However, of recorded details, the city was founded in 1841 as a Seminole camp. The city's boundaries now include 3 miles of beachfront on the Atlantic Ocean, on the south, it borders to Boca Raton as well as Highland Beach and the barrier island on the east of the Intracoastal Waterway. Between the rich history, the perfect location and many more features Delray Beach has to offer, you will not be disappointed by the outcome.
Discover the vacation rentals
If you were looking to enjoy a vacation by a beautiful beach, you certainly found the place. Delray Beach has numerous outstanding vacation rentals. If you wish to be close to nature, the city center, the beach itself, you do not have to worry, there will be a perfect property just for you. Imagine sharing some ribs with good friends in your private garden, having a pool party for your kids by the beach, or even having full public access to the beach from your backyard. These are just a few of the many possibilities you could be experiencing while staying in Delray Beach.
Vacations in Delray Beach
How to get there and what to do
Discover the suburbs of California
There are plenty of ways to get to Delray Beach. If you wish to do your journey by plane, the nearest airport is West Palm Beach/Palm Beach (PBI). However, the largest airport in the vicinity is Miami International Airport, which is just a short drive away. You can also use the Tri-Rail which can take you from the Miami airport straight to Delray beach. Another reachable airport is the Fort Lauderdale Airport. However, you can easily make your trip to Miami with Amtrak by train or Greyhound by bus and still comfortably find transportation that will take you to Delray Beach.
Where to eat in Delray Beach
Delray Beach has quite a diverse population, therefore you will be able to find many different styles of cuisines. Head over to Elisabetta's Ristorante Delray Beach. Here they feature a menu of chef-driven cuisine with the freshest ingredients straight from Italy. You will be able to taste homemade pizza, fantastic gelato, New York steak strip and much more. On the other hand, for some fine dining, visit Avalon Steak and Seafood. This beachy and coastal-inspired steakhouse will provide you with the best classic and original dishes in Southern California.
Travelers and activities
Delray Beach for outdoor activities
Delray Beach gets beautiful warm weather year-round and it's also surrounded by a stunning natural landscape, so here are a couple of outdoor activities to partake in while there. The Wakodahatchee Wetlands is a wildlife area that encompasses over 150 species of birds. If you like to photograph or observe birds in their natural habitat, do not miss out on this place. Moreover, you will be able to follow a walking trail which is also perfect for hiking and jogging. For a more exotic nature destination, check out the Morikami Museum and Natural Garden. You will be able to absorb the beauty of the Japanese flora while strolling through the 188.5-acre area of this establishment.
Delray Beach for families
You may want to visit Delray Beach with all your family, here are some fun activities to enjoy all together. For something a bit more active, visit the Sandoway Outdoor Center. The nature center was founded in 1998 and you will be able to immerse yourself and learn about the flora and fauna that surrounds the area. Between the interactive exhibits, the guided tours and the activity rooms, you will come out an expert. However, on a rainy day, head over to the Silverball Museum. This unique pinball museum displays over 88 machines which will dazzle you about the history of pinball.
Did you know that between 1930 and 1940 Delray Beach was a popular retreat for famous writers and artists?
Top 5 travel tips for Delray Beach
1. Atlantic Avenue
This pedestrian area is the perfect place to relax after a long day of sightseeing. Check out one of the many shops, dine at a unique restaurant, or admire one of the local stands. When you visit Delray Beach, you will not be able to miss out on this place.
2. Saltwater Brewery
Check out the city's first, oldest and most popular brewery. Whether you go there to spend time with friends or take a guided tour of their grounds, you will have a great time.
3. Delray Municipal Beach
After all, you are vacationing at the beach, might as well just get your tan on then. Visit the city's most popular beach to enjoy some white sand, clear water, volleyball and more.
4. Old School Square
Have some fun in Delray Beach's best entertainment center. You will be able to catch some Broadway cabaret starring New York's nest shining stars, some up and coming comedy acts and much more.
5. Sandoway House Nature Center
If you love nature, you must visit this location. In this establishment, you will be able to learn about South Florida's marine and freshwater environment through the many exhibits and programs. You will encounter local reptiles, sharks, and many other fishes that inhabit the coral reef pool.
FAQs: Vacation Rentals in Delray Beach
How much do you pay, on average, for vacation rentals in Delray Beach?
Considering the average cost of $346 per night, Delray Beach lies at the lower end of the price range for vacation rentals in the USA.
What time of year offers, on average, the best vacation rental prices in Delray Beach?
If you want to save as much as possible during your vacation to Delray Beach, travel in August ($316 per night on average), November ($323), or May ($324), to find the lowest prices for the whole year.
In which months is it more expensive to rent a vacation rental in Delray Beach?
Last year, the month that had the highest annual average in Delray Beach was March, with an average price of $379 per night. This was followed by June, with an average of $376, and then July, with $361.
Should I plan a trip to Delray Beach well in advance?
It is better to book sooner than later in Delray Beach as only 19% of the accommodations are free throughout the year, following the data observed in the previous year.
What time of the year can I find more available vacation rentals?
The months when it's the easiest to find free accommodation in Delray Beach are September (the average amount of properties that are available reached 55% of the total last year), October (44%), and August (40%).
How many rentals are there in Delray Beach?
Holidu has around 90 properties in Delray Beach, provided by 4 different partners.
Vacation destinations nearby
Holidu compares hundreds of websites to find your perfect holiday rental for the best price.