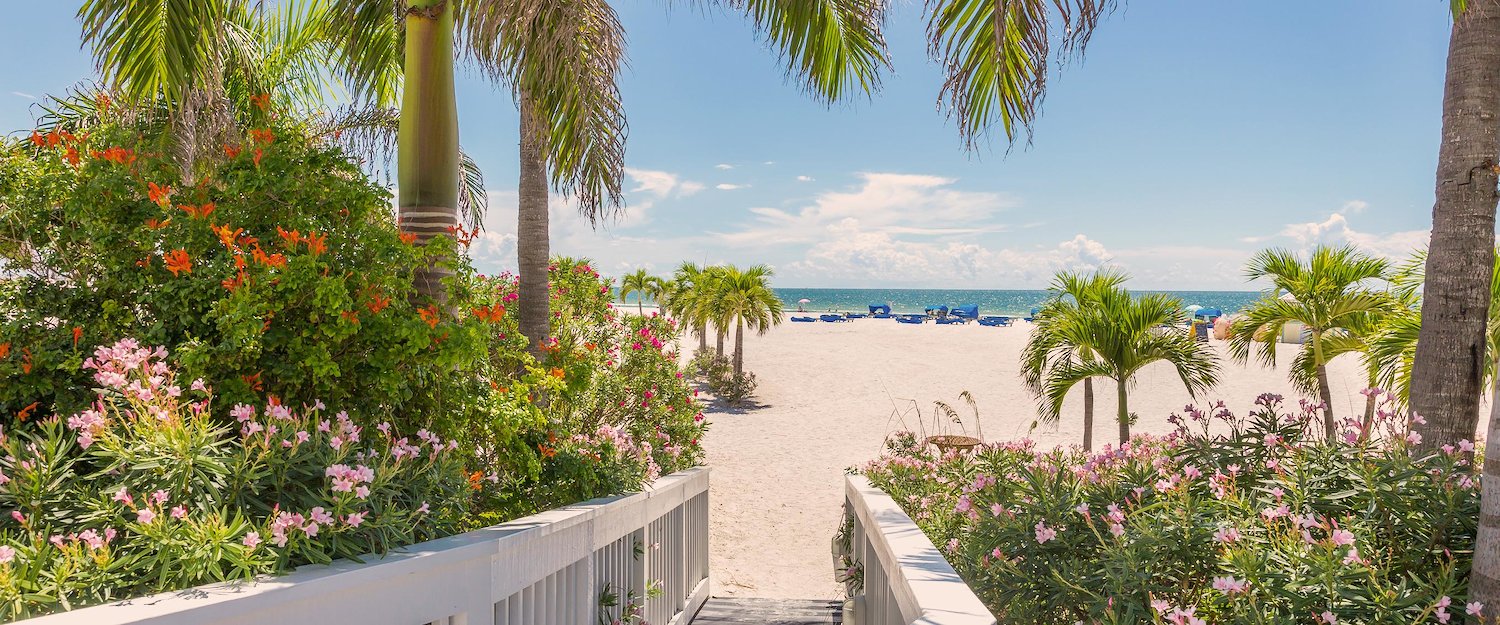 Other holiday ideas and property types in Boca Raton that might be interesting
Prices and availability
Current Vacation rental prices Boca Raton
$450 annual average
Nov
Dec
Jan
Feb
Mar
Apr
May
Jun
Jul
Aug
Average price per week
Current vacation rental availability Boca Raton
51% annual average
Nov
Dec
Jan
Feb
Mar
Apr
May
Jun
Jul
Aug
Percentage of available rentals
Vacation Rentals Boca Raton
A sunny, Palm Beach city for relaxed South Florida escapes
Visit the palm tree-lined streets of this luscious city in Southern Florida on your next trip and enjoy the sun, sea, and sand. Boca Raton is a city in Palm Beach County with a population of about 84,000. With a turquoise sea, a beautiful two-mile stretch of coastline, it is a stunning and peaceful place to visit and unwind. The nearby cities of Coral Spring, North Lauderdale, and Coconut Creek are great spots for a day trip, while Miami's main city, Deerfield Beach, is a short 15 minute car ride away.
Vacation Rentals in Boca Raton. A vacation rental for everyone.
Find the ideal rental property with plenty to choose from. Boca Raton has a wide range of accommodation available, suitable for every type of holiday. Whether it's a romantic getaway, a family holiday or a trip with a large group of friends. Large rentals make a great location for groups of friends who wish to chill and enjoy a BBQ together. A lot of the vacation rentals in the area have their own garden or terrace, often with a swimming pool. Many resorts in Boca Raton cater to families with facilities for young children and parents to enjoy. If you are looking for a relaxed, coastal destination with superb public beaches, take a look at the rentals on offer in Boca Raton. They tend to be large and spacious, and range in size from 1 - 5 bedrooms. Self-catering accommodation in Boca Raton is generally very well-equipped for a holiday stay, with all essentials covered. Vacation rentals in Boca Raton cater to everyone; families, groups of friends big and small, and couples, and is suitable for both long stays and short, weekend trips.
Vacation Rentals in Boca Raton
The area and getting around
The perfect base for exploring South Florida
The most popular vacation rentals in Boca Raton are beach houses and villas, though there are also resorts and self-catering apartments to choose from. Many of the vacation rentals in the area have swimming pools and a garden or outdoor area to enjoy. Boca Raton is a great base from which to explore the beautiful landscape and vegetation of Southern Florida. From luscious green shrubbery to gently swaying palm trees, Florida's warm climate creates a gentle, tropical atmosphere where colorful plants such as hibiscus and bird of paradise thrive. The easiest way to get around Boca Raton is on foot or on the city's free ride service. These provide free transportation to top sites in Boca Raton such as the Gumbo Limbo Nature Reserve and Mizner Park.
Breezy palm tree lined streets
Boca Raton is a beautiful, coastal Florida city. Complete with gently swaying palm trees along its long boulevards, it is a picturesque place to see the sunset. Although it is an urban metropolis, there is plenty of green space in the city and there is a sense of openness along the airy streets. Much of the architecture in Boca Raton has a Spanish style that creates a rich, Mediterranean atmosphere and makes it a great place to visit, shop and dine. When it comes to romantic trips or family getaways, nowhere is more inviting than Southern Florida. Long-stretching golf courses, soft, sandy, pristine beaches, an excellent shopping scene and relaxed, fashionable bars and restaurants make Boca Raton an attractive destination for many. You can find great shopping malls in the center of the city and lots of great eateries along the seafront.
Travelers and activities
Boca Raton for couples
There are lots of romantic things to do for couples who are visiting Boca Raton. From sunset walks along the palm tree lined promenade to romantic dinners in seaside restaurants, it is a relaxed and inviting place to enjoy some quality time together. Nature lovers will enjoy a trip to red reef park where you can go snorkeling in crystal clear, turquoise water and get up close and personal with all types of colorful sea-life. Boca Raton for couples also has excellent nightlife to enjoy, with clubs and bars along the seafront the perfect spot to enjoy a glass of wine on a warm, balmy evening as the sun goes down.
Boca Raton for families
For families, there are plenty of fun activities in Boca Raton to keep kids amused. Most of the beaches have lifeguards and the ocean is crystal clear along the 2 miles of Boca Raton's coastline, ensuring it is safe for kids to swim and enjoy the sea. There is a Master Escape Room that will challenge older kids and parents alike, and a Trampoline & Adventure park for thrill-seekers. Younger kids may enjoy a visit to the Boca Raton Children's Science Museum or the Children's Science Explorium.
Architect Addison Mizner began planning Boca Raton in 1925 as "the dream city of the western world."
Top 5 Things to do in Boca Raton
1. Take a trip to the Royal Palm Palace shopping mall for some retail therapy
Whether you're in Boca Raton for a weekend or a week, a shopping trip to the Royal Palm Palace shopping mall will ensure you leave with some chic and fashionable pieces in your suitcase.This shopping center is home to many high-end boutiques, along with chic restaurants, salons and spas. You will also find bars, art galleries and fitness centers to enjoy in the mall.
2. Enjoy a cold beer at the Barrel of Monks brewery
Beer lovers will enjoy a visit to Boca Raton's local brewery where you can sample a fresh, cold beer and learn about its production. This local brewery focuses on the production of Belgian beer and produces a wide range of beverages. They offer brewery tours and have a stylish tasting room where you can relax and cool down over a chilled glass of ale.
3. Take in the paintings and sculptures at the Boca Raton Museum of Art.
This museum features exhibitions by local and international artists and often features traveling exhibitions showcasing paintings as well as photography. The museum showcases and celebrates local artists and regular hosts events such as talks, art sessions, lecture, films and daytime concerts. It is a great spot to experience the work and expression of Florida's artists and to get an insight into the local culture of Boca Raton.
4. Practice your cooking skills with a cookery class at the Sur la Table restaurant
This popular culinary school is the best place to be if you want to learn how to cook steak flank, seafood, or an entire menu. Sur la Table offers classes in everything from local seafood dishes to international meals and specialties. The restaurant is located in Mizner Park and also hosts summer cooking classes for children. Combine a visit to Sur la Table with a picnic in the park on a sunny afternoon.
5. Talk a walk in nature at the Daggerwing Nature Center
Daggerwing Nature Center is situated in Burt Aaronson South County Regional Park, west of Boca Raton. It features an exhibition of live animals, a butterfly garden, and an outdoor boardwalk where visitors can enjoy nature and the local surroundings. Visitors to the center can get up close with some of Boca Raton's local wildlife in the indoor exhibit hall, where there are animals as well as classrooms and labs to learn about the local vegetation.
FAQs: Vacation Rentals in Boca Raton
How much do the vacation rentals in Boca Raton cost on average?
Last year, rentals in Boca Raton had an annual average cost of around $422 per night.
Which months allow you to save the most on vacation rentals?
If you would like to save as much as possible during your vacation to Boca Raton, go there in February ($342 per night on average), March ($376), or November ($407), to find the lowest prices for the whole year.
When are vacation rentals more expensive in Boca Raton?
When it comes to booking a vacation rental in Boca Raton, the highest prices are usually found in the month of December (with an average of $461 per night), followed by April ($451), and then August ($440).
Do I need to plan a trip to Boca Raton well in advance?
It is better to book sooner than later in Boca Raton as only 16% of the accommodations remain available throughout the year, according to last year's data.
What time of the year can I find more available vacation rentals?
The months that offer the most accommodation options are, on average, October (with an availability of 35%), September (34%), and August (31%), according to the trends observed in the prior year.
How many vacation rentals does Holidu have in Boca Raton?
In Boca Raton we have a comprehensive catalog of approximately 160 properties, with options of all kinds, thanks to our 2 local and international providers.
Vacation destinations nearby
Holidu compares hundreds of websites to find your perfect holiday rental for the best price.