Vacation Rentals in Edinburgh
Start comparing over 829 rentals in Edinburgh and book at the best price!
Popular Vacation Rentals in Edinburgh
Vacation rentals with free cancellation
Vacation Rentals in Edinburgh
Pet-friendly Vacation Rentals
Vacation Rentals with Pool
Vacation Rentals with Internet
Find Vacation Rentals in Edinburgh
Most popular in Edinburgh
Prices and availability
Prices
November
December
January
February
March
April
Oct 23 - Oct 30
$243 per night
Oct 30 - Nov 06
$252 per night
Nov 06 - Nov 13
$261 per night
Nov 13 - Nov 20
$266 per night
Nov 20 - Nov 27
$262 per night
Nov 27 - Dec 04
$256 per night
Dec 04 - Dec 11
$258 per night
Dec 11 - Dec 18
$259 per night
Dec 18 - Dec 25
$265 per night
Dec 25 - Jan 01
$306 per night
Jan 01 - Jan 08
$374 per night
Jan 08 - Jan 15
$322 per night
Jan 15 - Jan 22
$240 per night
Jan 22 - Jan 29
$246 per night
Jan 29 - Feb 05
$255 per night
Feb 05 - Feb 12
$279 per night
Feb 12 - Feb 19
$287 per night
Feb 19 - Feb 26
$271 per night
Feb 26 - Mar 05
$290 per night
Mar 05 - Mar 12
$291 per night
Mar 12 - Mar 19
$274 per night
Mar 19 - Mar 26
$279 per night
Mar 26 - Apr 02
$285 per night
Apr 02 - Apr 09
$282 per night
Average price per week
Availabilities
November
December
January
February
March
April
Percentage of available rentals
No other country holds as many secrets about myths and legends as Scotland. Especially in Edinburgh there is a lot to discover, because the city has preserved its medieval flair. Discover the old town on a city trip and then relax in your centrally located holiday apartment. Accommodation in and around Edinburgh can be found on Holidu.
About Edinburgh
Edinburgh - Auld Reekie's Legacy
From the former factory town of Auld Reekie (old smokers) only the many chimneys that rise from the roofs of the Old Town into the sky remind. In fact, Edinburgh has evolved into an open world metropolis with many attractions and activities for its visitors. Whiskey tasting, city tours,
Museums, modern shopping - Edinburgh has something for every taste. The city in Scotland is particularly attractive because of its proximity to Glasgow and Stirling. All you need is a suitable holiday apartment in Edinburgh and you can find it here on Holidu!
What does Scotland's capital have to offer?
Edinburgh is the capital of Scotland and has an ancient history. The heart of the city are Old Town and New Town, which couldn't be more different. Old Town still has a medieval flair with winding streets, cobblestones and old buildings. New Town, on the other hand, with its shopping mile Princes Street, has wide straight streets and neoclassical houses. The two parts of the city are close together, separated by the Princes Gardens, an idyllic park that is particularly popular in summer. This means that you can easily move from one to the other in the
in another part of town. By the way, Edinburgh is best explored on foot. This is the only way to discover all the charm and beauty of the city. Most of the sights are also close together, so you'll just stumble from one experience to the next. Edinburgh also offers many different events throughout the year, from "Hogmanay" in December to the certainly biggest cultural festival "The Fringe" in August. For vacation rentals directly in the centre, simply use the search engine at Holidu!
"Did you know Sean Connery was born in Edinburgh?"
Top 5 Travel Tips for Edinburgh
Edinburgh Castle is the stunning landmark that most tourists see from afar when they first come to Edinburgh. This is due to the fact that the castle was built on an extinct volcano and can therefore be seen from everywhere. A visit to the castle is highly recommended and, given its size and attractions, you should plan on spending a day visiting it. During your visit, you will also have the freedom to choose an audio tour, which is also available in German, or one of the guided English tours, where the guides can tell you many anecdotes and interesting facts about the castle, the Scottish crown jewels or the stone of Scone. From centrally located accommodation such as cottages, apartments and vacation rentals in Edinburgh, the sightseeing hotspots are within walking distance.
2 Especially exciting for children is certainly the Camera Obscura. Not far from Edinburgh Castle you can not only admire the 19th century giant pinhole camera and learn more about optics, but also experiment up close with optical illusions. Great fun for the whole family!
3. There is only one place to go for the right souvenir: the Royal Mile. The historically important road is exactly one tartan mile long and connects Edinburgh Castle with Holyrood Palace, which in turn stands next to the Parliament. So after you've caught a bargain, we recommend a walk down to the Queen's summer residence and the modern Parliament building, where you can sit in the auditorium if you're interested and follow the British debates.
4th Edinburgh's dark side and not for the faint hearted are the Edinburgh Vaults. In nightly tours you can go underground in Edinburgh. In the 18th century, as the home of the poorest and the scene of criminal business, the Vaults have many gruesome stories to tell and visitors still tell of unexplainable events they experienced on the tours. See for yourself! If you want to hide under the blanket quickly, simply book one of the centrally located holiday apartments in Edinburgh here at Holidu!
5. Fans of Harry Potter will get their money's worth in Edinburgh, because Edinburgh is the true birthplace of the sorcerer's apprentice! Enthusiastic fans of books and films can go on a journey of discovery here and discover important stations that inspired the author to write the book and will also enchant you. First visit The Elephant House, the café where J. K. Rowling wrote the first chapters of the book. Watch budding writers write or sit at one of the man-high windows with a cup of coffee and look up to the castle, the inspiration for Hogwarts. Then make a detour to Greyfriars Kirkyard (just around the corner from the café), a cemetery where fans will discover names like McGonagall, Moody or even Tom Riddell! On Holidu you will find a large selection of vacation rentals in Edinburgh as well as vacation rentals with the typical Scottish flair. Browse the offer and enjoy the pearl of Scotland.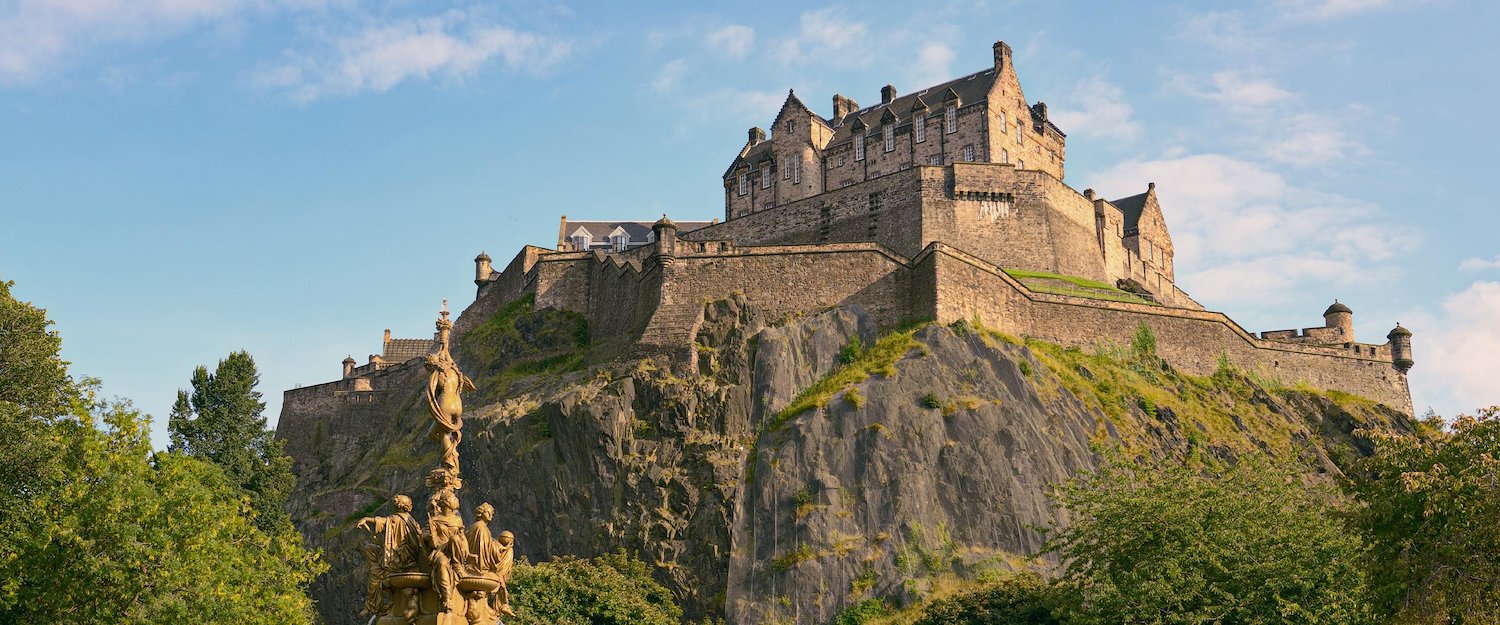 It's easy to find the Edinburgh holiday home that suits you
On Holidu you will find holiday homes, apartments, cottages, apartments and much more! First determine the type of accommodation, then set your preferred date and you can view all available accommodation. Your search results can also be sorted by location,
Filter number of rooms, customer ratings and equipment. So you have the possibility to decide if you want an apartment in a central location with internet access or if you prefer a whole holiday house with garden. Rent a vacation rental in Edinburgh - made easy with Holidu!
FAQs: Vacation Rentals in Edinburgh
How much do the vacation rentals in Edinburgh cost on average?
Edinburgh is one of the most expensive cities in the United Kingdom. For a stay here you pay around $196.59 per night.
Which months allow you to save the most on vacation rentals?
]If you are looking to get the most out of your money, the most budget-friendly months to visit Edinburgh are January ($150.35 the average per night for accommodation), March ($171.28), and February ($175.91).
During which months are vacation rentals more expensive in Edinburgh?
At the time of booking a vacation rental in Edinburgh, the highest prices are found in the month of August (with an average of $225.04 per night), followed by July ($216.18), and December ($209.75).
Should I plan a trip to Edinburgh well in advance?
It is better to plan ahead in Edinburgh as only 37% of the accommodations remain free throughout the year, according to our 2020 data.
Which months offer the highest availability?
In 2020, the months with the largest number of properties available of the year in Edinburgh were June, July and April, with average availabilities of 52%, 50.75%, and 43.75%, respectively.
When are fewer rentals available in Edinburgh?
The month with the highest average booked rental figures is February (only 25.4% of properties were available on average in 2020). Followed by September (31%), and March (32.5%).
How many vacation rentals does Holidu have in Edinburgh?
In Edinburgh we work with 21 different providers to give you a choice of 2400 properties, so you will not be short of options!
Vacation destinations nearby
Holidu compares hundreds of websites to find your perfect holiday rental for the best price.