Vacation Rentals in Egmond aan Zee
Start comparing over 106 rentals in Egmond aan Zee and book at the best price!
Popular Vacation Rentals in Egmond aan Zee
Vacation rentals with free cancellation
Vacation Rentals in Egmond aan Zee
Pet-friendly Vacation Rentals
Vacation Rentals with Pool
Vacation Rentals with Internet
Find Vacation Rentals in Egmond aan Zee
Highlights Egmond aan Zee
Ideal for a family beach holiday
Sights for culture lovers
UNESCO World Heritage Wadden Sea
Brewery museum in nearby Alkmaar
Most popular in Egmond aan Zee
Prices and availability
Prices
November
December
January
February
March
Oct 16 - Oct 23
$163 per night
Oct 23 - Oct 30
$161 per night
Oct 30 - Nov 06
$162 per night
Nov 06 - Nov 13
$154 per night
Nov 13 - Nov 20
$148 per night
Nov 20 - Nov 27
$153 per night
Nov 27 - Dec 04
$155 per night
Dec 04 - Dec 11
$153 per night
Dec 11 - Dec 18
$161 per night
Dec 18 - Dec 25
$183 per night
Dec 25 - Jan 01
$198 per night
Jan 01 - Jan 08
$198 per night
Jan 08 - Jan 15
$176 per night
Jan 15 - Jan 22
$139 per night
Jan 22 - Jan 29
$146 per night
Jan 29 - Feb 05
$150 per night
Feb 05 - Feb 12
$136 per night
Feb 12 - Feb 19
$136 per night
Feb 19 - Feb 26
$148 per night
Feb 26 - Mar 05
$157 per night
Mar 05 - Mar 12
$154 per night
Mar 12 - Mar 19
$154 per night
Mar 19 - Mar 26
$150 per night
Mar 26 - Apr 02
$152 per night
Average price per week
Availabilities
November
December
January
February
March
Percentage of available rentals
Vacation rentals in Egmond aan Zee
Holidays on the Dutch North Sea coast
The Dutch holiday resort of Egmond aan Zee is a part of the municipality of Egmond and has the highest density of holiday accommodation in the municipality due to its immediate location on the coast. Since most vacation rentals and apartments are in houses built in the traditional Dutch style, Egmond aan Zee has a charm that is as cosy as it is rural.
Living in Egmond aan Zee
A holiday apartment in the centre also promises short distances to the beach and local restaurants. But you will be particularly pleased to live in an apartment on the "Strandboulevard", where you can enjoy the undisturbed view of the beach and the undulating waves of the North Sea from your balcony. Alternatively, you can move into a quietly located vacation rental near the art park, which offers more than enough space for large travel groups as well as holidays with the whole family.
Holidays in Egmond aan Zee
Travelers and Activities
Egmond aan Zee for culture lovers
Those who have something for culture have numerous possibilities in Egmond aan Zee as well as in Egmond and in the neighbouring metropolis Alkmaar. Among the highlights are the "Museum van Egmund", which deals with the local history, the ruins of the moated castle of the Counts of Egmond in the district of Egmond aan den Hoef and the Benedictine Abbey of Egmond, which is known far beyond the borders of North Holland and is considered the oldest abbey in the Netherlands. In Alkmaar, on the other hand, the old town with its St. Laurens church, the town hall and the "Piets" mill are waiting for interested visitors.
Family holiday in Egmond aan Zee
The reason why most holidaymakers visit Egmond an Zee is the kilometre-long sandy beach, which is of outstanding quality thanks to its regular fills. In addition, the beach section is not only suitable for extensive sandcastle building and relaxing, but also for the first swimming exercises with the offspring due to the shallow surf. Older children also enjoy activities such as children's discos, children's make-up and various competitions, which regularly provide fun and action, especially in the high season, while the older semesters relax in the sun or treat themselves to a coffee on the promenade.
Things to know
Best travel time
Egmond aan Zee is an ideal destination for Whitsun holidaymakers, because already in May the number of sunny hours reaches its annual maximum with an average of seven hours per day. However, those who are considering a beach holiday in the popular holiday resort should book their vacation rental for the high season between the end of June and the end of August, as the North Sea at this time reaches at least a refreshing bathing temperature of around 18 degrees Celsius and the mercury more often cracks the 25 degree mark. Nature lovers can also use the months of September and October for extensive hikes and bird watching.
Regular events
The event year starts in Egmond aan Zee in the truest sense of the word with a leap into the cold water, because on 1 January the traditional bathing in the ice-cold North Sea takes place, in which beside locals also numerous daring tourists take part, who travel particularly for this purpose. After the Egmond Half Marathon, which also takes place in January, the festival continues with various colourful markets and beach festivals in summer. The highlight of the summer season, however, is undoubtedly the annual Caribbean Festival, in the course of which the entire town wraps itself in a Caribbean garb and attracts bars, restaurants and pubs with themed events that bring locals and tourists closer together.
"The cyclist and five-time track world champion Theo Bos was born in Egmond aan Zee."
Top 5 travel tips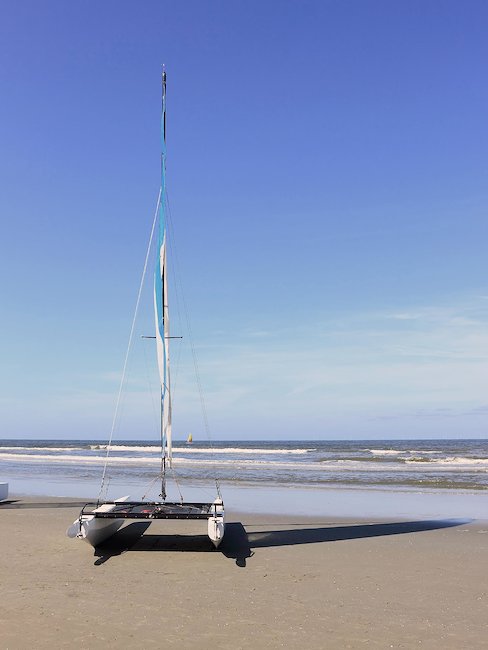 Discovery tour to the Wadden Sea World Heritage Site
A hike through the Wadden Sea UNESCO World Heritage Site is part of every holiday on the North Sea. Either set off on your own or discover the fascination of this unique habitat in the company of an experienced mudflat guide, who will certainly have some interesting stories to tell you as you trudge through the pleasant silt.
Egmond aan Zee from a bird's eye view
If you want to enjoy the fantastic view from the viewing platform of the J.C.J. van Speijk Egmond light tower, which rises just a few minutes' walk from your apartment in Egmond aan Zee, you can visit it every Friday in July and August and climb the 137 steps. Outside this period the lighthouse is closed for visitors.
Visit to the Dutch Cheese Museum
The Alkmaar Cheese Market (Alkmaarse Kaasmart) has been an institution since it was first held in 1622, attracting young and old alike. It is not for nothing that 300,000 people flock to Alkmaar every year to watch the cheese makers at work.
Discovery tour through the Dutch beer culture
The beer museum, also located in neighbouring Alkmaar and housed in a 17th century brewery building, provides a culinary counterpoint. In addition to an insight into the art of brewing beer and the history of barley juice in the Netherlands, you can also try 86 Dutch beers in the adjacent tasting pub. A true paradise for beer lovers.
In the footsteps of history
The bunker museum in Egmond aan Zee offers history to touch. Climb down steep stairs into the bunkers, 40 of which have survived to this day and open a window into the dark period of the Second World War. For a small fee of 1,50 Euro you get access from April to October to the worth seeing facility below the dune crest, which leaves a lasting impression on young and old in any case.
FAQs: Vacation Rentals in Egmond aan Zee
How much do the vacation rentals in Egmond aan Zee cost on average?
Our data shows that Egmond aan Zee has an average price of $163.17 per night, a relatively high one for a city in The Netherlands.
What time of year offers, on average, the best vacation rental prices in Egmond aan Zee?
After analyzing our data from last year, the months with the cheapest prices in Egmond aan Zee are January, February and March, with average prices of $119.66, $131.19, and $136.38, respectively.
In which months is it more expensive to rent a vacation rental in Egmond aan Zee?
In 2020, the month that offered the highest average prices in Egmond aan Zee was August, with an average price of $222.85 per night. This was followed by September, with an average of $190.01, and July, with $177.69.
Is Egmond aan Zee a good location for a last-minute getaway?
It is better to book sooner than later in Egmond aan Zee as only 21% of the properties remain free throughout the year, according to our 2020 data.
Which months offer the highest availability?
The most available months are, on average, December (with an availability of 41.5%), November (37.75%), and April (33%), according to the trends observed in 2020.
When will it be harder to find an available vacation rental in Egmond aan Zee?
The month with the highest average booked rental figures is July (only 1.5% of properties were available on average in 2020). Followed by August (1.6%), and September (5.25%).
How many rentals does Holidu have in Egmond aan Zee?
In Egmond aan Zee we have a comprehensive catalogue of approximately 330 properties, with options to suit everyone, thanks to our 15 local and international providers.
Vacation destinations nearby
Holidu compares hundreds of websites to find your perfect holiday rental for the best price.