Vacation Rentals in Weser Hills
Start comparing over 150727 rentals in Weser Hills and book at the best price!
Popular Vacation Rentals in Weser Hills
Vacation rentals with free cancellation
Vacation Rentals in Weser Hills
Pet-friendly Vacation Rentals
Vacation Rentals with Pool
Vacation Rentals with Internet
Find Vacation Rentals in Weser Hills
Most popular in Weser Hills
Popular Destinations in Weser Hills
Prices and availability
Prices
January
February
March
April
May
June
Average price per week
Availabilities
January
February
March
April
May
June
Percentage of available rentals
Pure nature in the Weserbergland: Here you can enjoy the idyllic landscape to the full and take advantage of the location of this region and make a detour to one of the neighbouring cities such as Hanover or Kassel. Enjoy in any case your vacation in this dreamlike area. Apartments and vacation rentals can be found with Holidu!
Things to know about the Weserbergland
Weserbergland - Travel to Germany's most beautiful low mountain range
The Weserbergland low mountain region, some of which is over 520 metres high, stretches on both sides of the Weser and, as part of the Lower Saxony highlands, is one of Germany's most beautiful low mountain ranges. Southern foothills extend as far as Hesse, western foothills extend to North Rhine-Westphalia and the northern part of the Weserbergland belongs to Lower Saxony. The cities of Kassel, Bielefeld, Hanover, Hildesheim and Göttingen are in the immediate vicinity and, so to speak, corner posts of the Weserbergland. The almost 450 kilometre long Weser meanders here contemplatively through its so-called Upper Weser Valley, through the peaks of the low mountain range and is the lifeline of the region.
The cities in the region are also characterised by their various features, such as half-timbered houses. The Weserbergland can be easily reached by car via several motorways and federal highways. There are also good local connections, so you can ideally explore the villages in your vicinity. If you want to do without your own car completely, the train, the long-distance bus also offers a possibility. Via the airports Hannover, Paderborn or Münster you can also reach your destination in the Weserbergland by plane. Vacation rentals and apartments that suit you can be found with Holidu!
Discover the beautiful nature of the Weserbergland on your own!
With the two nature parks Weserbergland Schaumburg-Hameln and Solling-Vogler, the Weserbergland attracts numerous nature lovers and active holidaymakers to the region every year. On a well-developed network of cycling and hiking trails, you can explore the beauty of an idyllic low mountain range at your own pace. Search for the rare, but here still to be found, beech trees - a rare species of the red beech, which gives an enchanted impression with twisted, crippled and often intergrown branches. You will find the world's largest specimen at Bad Gandersheim, very close to the beautiful town of Einbeck. However, in addition to nature and active tourism, motorcycle tourism is also becoming increasingly popular.
The Köterberg near Holzminden in particular attracts numerous bikers every year with its height of almost 500 metres. But Köterberg is not only interesting for bikers, as it is the highest point from this point to the North Sea and in good weather offers breathtaking panoramic views up to 80 kilometres away. Those who prefer to walk should not miss Rühler Switzerland. Situated on the right bank of the Weser about 7 kilometres south of Bodenwerder, you will find fantastic hiking trails to magnificent vantage points and absolute natural beauty. Find with Holidu your ideal holiday apartment in the Weserbergland and enter the beautiful landscape of this region.
"The Weserbergland is up to 527.8 m above sea level (NHN)."
Top 5 travel tips in the Weserbergland: enjoy exciting excursions and attractions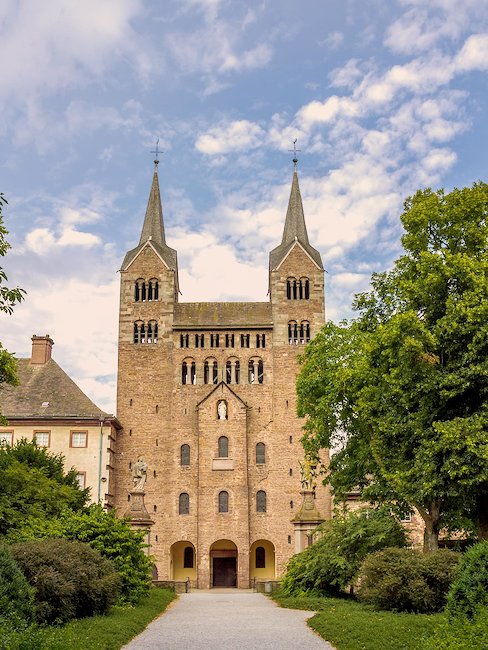 1. Walk in the footsteps of the fairy tales of the Brothers Grimm and visit the tranquil Alfeld near Einbeck. Here, according to legend, Rapunzel has lowered her golden hair from a tower of the Trendelburg castle worth seeing. A little further south is the fairy tale of Sleeping Beauty, who has kept her eternal sleep in the castle, which today is the Sababurg ruin near Hofgeismar. Especially for children an unforgettable experience.
2 Visitors to Rühler Switzerland should definitely stay in one of the many inexpensive holiday homes in Bodenwerder. It is here that the famous "baron of lies" Karl Friedrich Hieronymus von Münchhausen comes from. As a state-approved climatic health resort, Bodenwerder also offers the best conditions for recreation and relaxation.
3. The so-called Weser Renaissance welcomes holidaymakers interested in architecture throughout the region. Towards the end of the 16th century, the Weser region experienced an undreamt-of building boom, and so castles, noble courts, town halls and Renaissance civic and religious buildings have survived to this day at an unusually high density. Particularly worth seeing is the Old Latin School in Alfeld, the Old Town Hall in Einbeck or of course the Pied Piper and Wedding House in Hameln.
4 Hameln itself must not be missed under any circumstances. The town, which achieved world fame through the legend of the Pied Piper based on a tradition dating back to 1284, offers a whole range of lovingly restored monuments that bear witness to a long and eventful history of the town on the Weser. Numerous restaurants and cafés also offer regional specialities and the hospitality of the residents is incomparable.
The university city of Göttingen in the very south of the region is also very worth seeing. In addition to Lower Saxony's oldest and largest university, you can also visit Otto von Bismarck's student flat, for example the Bismarckhäuschen am Wall. Conveniently located, Göttingen is also ideal for day trips to the whole region. Nature lovers will also find the Old Botanical Garden, the oldest botanical garden in Lower Saxony with over 10,000 plant species.
Search with Holidu for your holiday apartment in Weserbergland
Define your most important search criteria in advance and simply define them within the search filter. Choose the desired type and equipment of the accommodation yourself: Vacation rental with balcony?
Holiday apartment where you can bring your dog? No matter what you are looking for, Holidu has a large selection of suitable vacation rentals and apartments in the Weserbergland ready for you!
FAQs: Vacation Rentals in Weser Hills
What is the average price for vacation rentals in Weser Hills?
Considering the average cost of $109.57 per night, Weser Hills lies at the lower end of the price range for vacation rentals in Germany.
When are vacation rentals cheaper in Weser Hills?
According to our data from the previous year, the months at the lowest possible cost in Weser Hills are March, January and September, with average prices of $100.01, $101.28, and $102.08, respectively.
In which months is it more expensive to rent a vacation rental in Weser Hills?
In 2020, the month that offered the highest average prices in Weser Hills was July, with an average price of $131.86 per night. This was followed by August, with an average of $123.43, and June, with $114.02.
Is it necessary to plan a trip to Weser Hills well in advance?
If you decide to put Weser Hills on your bucket list, we recommend organizing your visit long before you go because it tends to be very high in demand, with an annual average of 58% of rentals booked in the year 2020.
Which months offer the highest availability?
The best months to find available accommodation in Weser Hills are January (the average amount of properties that are free reached 61% of the total in 2020), December (59.5%), and February (56.6%).
When are fewer rentals available in Weser Hills?
According to data from 2020, the months when it is most difficult to find accommodation in Weser Hills are, in order, August (with 20% of available rentals), July (22.75%), and September (28.5%).
Are there many vacation rentals in Weser Hills?
Holidu has 770 vacation rentals in Weser Hills, provided by 24 different partners.
Vacation destinations in Weser Hills
Vacation destinations nearby
Holidu compares hundreds of websites to find your perfect holiday rental for the best price.