Finland Vacation Rentals
Start comparing over 6,247 rentals in Finland and book at the best price!
Popular Accommodations in Finland
Highlights Finland
Shopping in the state capital Helsinki
town houses and the cathedral in Turku
historical wooden houses in Oulu
Russian Orthodox men's monastery Uusi Valamo
medieval castle Olavinlinna in Savonlinna
Prices and availability
Prices
October
November
December
January
February
Sep 12 - Sep 19
$143 per night
Sep 19 - Sep 26
$141 per night
Sep 26 - Oct 03
$145 per night
Oct 03 - Oct 10
$151 per night
Oct 10 - Oct 17
$154 per night
Oct 17 - Oct 24
$162 per night
Oct 24 - Oct 31
$167 per night
Oct 31 - Nov 07
$165 per night
Nov 07 - Nov 14
$157 per night
Nov 14 - Nov 21
$149 per night
Nov 21 - Nov 28
$156 per night
Nov 28 - Dec 05
$165 per night
Dec 05 - Dec 12
$176 per night
Dec 12 - Dec 19
$182 per night
Dec 19 - Dec 26
$199 per night
Dec 26 - Jan 02
$226 per night
Jan 02 - Jan 09
$245 per night
Jan 09 - Jan 16
$234 per night
Jan 16 - Jan 23
$190 per night
Jan 23 - Jan 30
$173 per night
Jan 30 - Feb 06
$176 per night
Feb 06 - Feb 13
$173 per night
Feb 13 - Feb 20
$183 per night
Feb 20 - Feb 27
$199 per night
Average price per week
Availabilities
October
November
December
January
February
Percentage of available rentals
Vacation rentals in Finland
Enjoy the varied natural landscape
In Finland there is a very large selection of vacation rentals in the countryside, in the middle of a pristine natural landscape. The typical wooden construction of the buildings radiates a very special charm and a lot of cosiness. A vacation rental in Finland can be found either in one of the beautiful towns, by the sea and near the beaches, not far from the ski resorts or by the lake. In addition, you can use a vacation rental in Finland as a perfect starting point for walks through the surrounding region.
Great equipment for carefree holidays
If you rent a vacation rental in Finland, you will usually also receive your own sauna where you can really relax. In addition, the garden with barbecue invites you to watch the sunset. Many landlords will be happy to serve you breakfast in your apartment and pick you up from the nearest airport if you wish. You can often rent a bike, skis or boat from the accommodation provider.
Holidays in Finland
Location and orientation
Holidays in Northern Europe
The Republic of Finland, which has been a member of the European Union since 1995, is located in Northern Europe. The country borders on Russia, Norway, Sweden and the Baltic Sea. In the south it is bordered by the Gulf of Finland and in the west by the Gulf of Bothnia. Finland is also known as the "land of a thousand lakes" because of its numerous standing waters. The largest city in the country is the capital Helsinki. Other important cities are Tampere and Turku.
Get to know the regions of the country
Finland consists of several provinces and regions. The largest part of the population lives in Southern Finland, where the capital Helsinki is located. In western Finland you will find the big cities Turku and Tampere as well as the university city Jyväskylä. Thick forests and the Finnish Lake District characterise eastern Finland. Other regions are Central Finland with the technology city of Oulu and Finnish Lapland, which is characterised by the tundra and borders the Arctic Circle.
Travelers and Activities
Numerous offers for winter sports fans
If you want to go skiing or cross-country skiing on holiday, the best place to go is in the north of Finland. In Northern Lapland you will find the most famous winter sports areas Levi and Saariselkä. In addition, there are numerous ski trails and snowmobile routes throughout northern Finland. Ice hockey is also often played here and in winter ice skating on the frozen lakes or fishing in the ice.
Enjoy the bathing holidays in summer
Although the sea in Finland is quite cold, you can still find some beautiful beaches along the south and west coasts. The most beautiful beach of the country is the kilometre long beach Yyteri not far from Pori. Also popular are the sandy beaches of Kalajoki. Of course many lakes in the country invite you to swim and splash around.
Did you know there are a lot of crazy events in Finland? World Berry Picking Championships, Air Guitar World Championships and Mud Soccer are just a few examples!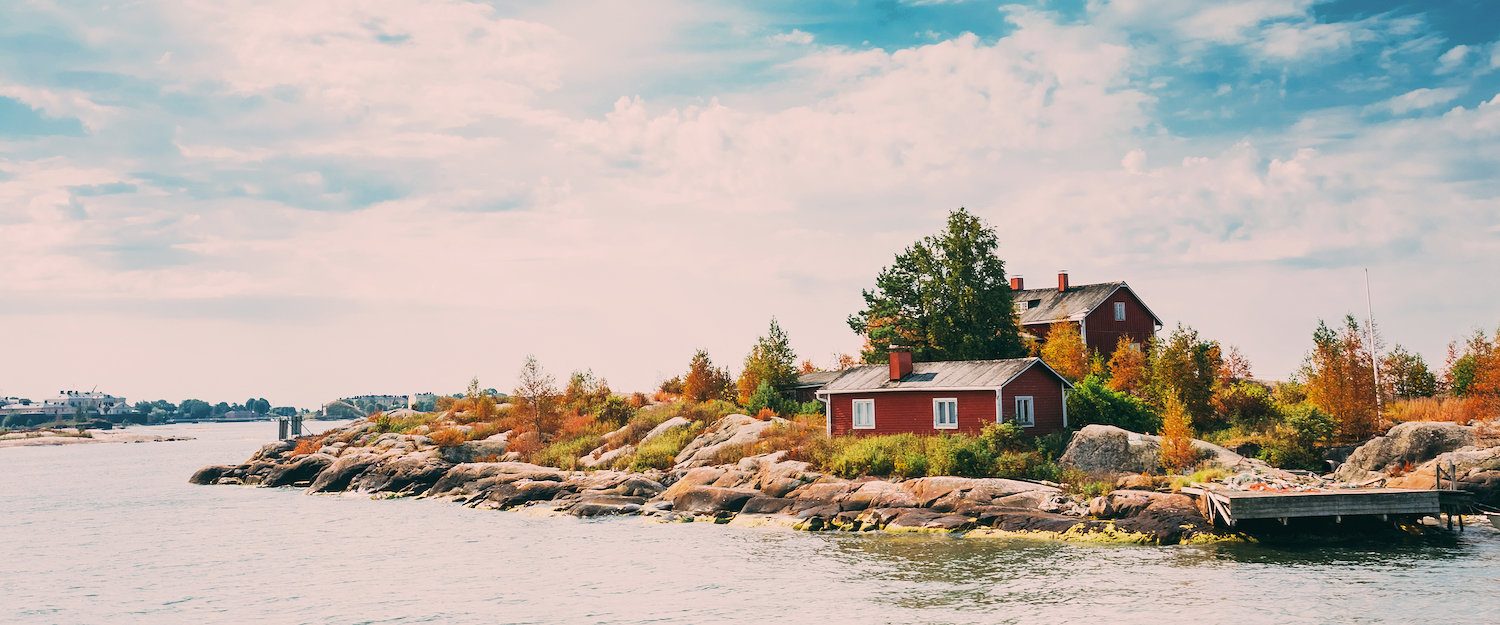 Top 5 travel tips
1. Visit Helsinki
City tourists like to travel to the Finnish capital Helsinki, which convinces by its unagitated, relaxed atmosphere, its historical monuments and its manifold shopping possibilities. With about 620,000 inhabitants in the city and about 1.4 million citizens in the metropolitan region, Helsinki is the undisputed metropolis of Finland, whose capital it has been since 1812.
2. Admire culture in Turku
Turku, which was the capital of Finland until 1812 under Swedish rule, lies on the south-west coast of the country. The cathedral, the castle dating back to 1280 and many town houses with style elements from classicism and art nouveau are the reasons why many people interested in vacation rentals in Finland find their dream home in Turku and the surrounding area.
3. Experience the real north in Oulu
Oulu is the largest city in Northern Finland and the gateway to Lapland. If you are planning a trip to the "real north", you will be happy to choose vacation rentals in Finland in Oulu or in the small neighbouring town of Raahe, which is famous for its many historic wooden houses.
4. Once to the monastery of men
A fascinating experience is a visit to the Russian Orthodox men's monastery Uusi Valamo, which has opened more than most monasteries of this religion to the public and provides unique insights into the spirituality of this church and monastic life.
5. Olavinlinna Castle in Savonlinna
Savonlinna, a small town in south-eastern Finland, is a popular destination because of its 15th century Olavinlinna Castle. From here, excursions lead to the beautiful Saimaa lake area.
Things to know
Use the countless national parks for hiking and exploring nature
Nature lovers are in good hands in Finland. There are a large number of national parks here, most of which are open to the public. Most of them offer well-marked hiking trails, camping sites, shelters and information boards. The most important national parks in the south are Nuuksio and Liesjärvi, in the west Isojärvi and Lauhanvuori, in the north Bärenrunde and Lemmenjoki and in the southeast Koli and Linnansaari.
Do something for your well-being at temperatures of up to 120 degrees Celsius
Finland's most famous export article is certainly the Finnish sauna, which is one of the hottest. Because this sauna, which usually consists of a wooden hut or room, is heated to 70 to 120 degrees Celsius in order to really make the body sweat. Saunas can be found everywhere, even in Parliament. There's supposed to be about two million of them in Finland.
Vacation destinations in Finland