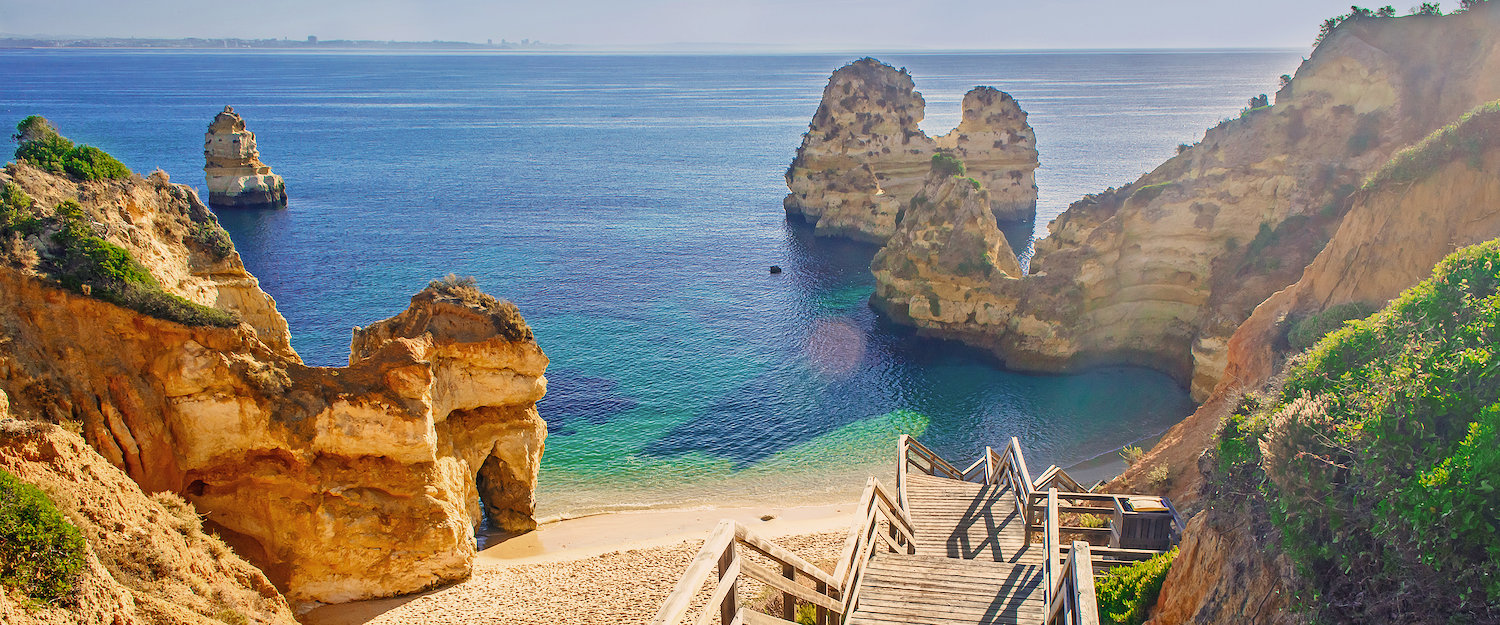 Villas in Lagos
4672 properties for Villas. Compare and book at the best price!
Highlights in Lagos
Energetic nightlife
Family friendly beaches
Golf the Algarve
Dolphin watching
Ponta da Piedade
Most popular amenities for Villas in Lagos
Other property types in Lagos that might be interesting:
Villas in Lagos
Fabulous villas to rent in Lagos
Melding a peppy character with a beloved seafaring tradition, Lagos revels in its reputation as one of southern Portugal's most popular vacation destinations. There are a huge selection of attractive villas to rent in and around Lagos. Choose to stay right in the old town, to the east by the family friendly beach of Meia Pria, or to the west close to the many coves that dot the Lagos coastline and the world famous Praia do Camilo.
Urban and rural villas to taste
Villas in Lagos suit all budgets and bring comfort, convenience and character. Choose from the many villas in suburban settings or get extravagant and opt for a villa outside the town with a large garden and acres of space for up to 20 people! In any case, a private swimming pool and lounge area is almost guaranteed!
Travelers and activities
Lagos for families
Lagos and the surrounding area offers a wealth of high-calibre activities for families. Your kid's will go wild for Lago's highly rated Slide & Splash water park, with multiple different types of slides for all ages, a wave pool, jacuzzi and kids water area. Then why not spend a fantastic day at Zoo de Lagos, where you can meet 150 different animal species in their natural habitats? The animals are really well-kept, and cleanliness is exemplary. Don't forget your swimming gear – at the end you can swim in a pool with a glass divide with penguins on the other side!
Lagos for beach lovers
Some of the Algarve's most celebrated beaches are located in and around Lagos. Two kilometers south of the town center, Praia do Camilo, with its outcrops of fantastic rock formations, is a postcard favorite. This sheltered slither of sand is illuminated by a mantle of colorful flowers on the cliff edge above. In contrast to the coves around Lagos, Meia Praia offers three miles of golden sand, and this is where you can easily find your own place in the sun. There are several beach bars along the beach offering luscious dishes from freshly caught fish.
Lagos for party goers
While the Lagos nightlife in the height of season is pretty chilled compared to the likes of Ibiza, it can and does get raucous. The bars are mostly small independent outfits located in old buildings in the heart of the old town. Joes Garage is the top spot for the young and energetic, offering a cool party atmosphere with dancing on the bar and tables. Roskos is where you go for urban chichi. The bar serves top brand drinks and cocktails and there are comfortable boothed seating areas where you chill and listen to the resident DJ. For late-nighters, Grand Cafe is the town's big club, open until 5 am, and where everybody heads when the rest of the town shuts down at around 2 am.
"Listen up history buffs, Portugal is the oldest country in Europe, with the same defined borders since 1139!"
Top 7 travel tips in Lagos
1. Explore Forte da Ponta da Bandeira
This maritime fort dates to the end of the 17th century and is one of a line of forts and batteries erected in the wake of the Portuguese Restoration War against Spain. The attraction boasts stunning views overlooking the sea, a beautiful chapel inside the complex and inimitable metal sculptures.
2. Ponta da Piedade
With its turquoise waters and craggy limestone cliffs, Point of Pity is one of the most recognized natural landmarks in Portugal. On the western edge of Lagos Bay, it has a boardwalk where you can enjoy a brisk walk on top of the cliffs and enjoy an unhindered view of the sunset.
3. Take a kayak tour along the coast
This is nothing less than the promised land for kayakers. Boasting scenic, honeycombed cliffs, bizarre chimneystack rock formations, and dozens of hidden sea caves and ancient grottos, plunge into the Atlantic's alluring waters with one of the many tour operators in Lagos.
4. Go dolphin spotting
Take a dolphin cruise from Lagos harbour. These 2-hour trips take you out from the coast where you can see multitudes of dolphins, which sometimes even jump up right next to the tour boats! If you're lucky you will also see a whale or two! Added bonus – the tours offer a fantastic view of the craggy coastline stretching out from Lagos.
5. Play a round of 18
Lagos is the gateway to some of the best golf courses in Europe. Onyria Palmares Golf Resort is the highlight; a mixture of parkland and links style golf, it offers an experience like no other in the Algarve.
6. Discover the Lagos fish market
An obligatory Portuguese experience is a walk through a local fish market to behold the morning catch. The Lagos market is located opposite the marina and boasts three floors filled with a plethora of delectable firmly fresh fish and seafood.
7. Soar into the sky on a private hot air balloon flight
Why not cap off your vacation with a flight over the beauteous Algarve coast? Rated as an "Awesome, inspiring, and thrilling experience," and "An experience I cannot recommend highly enough," this extravagant treat will be worth every single penny!
FAQs: Villas in Lagos
Which types of facilities can you find at the villas in Lagos?
In regard to the services offered by Holidu, it seems that the villas in Lagos have everything that vacationers wish for! Here, the villas generally have a variety of amenities, the most popular being: internet (94%), pool (91%), and barbecue (84%)...Sounds tempting?
How are the reviews for the villas in Lagos?
The villas here are often well reviewed. Many (52%) have a rating of 4.5 stars, which implies that here, you can easily find the perfect villa for your next trip!
Are the villas in Lagos suitable for vacations with children?
According to the Holidu database, 73% of villas in Lagos are suitable for vacations with children, it will therefore be easy to find the perfect villa for you and your family.
Are the villas in Lagos suitable for travelers and their furry friends?
For sure! In Lagos, 15% of the villas offer the possibility for travelers to take their pets with them, 76% even have a garden!
Do the villas in Lagos mostly come with an internet connection?
Of course! According to Holidu's data, 94% of villas in Lagos offer Wi-Fi. This means that you will be able to browse the internet at any time!
What are the prices like for villas in Lagos?
Many villas in Lagos are, in general, fairly expensive. According to Holidu's data, 11% are at more than $500 per night.
Do the villas in Lagos generally have a fireplace or a pool?
Good news! According to the data collected last year, the villas in Lagos are perfect for all seasons. Here, 59% have a fireplace and 91% a pool.
Are the villas in Lagos suitable for stays with several people or better for a vacation as a couple?
In Lagos, according to the data collected last year, 51% of villas are suitable for up to eight guests, 48% of these villas are made up of at least four bedrooms. But 99% of villas are also suitable for up to four guests, 98% of the villas are made up of at least two separate bedrooms. Lagos is therefore the ideal destination for large and small groups going on vacation!
Holiday destinations nearby for Villas
Holidu compares hundreds of websites to find your perfect holiday rental for the best price.