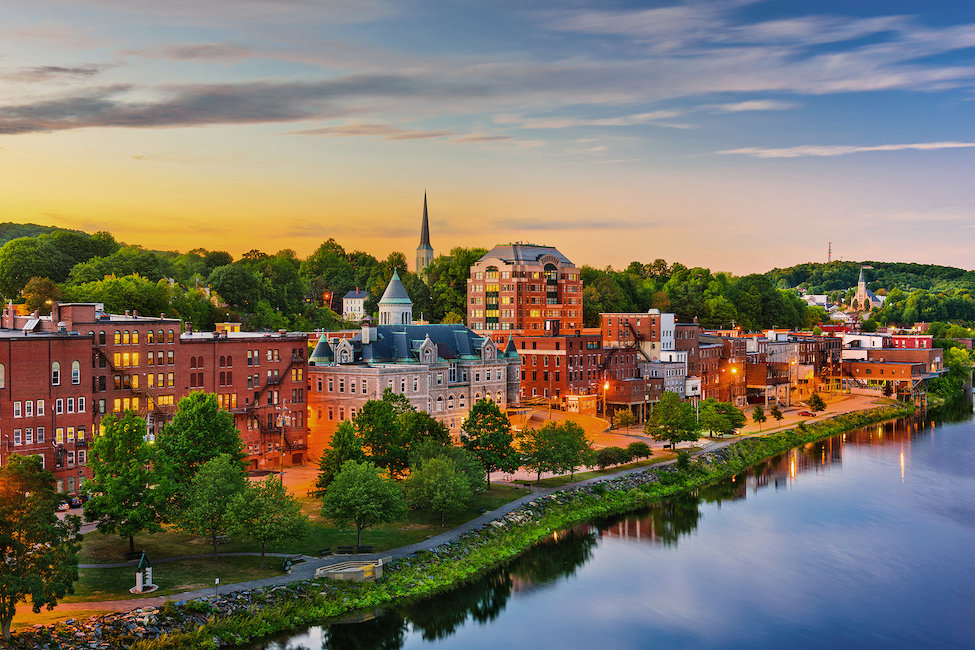 Glamping in Maine
7292 properties for Glamping. Compare and book at the best price!
Popular Glampsites in Maine
Highlights in Maine
Outdoor adventure
Glamping in Maine
Family vacations
Nature destination
Stunning landscapes
Hiking trails
Biking routes
Most popular amenities for Glamping in Maine
Other property types in Maine that might be interesting:
Glamping in Maine: Most popular destinations
Glamping in Maine
Gorgeous Glamping Locations in Maine
Plan your next vacation immersed in the natural landscapes of Maine. You will find this stunning state located in the New England region of the United States. Maine is situated on the coast of the Atlantic Ocean and it borders only with the state of New Hampshire in the United States, the rest of its borders are with Canada. The state is known to be the 12th smallest and 9th least populous in the United States, making it an ideal destination for anyone looking for a more tranquil destination in nature. The geography of Maine is known for the rocky coastline, the rolling mountains and the forested interior with waterways that cut through it. Its picturesque atmosphere just makes this destination even more ideal for outdoor adventures.
Glamping in Maine
With the gorgeous natural landscape that surrounds the state of Maine, you will be able to find the perfect location for your next trip. Imagine waking up in the morning and having your cup of coffee surrounded by the forest. Have a picnic in your front garden as you admire the stunning waterways. Drink some wine at sunset while feeling the fresh sea breeze. These are just a handful of options that await you in Maine.
Travelers and activities
Maine for outdoor activities
The spectacular environment that Maine provides its visitors is unparalleled to others. While visiting this state, do not miss out on discovering the outdoor activities you can partake in. Go on a moose safari in the Moosehead Lake Region to enjoy a morning or afternoon riding or canoeing through the land and water of the area. Here you might be lucky enough to spot a moose feeding by the shore of the lake or even a beaver swimming in the waters. Another optimal location can be found at Scarborough Marsh. This is the largest salt marsh in the state. You will be able to encounter salt creeks, uplands, and freshwater marshes while discovering the area on foot or by kayak.
Maine for food lovers
Maine is full of delicious eateries to enjoy while visiting the area. Mostly famous for their local and fresh seafood, you will also be able to find different cuisines while visiting Maine. Head over to one of the most iconic lobster roll joints in the world as your first stop. The Clam Shack, located in Kennebunkport, makes their lobster rolls boiled in saltwater and then drizzled with locally fresh butter. You will also find french fries and a selection of local fried seafood. On the other hand, for a more upscale experience, head to Eventide Oyster Co. This restaurant won a James Beard Award and it specializes in oysters, as well as serving other types of seafood.
"Did you know that Maine is the only state in the nation that shares its borders with only one other state?"
Top 7 travel tips in Maine
1.Acadia National Park
This inland area is iconic for its lakes, streams, and forests. You will be able to cycle and hike around the network of trails that extend up to 100 miles and are for all levels of ability.
2.Old Port
Take a stroll through memory lane visiting this older part of the state. The narrow streets of this town will take you to Commercial Street which is filled with brick and stone buildings created in the 19th century.
3. Pemaquid Point Light
Visit one of Maine's most popular lighthouses. This building was built in 1835 and nearby you will also have the chance to visit the keeper's cottage and the brick sound signal house.
4. Old Orchard Beach
Spend the afternoon relaxing at the beach and sunbathing. This seven miles long beach filled with golden sand is of free public access. Here you can have the chance to go swimming, play beach volley or have a picnic.
5. Farnsworth Art Museum
Explore some magnificent art pieces at this museum. The collection features some great artists from the late 19th and early 20th centuries, such as Thomas Cole, George Bellows and Rockwell Kent.
6.Coastal Maine Botanical Gardens
Spend your afternoon walking through colorful plants in this garden. With over 270 acres, here you will find themed gardens with native and exotic plants.
7. Boothbay Harbor
Another great location to visit is this shipping port. In the downtown area, you will be able to find waterfront seafood restaurants, antique shops, and art galleries filled with arts from as early as the 1800s.
FAQs: Glamping in Maine
Which types of services can you expect to find in the glampsites in Maine?
When looking at the amenities offered by Holidu, it appears that the glampsites in Maine have everything that vacationers dream of! Here, the glampsites generally have a variety of facilities, the most popular being: internet (77%), balcony (72%), and barbecue (67%)...Pretty cool!
How are the reviews for the glampsites in Maine?
On average, the glampsites are quite highly rated. Judging by the Holidu database, 47% of glampsites have a rating of 4.5 stars. This is a quite high ratio which allows us to confirm that you will easily find the ideal glamping location for a wonderful vacation!
Are the glampsites in Maine suitable for family vacations?
Judging by the Holidu data, 26% of glampsites in Maine are child-friendly, so you won't have any difficulty finding the perfect glamping location for you and your family.
Are the glampsites in Maine pet-friendly?
Definitely! In Maine, 17% of the glampsites accept them!
Do the glampsites in Maine tend to come with an internet connection?
Of course! According to last year's data, 77% of glampsites in Maine include Wi-Fi. It is therefore no problem for you to will be able to access your emails and favourite social media sites at any time!
How much does it cost on average for glampsites in Maine?
According to Holidu's data, less than 40% glampsites in Maine costing less than $100 per night.
Do the glampsites in Maine typically have a fireplace or a pool?
For sure! According to Holidu's database, the glampsites in Maine are ideal for all seasons. Here, 29% are equipped with a fireplace and 10% a pool.
Are the glampsites in Maine suitable for trips in large groups or rather for a vacation as a small group?
According to Holidu's database, 84% of glampsites welcome families of up to four travelers. Approximately 64% of the glampsites here include at least two separate bedrooms. Maine is the perfect destination for small groups of friends!
Destinations in Maine for Glamping
Holiday destinations nearby for Glamping
Holidu compares hundreds of websites to find your perfect holiday rental for the best price.