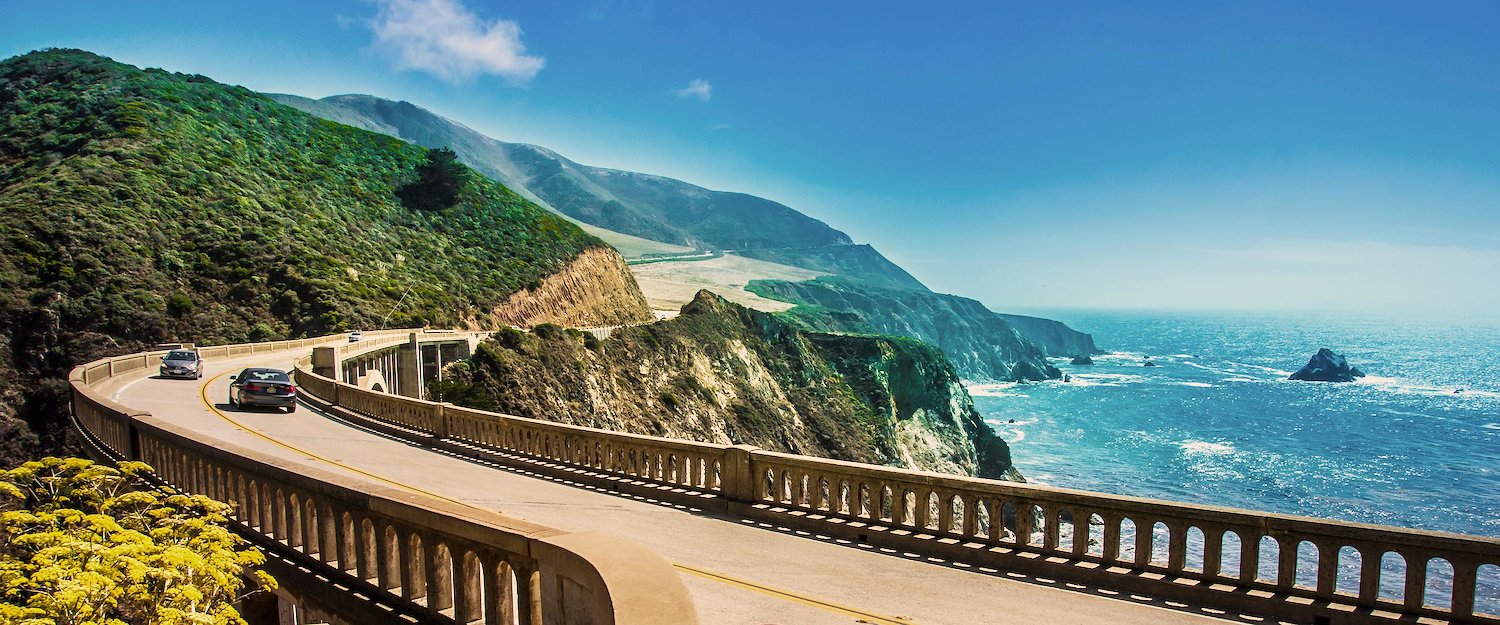 Other property types in Northern California that might be interesting:
Cabins in Northern California
Incredible cabin locations
Northern California is a breathtaking destination full of stunning lakes, mountains and refreshing national parks with strikingly large trees that will reconnect you to nature. This might be just the inspiring vacation you need. Northern California includes nearly 50 counties and is home to cities like San Francisco, Sacramento, and Fresno. It's also the hometown of natural wonders like the Redwood Forest, Sierra Nevada, Yosemite Valley, Lake Tahoe and Mount Shasta. Our cabins are located near national parks with a number of them along Lake Tahoe. You can expect to be immersed in nature with incredible views of woods, lakes and mountains.
Elegant cabins with magnificent views
These cabins are visually stunning with a rustic exterior design that fits perfectly with its natural surroundings and elegant, stylish interior. These cabins are so lavishly beautiful that they could make the ultimate staycation. Vacation in style with a full-sized comfy living room, large kitchen, swimming pool, huge porch and outdoor seating area immersing you in fresh air and incredible scenery. Some of these cabins feature unique amenities like a sauna or jacuzzi. Have a home cooked meal among the trees or warm up by the fireplace with your favorite mug of hot chocolate. The serenity and tranquility offered by these cabins is priceless.
Travelers and activities
Northern California for nature lovers
Northern California has so many gorgeous national parks that it can be overwhelming to choose the best ones for your trip. Visit Mendocino Headlands State Park, El Dorado National Forest and Stanislaus National Forest for a stunning time in nature. For a challenging hike, visit Mount Shasta, a 14,179 ft volcano and one of the most gorgeous peaks in the area. Mono Lake is also known as Salt Soda Lake and is one of the best attractions in NorCal. Lake Tahoe is a fantastic place to visit at any time of year with spectacular scenic hiking trails. In winter, you can enjoy skiing and ice-skating. Explore the beautiful caves at Lake Shasta Caverns National Natural Landmark. These are just a few of the many options you have available.
Northern California for water lovers
For water babies, Northern California can seem like a dreamland with lots of lakes, rivers and beaches begging to be explored. Take King's Beach Lake Tahoe, for instance. This is an all-around excellent choice for water activities surrounded by unbeatable scenery. Enjoy lake activities like paddleboarding, kayaking, and surfing. For those looking to kick back and relax at an unusual beach, look no further than Glass Beach close to Fort Bragg. This unique beach is full of sea glass that looks like little gemstones dotting the shore. Surfers can choose from a palette of Northern California surf spots. For epic white-water rafting, look no further than the American River outside of Sacramento to fuel your excitement.
Northern California for culture enthusiasts
If you're looking for a little history and culture to add color to your trip then head over to San Francisco. Walk across the iconic Golden Gate Bridge, Visit the infamous Alcatraz or Angel Island a.k.a the "Ellis Island of the West". While you're in the San Francisco Bay Area, take a walk in the San José Municipal Rose Garden boasting over 180 different varieties. Also, check out Fresno for the Forestiere Underground Gardens. Built over a period of 40 years by a Sicilian immigrant with an affinity for the Roman Catacombs, these subterranean gardens are a unique sight worth taking the time to see.
Inyo National Park is home to Methuselah, the world's oldest tree, estimated to be at least 4,847 years old!
Top 7 travel tips in Northern California
1. Walk among the tallest trees in the world
North of San Francisco, there are several redwood parks to explore. Drive along the Avenue of Giants to Humboldt Redwoods State Park. The tallest redwoods can be found at Redwood National Park. While you're here, be sure to check out the giant ferns where Jurassic Park is rumored to have been filmed. An amazing place to bring your kids.
2. Hit the trails at Yosemite National Park
World renowned Yosemite National Park is the perfect place for hiking and climbing. The trails will lead you through some of the tallest waterfalls in the world, provide breathtaking mountain views as well as possible sightings of over 400 species of animals. Visitors can also expect to see rainbows at night. The rock formations at Yosemite Valley are an incredible sight to behold.
3. Pick your poison at the wineries and breweries
Even though the world-famous wineries of Napa & Sonoma counties are facing extreme circumstances due to climate change and the ever more terrifying wild fires, there are still wine tours and tasting to be enjoyed. Wine lovers should also check out the wineries in Calistoga for a well-rounded experience. Not far from Napa Valley, you can head over to Santa Rosa and both visit the Russian river and have a Pliny the Elder at the Russian River Brewing Company. For beer lovers, this could be the highlight of your entire trip to California.
4. See Old Lake Tahoe
Take a trip back in time with a visit to Tallac Historic Site. You will find out fascinating facts about life in Lake Tahoe while touring the Historic Baldwin House and The Estates. You can expect to see exhibits, cultural events as well as costumed interpreters.
5. Check out volcanic parks and lava beds
Lassen Volcanic National Park has beautifully rugged terrain and four types of active volcanos. Visitors can rest at the Crystalline lakes and hike the Bumpass Hell Trail or explore the area on horseback. Lava Beds National Monument holds a special cultural significance to the Native Americans of the area. Thanks to Medicine Lake Volcano this jaw-droppingly amazing site is home to surreal caves, ancient Native American pictographs, hiking trails and wonderful flora and fauna that will more than surpass your expectations.
6. Visit the largest train station museum in the USA
Old Sacramento Railroad Museum honors the role of "The Iron Horse" in bringing together the nation in the mid-1800's. It features antique vintage train cars dating back to the 1860s and train excursions behind an authentic locomotive. Best of all, photography is welcome. This will be a memorable trip for both adults and kids.
7. Take a scenic drive along the northern Pacific Coast Highway
This highway stretches over 600 miles of California's coastline, however, some of its most scenic points can be found on its northern half. You will pass through redwood trees, stunning cliffs, majestic mountains and state parks on this scenic drive of a lifetime.
FAQs: Cabins in Northern California
Which types of facilities can you find at the cabins in Northern California?
In regards to the services available on Holidu, it appears that the cabins in Northern California contain everything that travelers want! Here, the cabins generally have a variety of facilities, the most popular being: internet (92%), barbecue (75%), and fireplace (57%)...Are you convinced yet?
How are cabins usually rated in Northern California?
The cabins here are often well rated. 54% of cabins have a rating of 4.5 stars, which suggests that here, it is possible to find the perfect cabin for your next vacation!
Are the cabins in Northern California suitable for vacations with children?
Holidu's data reveals that 51% of cabins in Northern California are suitable for vacations with children, it should therefore be very easy for you to find the ideal cabin for you and your children.
Are the cabins in Northern California suitable for travelers who wish to take their pets on vacation?
For sure! In Northern California, 34% of the cabins are pet-friendly, 27% also have a garden!
Do the cabins in Northern California generally come with Wi-Fi?
Of course! According to Holidu, 92% of cabins in Northern California offer Wi-Fi. You will be able to stay connected throughout your stay!
Do the cabins in Northern California generally come equipped with a fireplace or a pool?
For sure! According to Holidu, the cabins in Northern California are ideal all year round. Here, 57% are equipped with a fireplace and 18% a pool.
Are the cabins in Northern California suitable for vacations with several people or rather for an escape as a small group?
Here, based on last year, 48% of cabins welcome groups of up to eight travelers, 19% of these cabins have at least four bedrooms. But 88% of cabins also welcome small groups of up to four travelers, 78% of the cabins have at least two separate bedrooms. This is therefore the ideal destination for big and small families alike!
Are Cabins in Northern California the best option for a luxurious trip?
Some cabins are, but others aren't as luxurious. So if you are looking for that special accommodation, don't delay in making a reservation because only 18% have a pool, while 45% have air conditioning only 2% have a sauna. However, if it's space you're looking for, 88% of the cabins can accommodate large groups, and 27% have a garden.
Do the cabins in Northern California offer outdoor space to enjoy?
31% of cabins have a balcony or terrace, and 43% have a view, but since this does not represent the majority so availability can be limited. If this is a priority for you, you should anticipate a bit more time for research, and use the filters to be sure to find the cabin of your dreams. However, 27% of cabins in Northern California have gardens, where you can enjoy the outdoors. If you like to have lunch or dinner outside, and especially if you like barbecues, 75% of the cabins have them.
Most popular amenities for Cabins in Northern California
Holiday destinations nearby for Cabins
Holidu compares hundreds of websites to find your perfect holiday rental for the best price.