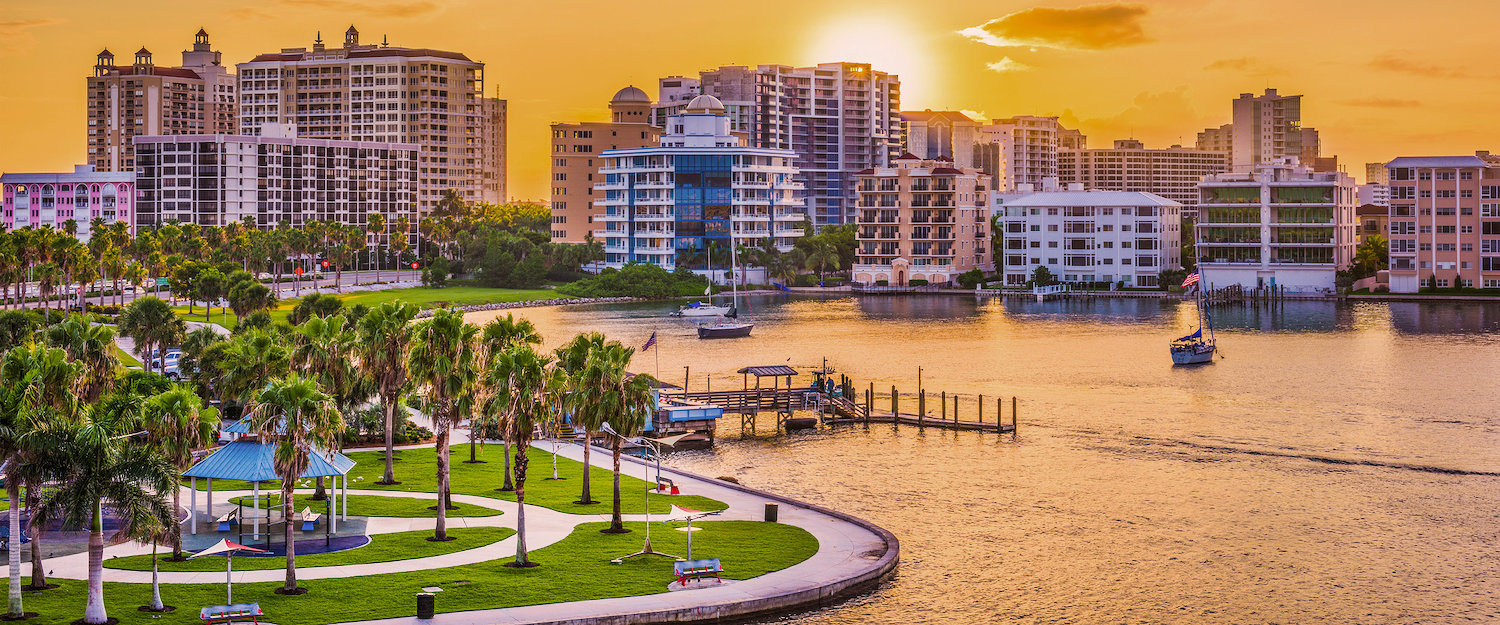 Vacation Rentals in Sarasota
Start comparing over 188 rentals in Sarasota and book at the best price!
Popular Vacation Rentals in Sarasota
Vacation rentals with free cancellation
Vacation Rentals in Sarasota
Pet-friendly Vacation Rentals
Vacation Rentals with Pool
Vacation Rentals with Internet
Find Vacation Rentals in Sarasota
Highlights Sarasota
Best beach in the USA 2015
"The Ringling Museum"
Sarasota Classic Car Museum
Aquarium Sarasota
Other property types in Sarasota that might be interesting:
Popular Destinations in Sarasota
Prices and availability
Prices
November
December
January
February
March
Oct 16 - Oct 23
$332 per night
Oct 23 - Oct 30
$311 per night
Oct 30 - Nov 06
$293 per night
Nov 06 - Nov 13
$310 per night
Nov 13 - Nov 20
$350 per night
Nov 20 - Nov 27
$344 per night
Nov 27 - Dec 04
$344 per night
Dec 04 - Dec 11
$316 per night
Dec 11 - Dec 18
$327 per night
Dec 18 - Dec 25
$361 per night
Dec 25 - Jan 01
$339 per night
Jan 01 - Jan 08
$315 per night
Jan 08 - Jan 15
$294 per night
Jan 15 - Jan 22
$303 per night
Jan 22 - Jan 29
$314 per night
Jan 29 - Feb 05
$335 per night
Feb 05 - Feb 12
$325 per night
Feb 12 - Feb 19
$299 per night
Feb 19 - Feb 26
$321 per night
Feb 26 - Mar 05
$339 per night
Mar 05 - Mar 12
$324 per night
Mar 12 - Mar 19
$330 per night
Mar 19 - Mar 26
$356 per night
Mar 26 - Apr 02
$403 per night
Average price per week
Availabilities
November
December
January
February
March
Percentage of available rentals
Holiday homes in Sarasota
A holiday home in Sarasota
Sarasota is a picture-book city on Florida's west coast and is considered a holiday paradise not least thanks to its numerous beaches. Accordingly, you are spoilt for choice when looking for a holiday home that fully meets your needs. There is a particularly wide range of activities along the coastline in the districts of San Remo, Granada, Bayfront, Central Cocoanut and Indian Beach near the Sapphire Shores. There you not only benefit from a breathtaking view of the deep blue waters of the Gulf of Mexico, but also from the well-developed public transport system.
Peace and relaxation in an exclusive location
If, on the other hand, you attach importance to a particularly exclusive location, a holiday home on one of the offshore islands is ideally suited for you. Especially on Bayisland, St. Armands and Bird Key you will find numerous villa-like luxury holiday homes, which apart from their own palm gardens and large pools often even have their own access to the golf course and boat dock.
Holidays in Sarasota
Travelers and Activities
Bathing holidays in the Gulf of Mexico
At the latest since Sarasota's Siesta Key was voted the best beach in the USA by TripAdvisor in 2015, the small town in Florida is also officially considered a bathing paradise. This title does not come by chance either, because while the little ones splash about in the shallow water, the big ones relax in the middle of the characteristic white quartz sand. The bathing fun is rounded off by a wide range of water activities, from jet skiing and stand-up paddling to relaxed fishing trips on the golf course.
Sarasota for culture lovers
Sarasota is by far not only known for its beaches, but also for its rich cultural offer. Art lovers in particular will get their money's worth by visiting "The Ringling", which in turn consists of the "Museum of Art", the "Circus Museum", the "Bay Front Gardens" and the "Asolo Theater". The offer is supplemented by the "Hap's Cycles and Museum", the "Marietta Museum & Whimsy" as well as the "Art Center Sarasota".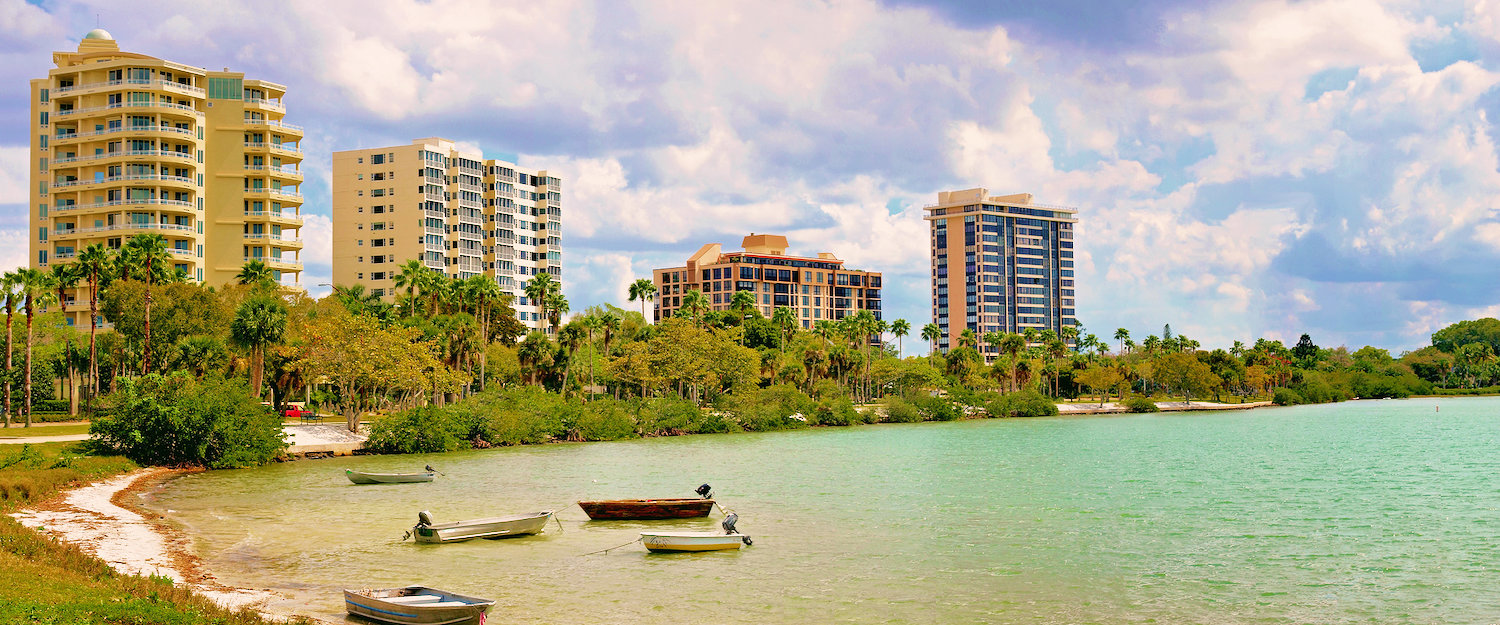 Things to know
Best travel time
Thanks to average annual temperatures around 20 degrees Celsius and at least six hours of sunshine a day, Sarasota is in principle worth a trip all year round. However, the best time to book a holiday home in Sarasota is between October and May. The summer months, on the other hand, are marked by intense heat beyond the 30 degree mark as well as heavy precipitation. But if you don't mind that, you can look forward to much emptier beaches and pleasant water temperatures of up to 29 degrees Celsius.
"The small town became sadly famous on September 11, 2011, when the then US President George W. Bush was in a primary school for a press briefing and heard about the attacks in New York and Washington in front of cameras."
Top travel tips
Craft Beer Specialities
Although the USA is not known for its brewing tradition, it is known for its inventiveness. You can experience this inventiveness for yourself in Sarasota during a craft beer tasting. Could craft beer specialities like the "Circus City IPA", reminiscent of the city's circus tradition, compete with German beer?
Sarasota Classic Car Museum
The Classic Car Museum in Sarasota is a very special destination for visitors with petrol in their blood. Immerse yourself in the fascinating history of automobile construction and marvel at lovingly restored vintage cars, some of which date back to the 1920s.
Diving down in the adventure aquarium
The "Mote - Marine Laboratory & Aquarium" promises a hands-on approach to marine biology. During your visit you will not only meet sharks, manta rays and sea turtles, but you will also be active yourself in workshops and small experiments. An ideal destination for an excursion with your children.
FAQs: Vacation Rentals in Sarasota
How much do you pay, on average, for vacation rentals in Sarasota?
The corona crisis strongly impacted travel in 2020. Last year, rentals in Sarasota had an annual average cost of around $329.28 per night.
Which months allow you to save the most on vacation rentals?
If it is your aim to save as much as possible during your vacation to Sarasota, pack your bags and travel there in December ($251.17 per night on average), November ($270.23), or October ($276.13), to find the lowest prices for the whole year.
When are vacation rentals more expensive in Sarasota?
When it comes to booking a vacation rental in Sarasota, the highest prices are usually seen in the month of February (with an average of $478.89 per night), followed by March ($447.66), and January ($360.95).
Are there usually many vacation rentals available in Sarasota?
If you decide to put Sarasota on your bucket list, we suggest organizing your travels long before you go because it is usually very high in demand, with an annual average of 79% of rentals booked in the year 2020.
When are more vacation rentals available?
The months that offer the most accommodation options are, on average, April (with an availability of 41.5%), May (37.6%), and September (28.5%), according to the trends observed in 2020.
When are there fewer vacation rental options available in Sarasota?
According to data from 2020, the months when it is most difficult to find accommodation in Sarasota are, in order, February (with 1.8% of available rentals), March (7.75%), and January (11.5%).
Are there many vacation rentals in Sarasota?
Holidu offers around 3200 accommodations in Sarasota from 6 different partners, so find the perfect type of accommodation you are looking for. We have everything you need!
Vacation destinations in Sarasota
Vacation destinations nearby
Holidu compares hundreds of websites to find your perfect holiday rental for the best price.