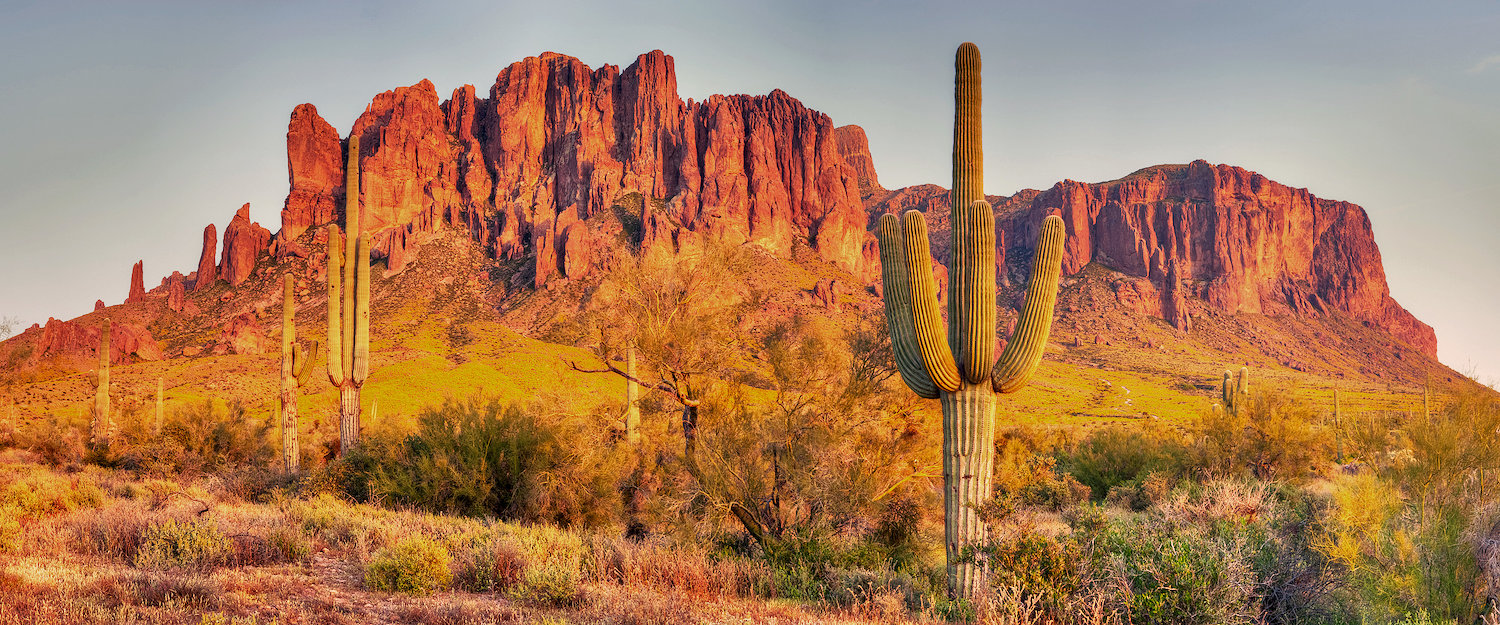 Prices and availability
Current Vacation rental prices Lake Powell
$275 annual average
Oct
Nov
Dec
Jan
Feb
Mar
Apr
May
Jun
Jul
Aug
Average price per week
Current vacation rental availability Lake Powell
71% annual average
Oct
Nov
Dec
Jan
Feb
Mar
Apr
May
Jun
Jul
Aug
Percentage of available rentals
Vacation rentals in Lake Powell
A gem in the middle of the desert
Lake Powell is a man-made lake in both Arizona and Utah that was created when the Glen Canyon Dam was built. Back in the day, its purpose was to make sure the area would always have water on hand should a drought occur. Today, its pristine waters, spectacular canyons, and unique terrain attract over two million visitors to the lake each year. People who come to Lake Powell can enjoy a wide variety of outdoor activities and family-friendly attractions. Explore the canyons around the lake on a kayak. Join walking tours to see nearby wonders. Spend quality time with your loved ones on long hikes in nature. And savor delicious meals on a dinner cruise while watching the sunset. The possibilities are endless in Lake Powell for every type of traveler.
Finding your perfect vacation rental in Lake Powell
Vacation rentals in Lake Powell come in a variety of options. Large groups and families can choose from oversized rentals, while couples can opt for cozy, smaller rentals. There are numerous vacation rentals with balconies to enjoy the outdoors from the comfort of your accommodation. Some balconies even offer excellent views of the lake and the surrounding areas. Many of the rentals come with jacuzzis, so you can relax in a warm, bubbly hot tub during your vacation. Rentals around the lake offer all the modern amenities and comforts you'll need throughout your trip, including high-speed internet, air-conditioning, fully equipped kitchens, and more.
Vacations in Lake Powell
The area and getting around
Arriving in Lake Powell
The closest airport to Lake Powell is Page Municipal Airport. This small airport offers daily flights to and from Phoenix and is only about 40 miles away from Lake Powell. Once you reach the airport, you can then rent a car or use a rideshare app such as Uber or Lyft to reach Lake Powell.
Getting Around Lake Powell
Once you reach Lake Powell, the best thing to do is to rent a boat or a kayak to get around the lake and to discover the nearby canyon areas. There are five different marinas you can rent boats from. Keep in mind that there's a huge demand for boats and kayaks, so it's best to book your boat or kayak in advance. If you want to explore the other attractions in the area, it's best to rent a car or participate in a tour. Many tour companies offer daily trips to these attractions.
Travelers and activities
Lake Powell for outdoor enthusiasts
Lake Powell is a paradise for nature lovers and outdoor enthusiasts. Spend the day fishing in Lake Powell where you have the opportunity to catch a wide variety of fish. If you'd like to be immersed in nature, you can go to Ticaboo, which is at the northern point of Lake Powell. Here you can try off-road biking to get your blood pumping. You can also take long hikes in nature here.
Lake Powell for couples
Lake Powell offers the perfect setting for a romantic vacation. If you're visiting Lake Powell with your significant other, opt to go on a dinner cruise together and enjoy a romantic dinner on the lake with incredible views. Another place to enjoy majestic nature scenery with your loved one is at Reflection Canyon. Although this hike isn't for the faint of heart, it is well worth the effort! It is a 16-mile hike to reach the viewpoint, where you can have a much-deserved picnic overlooking one of the best panoramas in the area. You can get a glimpse of Reflection Canyon on a boat trip as well, but the scenery might be a little less impressive than what you would see during the hike.
Lake Powell's coastline is nearly 2,000 miles long, which makes it longer than the whole pacific coast of the U.S.A.!
Top 5 travel tips in Lake Powell
1. Visit Rainbow Bridge National Monument
Rainbow Bridge is one of the most interesting places you can visit during your stay in Lake Powell. The national park takes its name from the natural stone bridge in the shape of a rainbow. Spend some time here enjoying the unique landscape and taking incredible photos.
2. Go on a kayak trip
Lake Powell offers a variety of water activities to enjoy, and kayaking is one of the most popular options. While kayaking, you can explore the breathtaking scenery surrounding the lake as well as the narrow paths of the canyons which bigger boats can't fit into. You can also find many tranquil and untouched hiking trails in these areas if you want to take a break from your kayak.
3. Hike to Horseshoe Bend
Horseshoe Bend is one of the most mesmerizing places you can visit while you're at Lake Powell. There are a variety of tour companies that go to Horseshoe Bend, or you can rent a car and drive yourself. Once you reach the parking lot, a 20-minute hike takes you to the viewing point.
4. Go on a tour of Antelope Canyon
When you're at Lake Powell, you can't miss the majestic marvels of Antelope Canyon and its flowing canyon walls. This magical canyon is part of the Navajo land, and it's a protected territory. This means you can only enter the canyon on an organized tour, private visits are not allowed. The unique beauty of the canyon makes it one of the most popular attractions in the area, so be sure to book your tour in advance.
5. Visit Glen Canyon Dam
The construction of Glen Canyon Dam is how Lake Powell was created. The dam is the second-highest dam in the U.S. and it offers spectacular views of the unique mixture of natural and man-made beauty. Take a hike around and enjoy the tranquil surroundings.
FAQs: Vacation Rentals in Lake Powell
What was the average price for a vacation rental on Lake Powell last year?
Based on last year, Lake Powell had an average price of $347 per night, a relatively high one compared to the destinations in the USA.
What time of year offers, on average, the best vacation rental prices on Lake Powell?
If you would like to save as much as possible during your vacation to Lake Powell, go there in February ($256 per night on average), January ($276), or March ($286), to find the lowest prices for the whole year.
When are vacation rentals more expensive on Lake Powell?
Last year, the month that offered the highest average prices on Lake Powell was September, with an average price of $420 per night. This was followed by May, with an average of $400, and then August, with $399.
Is Lake Powell a good location for a last-minute getaway?
It's worthwhile if you can book your stay with plenty of time when visiting Lake Powell, as only 26% of our accommodations are usually available throughout the year.
What time of the year can I find more available vacation rentals?
The months that offer the most accommodation options are, on average, January (with an availability of 55%), February (45%), and November (36%), according to the trends observed in the prior year.
How many vacation rentals does Holidu have on Lake Powell?
We have 180 properties for you on Lake Powell, provided by our 2 local and international partners.
Vacation destinations nearby
Holidu compares hundreds of websites to find your perfect holiday rental for the best price.