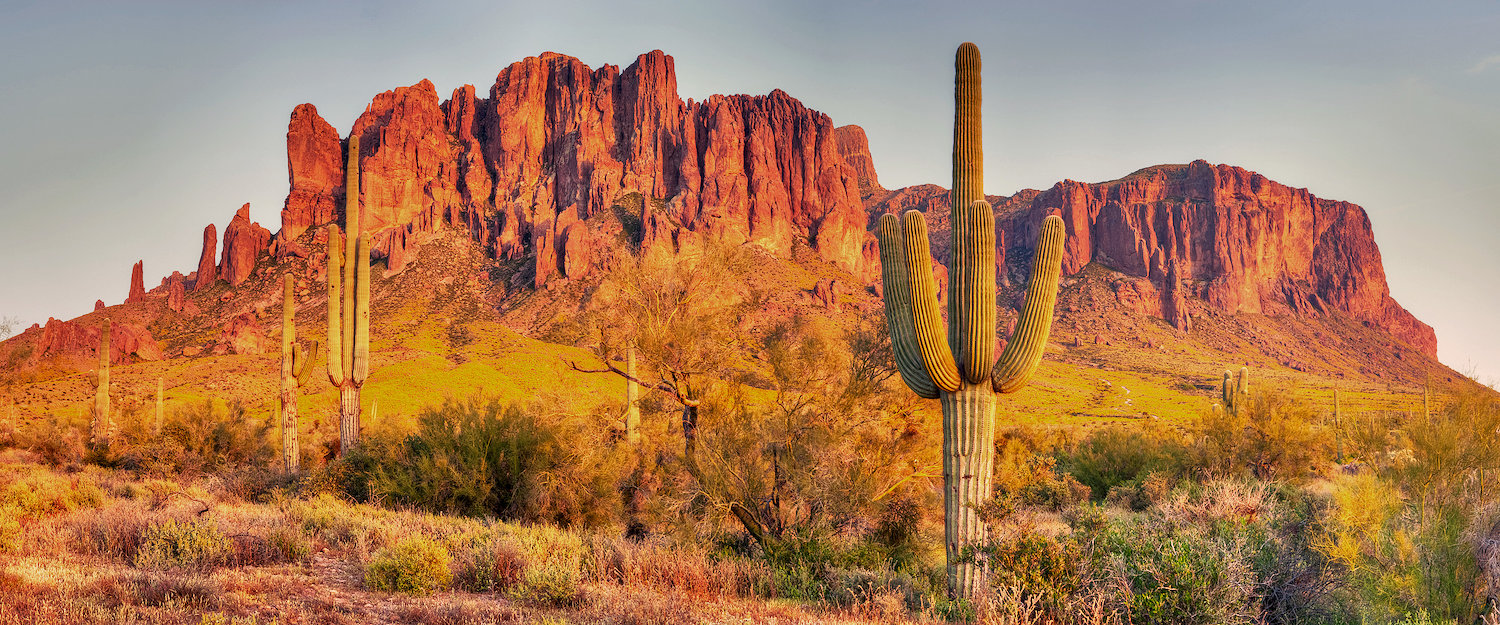 Prices and availability
Current Vacation rental prices Casa Grande
$240 annual average
Average price per week
Current vacation rental availability Casa Grande
62% annual average
Percentage of available rentals
Vacation rentals in Casa Grande
Rentals immersed in historical landmarks
The southwest is a fascinating place rich in Native American and pioneer heritage. Casa Grande, named for the iconic Casa Grande Ruins National Monument, is a great pace to get to know the southwest while having fun and seeing incredible sights. This quaint town's unique past and adobe architecture will leave a special place in your heart, not to mention tons of photographs. Most of the vacation rentals are in Casa Grande between the city and historical landmarks with a few near the mountains. Some are only 30 minutes away in neighboring Maricopa. These are the best locations for an enjoyable stay.
Relaxing rentals for every traveler
These beautiful rentals range in style from typical southwest adobe to modern colonial. Most have access to heated swimming pools and accommodate couples or small families. The larger accommodations have 3-4 bedrooms, include a well-stocked kitchen, balcony, and swimming pool with fire pit. Couples, savvy backpackers and families will find their perfect vacation rental here. Because of the warm winter climate, it's an ideal destination for snowbirds seeking to flee the cold winter months as well as health travelers.
Vacations in Casa Grande
The area and getting around
The perfect destination for a weekend escape
Casa Grande is a distant suburb of Phoenix at only 50 minutes to the northwest with Tucson just a 75-minute drive to the southeast. This quaint historical haven is known for its golf courses, swimming pools and beautiful southwest vistas. This vacation destination is conveniently situated near all the major sites giving you a real insight to Arizona's historical southwest culture. What's a vacation without shopping? There is plenty of shopping at the Promenade Shopping Mall of Casa Grande and many other rare shops closer to the historical district. For something to eat you have many options including BBQ, gourmet burgers, and ethnic cuisine conveniently located nearby.
A haven of entertainment and history
In Casa Grande you can immerse yourself in the area's unique southwest history while having fun at the same time. There are many museums and national monuments with hands-on activities for the whole family to enjoy so you won't be bored at this vacation destination. Golfers will be thrilled with the large choice of beautiful courses like the Golf Club at Johnson Ranch in Queen Creek. With putting greens, driving range and a pro shop, you can relax while you hit the greens in the scenic southwest. There is also an array of culinary hotspots, from inexpensive to fine dining when you want something special like Latte Vino.
Travelers and activities
Casa Grande for history buffs
After stopping in at the Casa Grande Historical Society you can make your plan for seeing all the national monuments and museums. There is so much history to be felt in the southwest it may be difficult to decide where to start. But be sure to visit the Castle at Montezuma and its sister site Montezuma Well National Monument. Take some tours on the horse trails so you can see the history and the namesake, Casa Grande Ruins National Monument. The mining boom in the 1800s is full of delightful stories too. There's so much, you'll need a month to experience everything.
Casa Grande for outdoor explorers
Nature fanatics itching to get close to the southwest's unique flora and fauna will love Casa Grande. There are thousands of trails with interesting plants, animals, insects and birds to observe. For a stunning exuberant climb try Picacho Peak State Park along highway I-10 just south of Casa Grande. Take some sturdy gloves and water for this amazing trek. Or catch a photo of pin-cushion cacti or the giant saguaros at the San Tan Mountain Regional Park. After it rains, the desert is transformed into a spectacular wildflower showcase. If you prefer horseback riding, the MD Ranch features mountain tours with amazing scenery, history and geology. And that's just a few of the must-see sites.
In 1880, Terminus city was renamed Casa Grande by the Southern Pacific Railroad executives during the mining craze.
Top 5 travel tips in Casa Grande
1. Unearth the mother lode
Start your journey into the past at the Casa Grande Valley Historical Society where you will find many secrets and mysteries meticulously preserved. While you're cooling off from the blazing heat you will learn how Casa Grande started as a boom town and many Native Americans had a thriving life of trade and agriculture here and so much more. Then go see the real thing and be amazed.
2. Catch an Antique Auction in town
Visit the Western Trading Post during its monthly auction at their downtown shop. Founded in the 1870s, this family-owned business specializes in many Native American and Pioneer artifacts, cowboy memorabilia and jewelry. Lovers of the southwest will surely find something interesting to take home from here.
3. Beat the heat at the waterslides
Visit Palm Island Family Aquatics Park for a wet and wild experience. You will be amazed at all the exciting possibilities like the 150-foot waterslide, water basketball, water jets, Aqua climbing wall and more, in downtown Casa Grande. There is no better place to be when the sun is blazing in the afternoon.
4. Chill out with some cool southwest history
After a day of outdoor adventure, check out the pleasant Museum of Casa Grande. This downtown historical gem is an oasis of history. It houses artifacts, exhibits and hands-on activities linked to the animals, plants, industry, and Native American culture of the southwest.
5. Discover water in the desert
Visit Montezuma Well National Monument and understand how a natural spring provided water for agriculture in the desert. You will be surprised at all the interesting activities that await you. The Sinaquan people built cliff dwellings, a canal system and pit houses that are still viewable today. Be inspired by the sacred beliefs of the Yavapai too.
FAQs: Vacation Rentals in Casa Grande
On average, how much do vacation rentals in Casa Grande cost?
Our data shows that Casa Grande had an average price of $200 per night, a relatively high one compared to the cities in the USA.
What time of year offers, on average, the best vacation rental prices in Casa Grande?
According to the previous year, the months that hurt your pocket the least in Casa Grande are June, July and March, with average prices of $135, $158, and $170, respectively.
In which months is it more expensive to rent a vacation rental in Casa Grande?
When it comes to looking for a vacation rental in Casa Grande, the months when you will pay the most are, in order of highest to lowest, November, December and May, with average prices per night of $249, $245, and $232, respectively.
Are there usually many vacation rentals available in Casa Grande?
If you decide to put Casa Grande on your bucket list, we suggest planning your vacation ahead of time because it is usually very high in demand, with an annual average of 91% of rentals booked the previous year.
What are the best months for a last-minute getaway?
December, January and November are, in order of highest to lowest, the months that have the largest number of accommodations available, with an average availability of 36%, 20%, and 12%. However, even during these months, when rental availability is the highest, the average is just 23%. So we highly recommend you always book your vacation early Casa Grande.
How many rentals are there in Casa Grande?
Holidu works with 2 different partners to give you an inventory to choose between 30 properties we have in Casa Grande.
Vacation destinations nearby
Holidu compares hundreds of websites to find your perfect holiday rental for the best price.