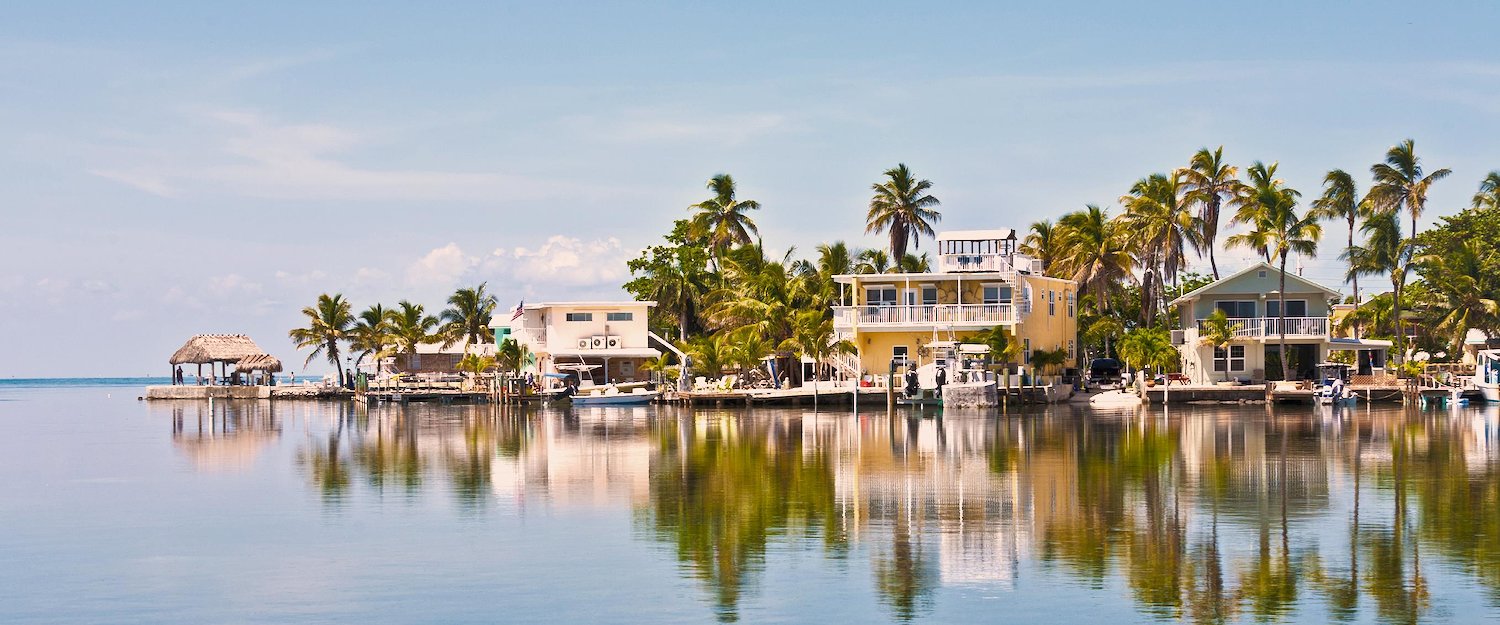 Villas in Florida Keys
2 properties for Villas. Compare and book at the best price!
Popular Villas in Florida Keys
Find Villas in Florida Keys
Highlights in Florida Keys
Heavenly beaches
Excellent diving and snorkelling sites
A Marine Sanctuary
A foodie paradise
The Everglades
Most popular amenities for Villas in Florida Keys
Other property types in Florida Keys that might be interesting:
Villas in Florida Keys: Most popular destinations
Villas in the Florida Keys
Charming villas in paradisiacal settings
The natural beauty of the Keys has been drawing in travelers for centuries. The third largest coral barrier reef, white sandbars and tropical islands make the Florida Keys a unique paradise where you can rent villas in idyllic spots along the archipelago with magnificent views. Find stunning villas in the artistic, quirky Key West and enjoy the laid-back island lifestyle. If you want to stay in a diving paradise, Key Largo is a little island paradise with a huge range of activities including hiking, fishing and kayaking. Marathon and Islamorada are the ideal family and anglers destination. Where are you going to book your villa in the Keys?
Luxury villas and sea views
Find beautiful colonial style villas that sleep up to 6 people comfortably. Stunning locations where the villas are in gated communities and surrounded by mangroves and the sparkling ocean. Upscale details in spacious villas with manicured gardens, infinity pools, hot tubs and furnished with everything you need. Most villas feature hardwood floors, ceramic tiles, granite countertops and wooden exteriors. Enjoy your daily breakfast gazing at the ocean and let it be the perfect backdrop for your vacation memories.
Travelers and activities
Florida Keys for diving lovers
A large marine sanctuary, the 3rd largest barrier reef in the world, a shipwreck trail with historic wrecks and more than 6,000 marine species make Florida Keys a scuba diving paradise. Underwater lovers will enjoy the sights of this wonderful water world. Marvel at the Christ of the Abyss in the waters of Key Largo, the abundance of tropical fish at the Molasses Reef and a top wreck dive site with a 327-foot vessel, for advanced divers. Within the Middle Keys lie Sombrero Reef and Coffin Patch, usually frequented by novice and advanced divers who can enjoy the shallow, watery dreamland of coral or the deep and advanced Thunderbolt wreck. Looe Key, in the Lower Keys is a mostly shallow spot with great visibility and brimming with tiny tropical fish, rays and swaying coral.
Florida Keys for beach lovers
Built on coral rock and offshore reefs, the Florida Keys are mostly rocky and mucky but most of the sand in the Key West is imported from the Caribbean! You can enjoy stretches of white, fine sand and shallow waters ideal for families and children like the one in Key Largo, Harry Harris Park, with a sheltered man-made lagoon, a playground and a picnic area. Along the Middle Keys you can enjoy the crystal clear waters of Long Key's beach, go kayaking and paddle around before having a delicious picnic at the designated area. Explore the offshore islands, the sheltered coves and the shady mangrove trail around Curry Hammock. Sombrero Beach is ranked as one of the top beaches in the Keys. Coco Plum Beach and Anne's Beach are lovely sandy beaches delightful for wading. The Lower Keys boast the Veterans Memorial Park and Bahia Honda State Park with small pretty beaches. Finally, enjoy some good snorkelling in Key West at any of the beautiful sandy spots in Fort Zachary Taylor State Park, Smathers Beach or Higgs Beach. Prepare your swimming gear and enjoy the Keys!
Did you know the word "key" is a corruption of the Spanish word "Cayo", which means small island?
Top 7 travel tips in Florida Keys
1. Take a scenic drive
Get in the car and drive along The Stretch to reach the exotic Florida Keys. During your ride, admire the quiet and serene views as you reach Key Largo, Islamorada and Key West going through the Seven-mile bridge and a tropical paradise. Enjoy a peaceful ride and have a great time while your mind will start to put itself on vacation mode.
2. Visit the Everglades
The Everglades National Park is on the southern tip of Florida and is home to rare and endangered species including the Florida Panther, the West Indian Manatee or the American Crocodile. Enjoy a tour through acres of sub-tropical jungles, swamps and prairies and admire this natural wonder walking, campling, canoeing and exploring its most primitive parts.
3. Experience the atmosphere of Mallory Square
Admiring the sun while setting over the Gulf of Mexico is a unique experience you can enjoy from Mallory Square. This lively area in Old Town Key West is popular for the sunset celebration and its festive atmosphere, where locals and tourists mingle together. Lots of entertainers will perform on the streets together with tightrope-walking cats, fire jugglers or dogs riding a unicycle. Browse the surf shops and other independent boutiques.
4. John Pennekamp Coral Reef State Park: a marine sanctuary
Key Largo is a good way to see the Keys lifestyle with its marinas, diving sites and tackle shops. Here you can visit the Florida Keys National Marine Sanctuary and John Pennekamp Coral Reef State Park, the country's first underwater park. The rich marine life draws in many scuba diving enthusiasts as well as snorkellers wishing to explore the depths. If you prefer to stay dry, book a tour on the glass-bottom boat and take a close look at the marine world beneath your feet.
5. The Keys: a foodie paradise
Sipping a glass of red wine and having a delicious meal while the sun sets, is one of the pleasures you can enjoy on the Florida Keys. Enjoy authentic Cuban cuisine and don't miss the renowned El Siboney restaurant on Key Largo. In Islamorada, try the best French dishes of Pierre's Lounge and Restaurant at Morada Bay with a Caribbean twist that will surprise your taste buds. For those of you with a sweet tooth, your palate will appreciate heavenly bites of the best Key Lime Pie ever!
6. Take a sip on Duval street
Every destination has a special street which is always a must on the traveller's list. In the Keys, Duval Street is the place to be. The infamous hotspot of incredible partying choices gives you access to several establishments to enjoy a cocktail. Pop into Sloppy Joe and sip your favorite drinks in an incredible atmosphere and lively pace. It gets pretty raucous!
7. Tour Ernest Hemingway's home
Located in Key West, Ernest Hemingway's house is a must for any bookworm. A Spanish-colonial property that was Hemingway's home and now tourists can take a tour and admire the 18th-century furniture and the beautiful gardens and the cats residing there.
FAQs: Villas in Florida Keys
Which filters are the most important for travelers during their stay in Florida Keys?
According to the database from Holidu, when travelers search for villas in Florida Keys, most of the time they choose the following facilities: pool (31%), air-conditioning (25%), and sauna (6%). Last year, the majority of guests selected at least one of these filters when finding the perfect villa.
Which types of services can you expect to find at the villas in Florida Keys?
In regard to the facilities available on Holidu, it appears that the villas in Florida Keys offer everything that vacationers dream of! Here, the villas generally have a variety of facilities, the most popular being: internet (100%), balcony (92%), and air-conditioning (90%)...What are you waiting for?
How are the reviews for the villas in Florida Keys?
The villas here are often well reviewed. Many (60%) have a rating of 4.5 stars, which suggests that here, it is possible to find a villa for your next vacation!
Are the villas in Florida Keys suitable for vacations with children?
Judging by the Holidu database, 70% of villas in Florida Keys are suitable for vacations with children, it should therefore be very easy for you to find the ideal villa for you and your children.
Are the villas in Florida Keys suitable for travelers and their pets?
Of course! In Florida Keys, 15% of the villas are pet-friendly, 5% also have a garden!
Do the villas in Florida Keys often come with Wi-Fi?
Yes! According to the data collected last year, 100% of villas in Florida Keys offer Wi-Fi. This means that you will be able to browse the internet during your stay!
How much does it cost on average for villas in Florida Keys?
Many villas in Florida Keys are, in general, rather expensive. According to Holidu's database, 33% are at more than $500 a night.
Do the villas in Florida Keys typically come equipped with a fireplace or a pool?
Good news! According to last year's data, the villas in Florida Keys are ideal all year round. Here, 10% are equipped with a fireplace and 87% a pool.
Are the villas in Florida Keys suitable for stays in large groups or rather for a weekend break as a small group?
Here, according to Holidu's data, 56% of villas welcome groups of up to eight people, 41% of these villas have at least four bedrooms. But 99% of villas also accept up to four travelers, 96% of the villas have at least two separate bedrooms. Florida Keys is therefore the perfect destination for groups of friends of all sizes!
Destinations in Florida Keys for Villas
Holiday destinations nearby for Villas
Holidu compares hundreds of websites to find your perfect holiday rental for the best price.