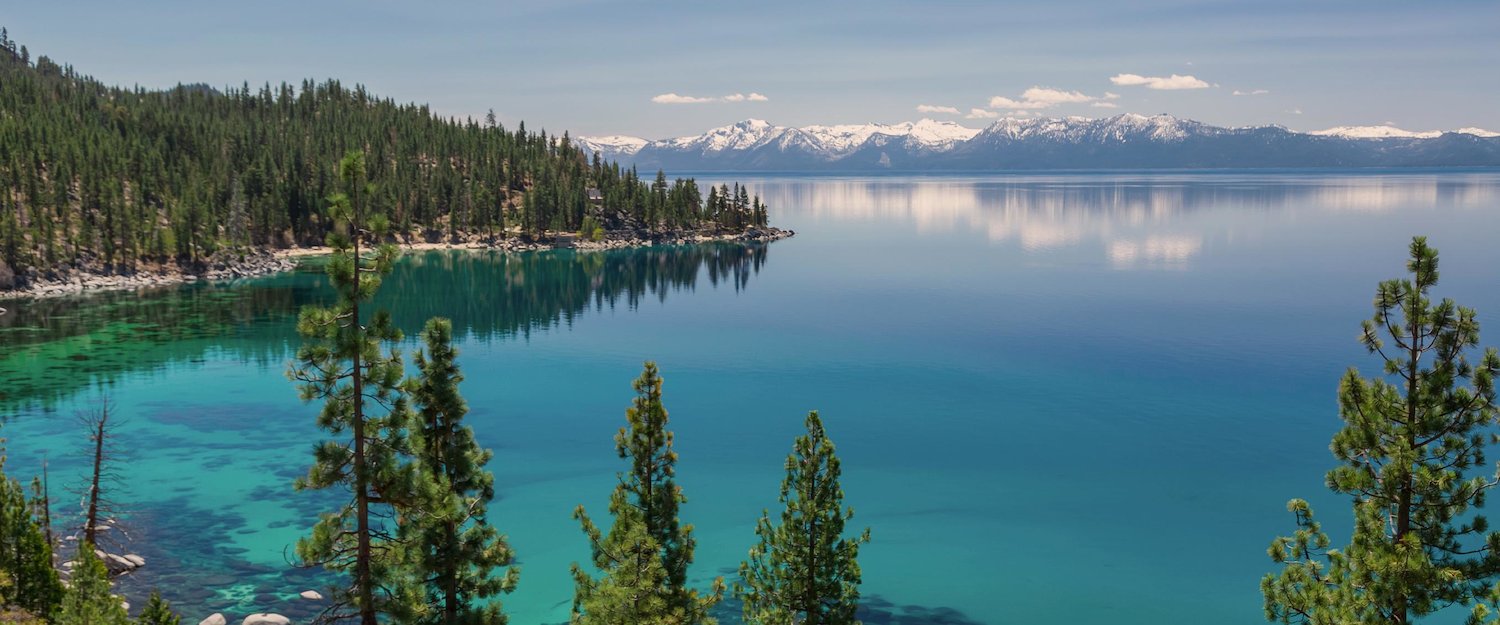 Cottages in Lake Tahoe
9 properties for Cottages. Compare and book at the best price!
Popular Cottages by Lake Tahoe
Find Cottages by Lake Tahoe
Highlights by Lake Tahoe
Lakeside getaway
Nature trails
Horseback riding
Hiking trails
Bay
Lake beach
Museum
Gondola Ride
Most popular amenities for Cottages by Lake Tahoe
Other property types by Lake Tahoe that might be interesting:
Cottages in Lake Tahoe
Finding paradise at Lake Tahoe
Lake Tahoe is an expansive freshwater lake set along the border of California and Nevada in the Northern Sierra Nevada mountain range. The lake sits at an elevation of 6,000 feet and boasts vibrant blue, crystal clear waters. The nature surrounding the lake is spectacular and vast, with snow capped mountain peaks, dense alpine forests, and countless streams and rivers. It's the perfect place for nature lovers and outdoor adventurers to explore at any time of the year. During the summer the lake is popular for hiking, swimming at the lakeside beaches, water sports, kayaking, horseback riding, and mountain biking. During the winter, visitors can enjoy a variety of winter sports, like skiing, sledding, snowboarding, snowmobiling, and ice-skating.
A peaceful cottage stay in Lake Tahoe
Staying in a cottage is the ultimate way to experience the sparkling waters and towering mountain vistas of Lake Tahoe. Opt for a cottage directly on the lakeside, with a private balcony where you can enjoy sweeping views of the mountains, forests, and water. Or choose a cottage tucked away in a forested area, surrounded by trees, fresh air, and silence. Many cottages are situated within walking distance of the lakeside beaches, offering convenient access to the sand and water whenever you please. If you'll be coming during the winter months, select a cottage with a fireplace or a jacuzzi to stay warm. Cottages at Lake Tahoe are well-equipped with modern amenities such as high-speed internet, air-conditioning, fully functioning kitchens, and comfortable furnishings. With so many incredible cottage options at Lake Tahoe, you may find yourself never wanting to leave!
Travelers and activities
Lake Tahoe for families
Lake Tahoe is an excellent destination for families of all ages. Enjoy hiking, kayaking, and lazing on the beaches with the whole family. Children of all ages will enjoy the ziplines and mountain coaster at EPIC Discovery at Heavenly Mountain. Younger kids will enjoy exploring KidZone Museum where they can pet baby farm animals or get creative with an art project. On sunny days, head to Kings Beach where kids can run around and build a sandcastle.
Lake Tahoe for hiking enthusiasts
Lake Tahoe in the summer months is a hiker's dream destination. With countless trails along the lakeside and surrounding mountains, you'll have the opportunity to explore every unique corner of the lake. For an easy-going hike, try the Cascade Falls Trail, which is a quick 2-mile loop with stunning views of the lake and a small waterfall. If you want to explore the lake's shoreline, try Fallen Leaf Lake Trail, which is a 2.5-mile hike. The Rubicon Trail is one of the most popular hikes around the lake, and is slightly more advanced at 4.5-miles in length and an incline. However, the incredible views at the top make the extra effort well worth it!
The sapphire-blue waters of the lake are attributed to its 1,640-foot depth.
Top 7 travel tips in Lake Tahoe
1. Visit Emerald Bay in the summer months
The crystal clear, turquoise waters of Emerald Bay State Park are reminiscent of the Caribbean. This beautiful area of Lake Tahoe is popular for hiking. Take a stroll along one of the many hiking trails where you can enjoy unparalleled views of the bay and surrounding natural areas. Inspiration Point Vista is one of the most popular attractions, offering some of the best views in the park.
2. Ride The Gondola at Heavenly
Ride in a glass-walled gondola above the forests and enjoy spectacular views of the lake and surrounding mountains. The entire journey is 2.4 miles long with an optional stop at an observation deck halfway through. It's the perfect year-round activity for families, couples, and groups of friends wanting to experience breathtaking views of the Lake Tahoe area from above.
3. Visit the historic Vikingsholm
Vikingsholm is a popular attraction located in Emerald Bay State Park. The site was originally built in the 1920s as a summer home and boasts a unique Nordic architecture style. Here you can tour the house and learn fascinating stories of the home's history, as well as the people who once inhabited it.
4. Explore Historic Downtown Truckee
The small town of Truckee, California is just a stone's throw away from Lake Tahoe and well-worth the visit. Head straight to the historic downtown district, where you'll find a charming collection of shops, cafés, and restaurants to try out. The picturesque buildings and laid-back atmosphere lend to the town's unique charm. Grab a bite to eat, sip on a cappuccino, and enjoy the views. There are several gift shops here where you can grab some souvenirs to take back home with you.
5. Spend the day at Lakeside Beach
During the warmer months, a visit to Lakeside Beach is a must. The golden sandy shore is clean, well-maintained, and rarely ever crowded. Spend the day here swimming, sunbathing, and enjoying the incredible views of the surrounding nature.
6. Explore the lake on horseback
One of the best ways to experience the beauty of Lake Tahoe is on horseback. Ride through scenic trails in Tahoe National Forest with friendly horses and professional guides. Or, ride along the lake's edge as you enjoy spectacular views of the water and surrounding forests. Camp Richardson Corral and Zephyr Cove Stable are two reputable companies to book horseback riding tours with.
7. Visit the Donner Memorial State Park and Emigrant Trail Museum
This free museum teaches about the lives of pioneers who came to California in the mid-1800s seeking their fortunes. You can watch a 25-minute film that tells the stories of the pioneers, visit various exhibits throughout the space, and read informational plaques depicting life during that time period. There are also several nearby hiking trails that you can explore after you've finished your tour of the museum.
FAQs: Cottages by Lake Tahoe
Which types of services can you find in the cottages on Lake Tahoe?
Out of the services available on Holidu, it appears that the cottages on Lake Tahoe offer everything that vacationers wish for! Here, the cottages generally have a variety of amenities, the most popular being: internet (76%), barbecue (71%), and balcony (70%)...Not bad, right?
How do travelers usually rate cottages on Lake Tahoe?
Judging by last year's data, only 2% of the cottages on Lake Tahoe get a rating of 4.5 stars. If this criteria is important for your trip, it will be necessary to pay a little more attention to the reviews.
Are the cottages on Lake Tahoe child-friendly?
According to the Holidu data, less than 10% of cottages on Lake Tahoe are suitable for vacations with children. Here, it will most likely be easier to find a cottage for your next adults-only vacation.
Are the cottages on Lake Tahoe pet-friendly?
For sure! On Lake Tahoe, 41% of the cottages accept them, 10% even have a garden!
Do the cottages on Lake Tahoe mostly have Wi-Fi?
Certainly! According to Holidu's database, 76% of cottages on Lake Tahoe have an internet connection. You will be able to browse the internet during your stay!
Do the cottages on Lake Tahoe often have a fireplace or a pool?
Of course! According to Holidu's data, a good amount of cottages on Lake Tahoe are equipped with a fireplace. Want a weekend by the fire? Don't delay in booking a cottage on Lake Tahoe!
Are the cottages on Lake Tahoe suitable for stays with friends or better for an escape as a small group?
In Lake Tahoe, according to the data collected last year, 58% of cottages are suitable for groups of up to eight people, 26% of these cottages are made up of at least four bedrooms. But 96% of cottages are also perfect for families of up to four people, 89% of the cottages have at least two separate bedrooms. This is therefore the ideal destination for groups of friends of all sizes!
Holidu compares hundreds of websites to find your perfect holiday rental for the best price.