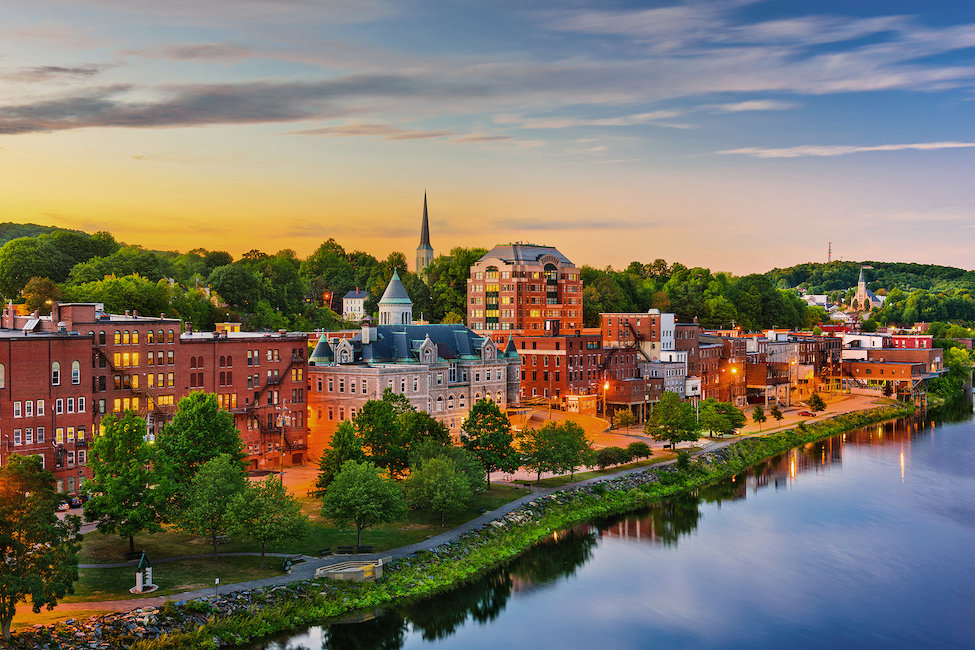 Prices and availability
Current Vacation rental prices Kennebunkport
$565 annual average
Average price per week
Current vacation rental availability Kennebunkport
37% annual average
Percentage of available rentals
Vacation rentals in Kennebunkport
Scenic coastal rental locations
Take a trip to this coastal town where water activities reign. This magnificent coastal town is located in southern Maine in York County. Kennebunkport lies along river Kennebunk and is approximately 1.6 miles from the Atlantic Ocean. Go for a vacation in this town and hang out along the shoreline or take a drive to Dock Square and have you're your fill with some fresh seafood. In the evening, take a walk down the Walker's Point and check out the Bush family; remember to be polite since the family is on vacation too!
Cozy vacation rentals for everyone
Get a perfect vacation rental with accommodation ranging from a big family gateway to a romantic couple getaway. Rent property in this coastal town that evokes the quintessential quaintness of coastal New England. Known for hosting George Bush's summer holiday home, the town offers exquisite and well-maintained vacation rentals. The vacation rentals are strategically located to enable you to spend lazy afternoons on the beach. Get everything you need ranging from a spacious property that will accommodate your playful kids to pet-friendly vacation rentals. Once you rent your first property, you will become a regular visitor in Kennebunkport!
Vacation rentals in Kennebunkport
The area and getting around
A coastal town bustling with activities
In Kennebunkport, you can never run short of exciting outdoor and indoor activities. Start by taking a boat and fishing; the town is historically known for boatbuilding and fishing. Have a chat with the fishermen at Cape Porpoise Pier, and here is what it takes to capture the biggest catch of the day. You can do some shopping in the quaint general store commonly known as Bradbury Bros. take a boat tour, or if you want to do it the old way, you can do some kayaking or some stand-up paddle boarding.
A coastal town with fascinating attractions
For some scenic views, kick off your day by visiting the beaches along Beach Avenue and Gooch. The beaches are perfect places to bring your family, even your four-legged pet! The beaches are a bit rock but still perfect for sunbathing. Take a trip to Seashore Trolley Museum, which your kids will love, and it will be chaotic when it is time to leave. Learn about the history of public transport and, if you are lucky, take a ride in one of the vintage cars in the museum.
Travelers and activities
Kennebunkport for food lovers
Have a bite of the Blueberry pie, the state treat, and the official dessert in Kennebunkport. Get a killer lobster roll plus a sumptuous blueberry pie at Mabel's restaurant. The lobster roll is cooked from fresh lobster meat, mayonnaise, and melted butter. Stop at HB provisions for some tasty whoopie pie crafted from chocolate cakes sandwiched in frosting filling Oreo. In the cool of the day, get some exotic flavored ice cream at Rococo Artisan Ice Cream. The joint features 14 delectable ice cream flavors. Avoid the temptation of ordering the traditional chocolate scoop. Go for a creative cone, and you won't regret it!
Kennebunkport for craft beer enthusiast
If you have a soft spot for craft beer, Kennebunkport should be on top of your vacation destination list. Visit the town and sample some of the local breweries. Below Federal Jacks Restaurant, find the seven-barrel brewery from Kennebunkport brewing company. Take a tour around the facility as you sample different beer brands such as Fuggles. You can also stop at Batson River brewing, located downtown Kennebunkport.
Did you know that Kennebunkport is the summer home of form president George H.W. Bush!
Top 5 travel tips for Kennebunkport
1. Rachel Carson National Wildlife Refuge
This wildlife refuge center is located on a 9,125-acre parcel of land along Kennebunkport's southern coast. The refuge is managed by U.S Fish and Wildlife Services. The refuge features excellent and easy-to-walk hiking trails and offers a perfect opportunity for bird watching. The views of the marshes around the refuge are also scenic.
2. Goat Island Lighthouse
The lighthouse is one to the public, and it offers a breathtaking view of the boats going about their usual activities. You can only access the lighthouse via boat. You can still enjoy kayaking. Numerous restaurants around the lighthouse serve lunch and dinner.
3. St. Ann's Episcopal Church
It is an absolutely beautiful old stone church on a beautiful landscape that juts out into the water. It is a good place to make a personal reflection or make a short prayer. Don't forget to check out the small garden at the back of the church with a stone bench dedicated by Bush children in memory of their parents.
4. Franciscan Monastery
The place is beautiful, featuring a church, a monastery, and a scenic park with statures. Everything around the monastery is well kept and looks amazing. The staff and the monks are very friendly and helpful. There is a gift shop where you can get a souvenir.
5. Kennebunkport Historical District
This district constitutes a big portion of Kennebunkport. The district features the town's highest concentration of historical architecture since most buildings were built in the late 18th century. The district also features exquisite seafood, lovely shops with exclusive merchandise, and awesome restaurants.
FAQs: Vacation Rentals in Kennebunkport
How much does it cost to book a vacation rental in Kennebunkport?
Kennebunkport is one of the most expensive cities in the USA. The costs for a vacation rental here amount to around $548 per night.
What time of year offers, on average, the best vacation rental prices in Kennebunkport?
After analyzing our data from last year, the months that are the cheapest in Kennebunkport are April, May and September, with average prices of $468, $495, and $513, respectively.
When are vacation rentals more expensive in Kennebunkport?
It can be concluded, by analyzing the data from the previous year, that costs per night for accommodation here are usually higher, on average, during the months of January ($657), December ($586), and July ($571).
Is Kennebunkport a good location for a last-minute getaway?
It is recommended that you book your stay well in advance when visiting Kennebunkport, as only 22% of our accommodations are usually available throughout the year.
When are more vacation rentals available?
October, September and February are, in order of highest to lowest, the months offering the largest number of properties free, with an average availability of 52%, 40%, and 38%. However, even during these months, when rental availability is the highest, the average is only 43%. So it is still important you always book a little in advance to make sure you get the rental of your dreams.
How many rentals does Holidu have in Kennebunkport?
We have 40 rentals for you in Kennebunkport, provided by our 2 local and international partners.
Vacation destinations nearby
Holidu compares hundreds of websites to find your perfect holiday rental for the best price.