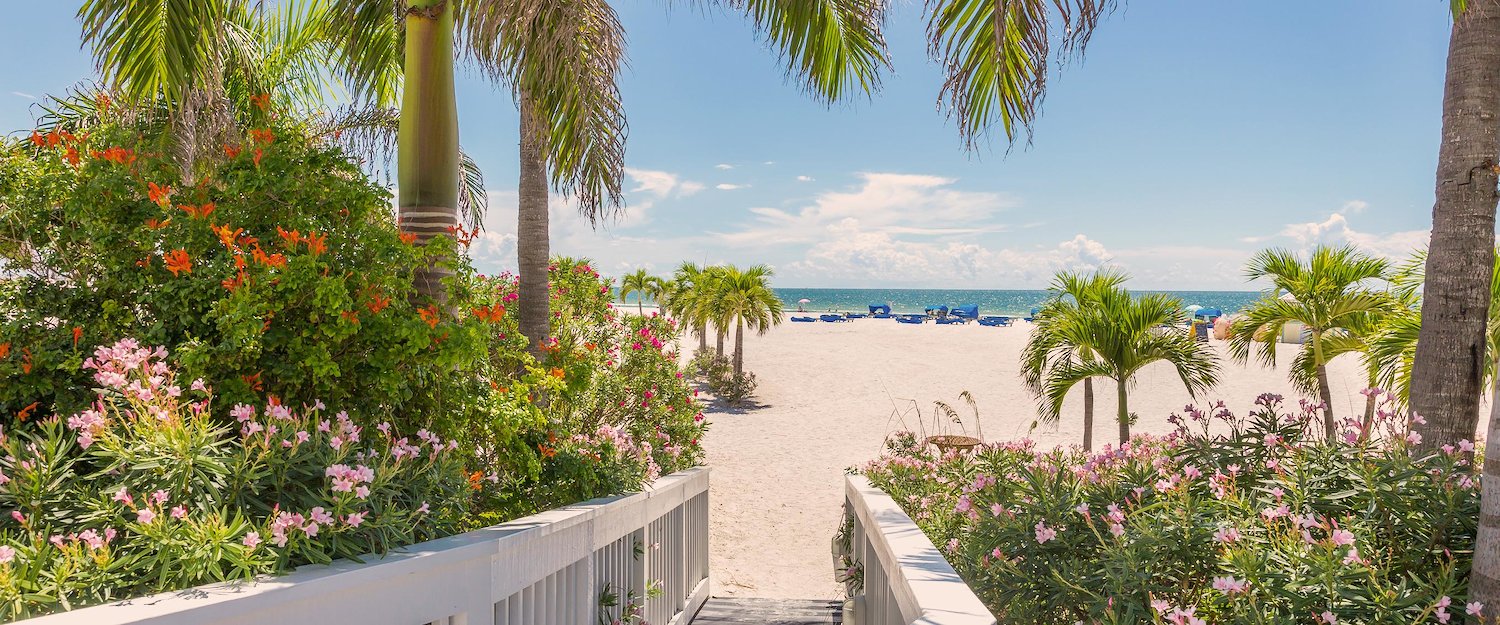 Vacation rentals in Dunedin
Start comparing over 12 rentals in Dunedin and book at the best price!
Vacation Rentals in Dunedin
Find Vacation Rentals in Dunedin
Highlights Dunedin
Florida's Gulf Coast
Beach Parks
Breweries
Water activities
Prices and availability
Prices
June
July
August
September
October
Average price per week
Availabilities
June
July
August
September
October
Percentage of available rentals
Vacation rentals in Dunedin
Florida, your next stop
Longing for Vacations by the beach surrounded by music and piña coladas? Find a vacation rental close to the beach and enjoy a fabulous experience in Dunedin. Select the accommodation that better suits your needs during your stay and enjoy nice rentals in Tampa Bay or Clearwater, just 3 miles away from the beach. Palm Harbor also offers great accommodation and needless to say that some of the properties boast stunning views that you will love. For those who prefer to stay closer to the city center, they can find several Vacation rentals available and close to shops, beaches, restaurants and entertainment.
Excellent Vacation rentals with views
A few miles from the seafront does not prevent the Vacation rentals to boast incredible sea views. Find your ideal stay and book a vacation home to enjoy an incredible time in Dunedin. Some rentals offer spacious and open plan floors with large lounging areas, terraces and patios. The gardens are manicured and in excellent conditions to enjoy your summer evenings, barbecues, celebrations and gatherings with friends. If you travel with a large group, find those rentals with room for up to people. For couples and small groups, there are other properties that still give you all the amenities and comfort adapted to the number of people travelling. Enjoy your new home away from home and welcome to Dunedin!
Vacations in Dunedin
The area and getting around
The perfect getaway
Dunedin is based on the west coast of Florida and popular for its beautiful beaches. But it is not just the beaches that make this city interesting and popular. The Scottish celebrations throughout the year and the quaint town center are the other two major attractions of Dunedin. The town has also a relaxed lifestyle but with enough activities and entertainment for children and adults alike. Stroll along the parks as you savor an ice cream, get deeper into the history of this place, learn about the culture and mingle with the locals! Not far from town, you can visit Honeymoon Island and Caladesi.
Active Vacations around Dunedin
Enjoy the beaches, the promenade, relax by the seaside, practise some water skiing, surfing, swimming, kayaking or stand up paddle surf. For more sport, go to a baseball game and follow the major league games when you are in town. The diner scene will activate your senses offering some of the best dining eateries and menus in Tampa Bay. For outdoor lovers, the miles of trails will make their day.
Travelers and activities
Dunedin for picture-perfect beaches lovers
The stunning beaches of Dunedin everything can amaze the most experienced traveller. Stretches of white powdered sand, pristine waters and beautiful palm trees as the background for the perfect picture. Accessed by boat, the untouched nature of Caladesi Island boast some of the most stunning beaches on the planet. The other top-rated beaches are the ones in Honeymoon Island State Park, a natural barrier island to enjoy swimming , hiking, and bird-watching. If you stay until the sun sets behind the horizon you will be in for a special treat. The sky will change slowly from blue to red, yellow, orange, pink and purple. Do not miss the opportunity to catch the sunset!
Dunedin for family Vacations
Dunedin is the ideal family destination where children will always have a myriad of activities to choose from including those to share with adults. Practice some water sports or have a fun day on the beach. Get daddy to push your swing or go down the slides at Edgewater Park or Amberlea Park. Enjoy some great interactive activities at Kiwanis Sprayground, a water playground featuring colorful, action-packed games with fantastic devices to spray, dump, pour or gush water. You can dodge a mouth-water-shooting crocodile, have fun at the pirate ship and enjoy the flower water showers! Beat the heat and have fun under the sun!
Did you know Honeymoon Island and Caladesi was once one island until they were separated by a hurricane in 1921?
Top 5 travel tips in Dunedin
1. Stroll along the Dunedin Causeway
The Dunedin Causeway is an easy and nice 2.5-mile route from Bayshore Boulevard to the entrance of Honeymoon Island State Park. The Causeway is lined by water on each side and it is the favorite destination for sunbathing, fishing, and watercraft activities. But the most common activities are walking, running and cycling. Take your time and enjoy the views.
2. Buy colorful, tasty and varied produce from the market
Fridays and Saturday mornings are for shopping at the market nestled in John R. Lawrence Pioneer Park. This is a popular meeting point for tourists and locals alike for fresh produce and unique gourmets items. Events are also running and Greg and Tiffany make sure every visitor is assisted so they do not miss anything happening at the market. To enhance the capacity for sustainable food production, processing and distribution by addressing the educational needs of producers. Enjoy your shopping time and bring home the best fruits and veggies from the local farmers.
3. Golf under the sun of Florida
Golf lovers always appreciate a good game with great views and lovely weather. Dunedin, boasts a driving range at Stirling Park where you can also take some lessons. An 18-hole Golf Course is open to members and public in general in the Dunedin Golf Club. Book your slot and enjoy your favorite sport, improve your swing and have an incredible time surrounded by lush green fairways and incredible views.
4. Why are there so many oranges all over the town?
Since the late 1800s, Dunedin has a long tradition of orange groves, citrus packing and oranges. There is also a huge The Skinner and Douglas families two big names in this industry and they created beautiful labels for the products, now kept at the Dunedin Historical Museum as vintage labels. Steven Spathelf is a local artist who has admired, collected and has been inspired by these labels and the designs. In 2009 he thought of bringing these vintage labels to life so he and Marsha Goins painted oranges around the town center. The reaction to these paintings was overwhelming and it brought back the link with oranges that the town once had. Take a walk around town and spot the nearly over 800 oranges! Such a fun afternoon that is.
5. Sail away
The marina of Dunedin is the central point for those who love sailing. Rent a boat for a day, moore your own yacht or improve your sailing skills. The women's sailing association called Dunedin Windlasses is designed to help women improve their sailing abilities, sponsor the races they take part in and to enter competitions with other women's clubs. The DYSA encourages people to take part in sailing as a community-based program and the Sea Scouts Ship 956 show teenagers some life skills on a boat and on the water. Get into the sailing world, learn and enjoy.
Vacation rentals in Dunedin
Endless rentals to choose from
With four miles of stunning beaches, a scenic waterfront, and a charming downtown, Dunedin is a wonderful, year-round destination for families, couples, and groups of friends. Whether you wish to stay in the quaint downtown area, surrounded by trees in nature, within eye-shot of dreamy ocean views, or right on the sandy shores of the beach, there are endless Dunedin rentals to choose from.
A vacation rental for everyone
The only problem you'll likely encounter when searching for vacation rentals in Dunedin is deciding on just one because you'll most likely want to stay at them all. Families and large groups can choose ultra-spacious rentals with enough bedrooms for everyone and wrap-around front porches for gathering. Couples might opt for a cozy, romantic rental right on the water. You can even bring your pet along for the adventure, with several rentals featuring private gardens and yard spaces and pet-friendly accommodations. With so many different vacation rentals to choose from, you'll be sure to find one suited perfectly to your travel needs.
Vacations in Dunedin
The area and getting around
Arriving in Dunedin
Dunedin is conveniently located just 15 miles west of Tampa, right on the Gulf Coast. If you'll be flying in from out of state, Tampa International Airport is the closest and most convenient airport to fly in and out of. There are plenty of car rental companies at the Tampa airport and around Tampa if you wish you rent a car during your stay. Otherwise, you can simply hire a taxi or an Uber to take you to Dunedin from the airport.
Getting around during your stay
It's not necessary to have a car during your stay in Dunedin. The quaint little town is easily walkable, with a variety of shops, restaurants, breweries, art galleries, natural landmarks, and the downtown attractions all within walking distance of each other. For convenience's sake, you may find it even more enjoyable to rent a bike during your stay, which makes it even easier to get from place to place and to enjoy the many biking trails in the area.
Travelers and activities
Dunedin for Couples
Dunedin is a romantic and serene destination for couples wanting to have fun exploring and trying new activities together. Go for a long walk or rent some bikes to explore the trails at Fred Marquis Pinellas Park, which passes through several towns and many green and urban areas with several interesting stops along the way. Sample a flight of unique and tasty beers at 7venth Sun Brewery and end the evening with water front views and a romantic meal at Bon Appétit Restaurant and Bar.
Dunedin for Families
Families with small children should pay a visit to the David L. Mason Children's Art Museum located on Michigan Boulevard. It's the perfect place to spend a few hours out of the strong Florida sun, with a variety of interactive activities on offer that touch on nature, technology, and science. The Kiwanis Sprayground is another must-do for families with kids, and a great way to find some relief from those extra-hot days. The Sprayground is a modern water park featuring an endless variety of slides, shoots, fountains, buckets, interactive toys, and other fun water activities. The Clearwater Marine Aquarium features an impressive variety of unique marine environments and sea creatures. Come as a family to learn about sea turtles, otters, marine crustaceans, tropical fish, and other critters that thrive in Florida's temperate waters.
Dunedin began as a remote settlement in 1852, making it one of the oldest towns on Florida's West Coast!
Top 5 travel tips in Dunedin
1. Visit Honeymoon and Caladesi Islands State Parks
These two stunning state parks are havens for nature lovers and for anyone wishing to experience the raw beauty of Florida's Gulf Coast. The parks are perfect for families, couples, or groups of friends who wish to spend the day sunbathing, relaxing, swimming, or exploring around the islands. Be sure to pack a picnic lunch when visiting Caladesi Island. There are two cafés on Honeymoon Island, as well as a variety of shops.
2. Spend a day at Busch Gardens Tampa
Florida is one of the nation's top destinations for theme parks, and Busch Gardens Tampa happens to be an extra convenient day-trip for anyone staying in Dunedin. It's filled with thrilling rides, fun games, weekly events, and endless activities for all ages. This is a perfect activity option for families or friends traveling together.
3. Dunedin Downtown Market
The downtown outdoor market, open on Friday and Saturday mornings, is a popular place for visitors and locals alike. A variety of vendors sell local produce, a wide range of gourmet foods, handmade items, health and beauty products, and more. You can grab a drink or a snack from one of the food trucks and enjoy live music on the main stage.
4. Go to the Dunedin Brewery
This award-winning brewery happens to be the oldest running microbrewery in Florida and is well worth a visit. Sample a flight of their specialty brews while enjoying something on the delicious food menu. You might even get to hear some live music if you're lucky.
5. Enjoy fresh air and nature in John Chesnut Sr. Park
This park is filled with nature and wildlife. Enjoy watching turtles, deer, birds, and alligators all in their natural habitat. Immaculately kept trails are perfect for going on a long walk. There are playgrounds and picnic areas as well.
FAQs: Vacation Rentals in Dunedin
How much do the vacation rentals in Dunedin cost on average?
Dunedin is one of the cheapest cities in the USA. For a stay here you pay around $279.15 per night.
Which months allow you to save the most on vacation rentals?
Those who want to be budget-friendly should travel to Dunedin in November, December, and May, which are the months that offer the most discount, with average prices of $233.54, $236.41, and $258.07 per night, respectively, based on data collected in 2020.
During which months are vacation rentals more expensive in Dunedin?
At the time of booking a vacation rental in Dunedin, the highest prices are found in the month of April (with an average of $305.23 per night), followed by February ($301.75), and September ($297.05).
Is it necessary to plan a trip to Dunedin well in advance?
It is better to book your stay well in advance when visiting Dunedin, as only 15% of our accommodations are usually available throughout the year.
What time of the year can I find more free vacation rentals?
The best months to find free accommodation in Dunedin are April (the average amount of properties that are available reached 34.25% of the total in 2020), May (26.8%), and August (19.4%).
When are fewer rentals available in Dunedin?
The month with the highest average booked rental figures is February (only 1% of properties were available on average in 2020). Followed by March (6.5%), and January (7.5%).
Are there many rentals in Dunedin?
In Dunedin we collaborate with 5 different providers to give you a choice of 750 properties, so you will not be short of options!
Holidu compares hundreds of websites to find your perfect holiday rental for the best price.