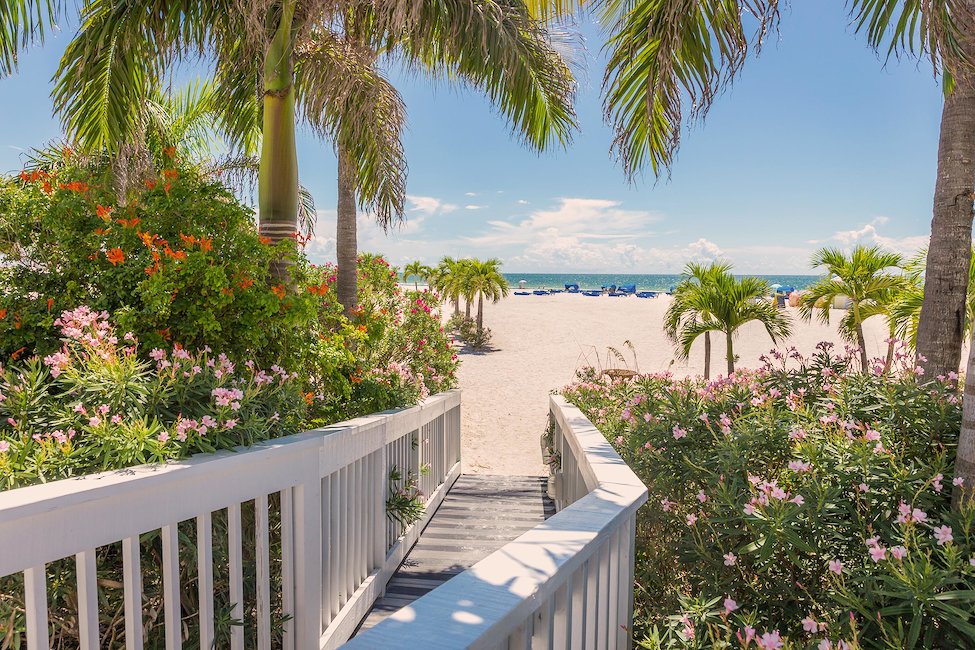 Prices and availability
Current Vacation rental prices Boca Grande
$620 annual average
Jun
Jul
Aug
Sep
Oct
Nov
Dec
Jan
Feb
Average price per week
Current vacation rental availability Boca Grande
39% annual average
Jun
Jul
Aug
Sep
Oct
Nov
Dec
Jan
Feb
Percentage of available rentals
Vacation rentals in Boca Grande
Stunning destination in Boca Grande
Organize your next vacation to the stunning destination of Boca Grande. You will be able to find this small residential community located in the Gasparilla Island in southwest Florida. Being situated in both Charlotte and Lee county, this village is the ideal destination if you want to find a tranquil place at the beach. The name of this destination come from Spanish and it means "Big Mouth," which relates to mouth of the waterway where it is located by. The village of Boca Grande is well known for its historic downtown district, its crystal waters and white sands, as well as its world class fishing.
Vacation rentals in Boca Grande
There are plenty of stunning rental properties to choose from while visiting Boca Grande. You will be able to find properties closer to the beach, as well as others right next to the boutiques and bars. Imagine waking up in the morning to the sound of the waves crashing on the shore. Spend your afternoon diving and swimming in your private pool or having a barbeque with your friends in the garden. Spend the evening playing board games in the dining room or watching the sunset by the beach. These are some of the memories you could be making with an accommodation in Boca Grande.
Vacations in Boca Grande
The area and getting around
How to get to Boca Grande
Making your way to Boca Grande will be quite simple and convenient. If you choose to make your trip by car, you will find that the main road that connects the island to the mainland is the I-75. This road is also taken by the regional buses that connect Boca Grande with the rest of the mainland. On the other hand, if you are planning to make your trip to Boca Grande by plane, the closest airports will be Punta Gorda Airport, Sarasota Bradenton International Airport, Southwest Florida International Airport and the Tampa International Airport. All of these airports will provide you with commercial flights from national and international locations.
Where to eat in Boca Grande
With the stunning beach views, you can remain assured that you will be able to find plenty of delicious restaurants with panoramic views. If you are looking for a quick bite, head over to the Dolphin Cove Café. This local joint will provide you with a vast array of homemade ice cream, hamburgers and fries, as well as sandwiches. Another great place to go is the Third Street Bistro. This upscale eatery will provide you with a secret and cozy indoor garden, live music and a menu filled with a variety of Mediterranean dishes.
Travelers and activities
Outdoor activities in Boca Grande
You will be able to enjoy plenty of outdoor activities while visiting Boca Grande. Go on a fishing trip and experience the inshore fishing of the area. You will be able to go fishing for trout, snapper and flounder. On the other hand, you can go hiking and biking in Cayo Costa State Park. Here you will find 9 miles of untouched beaches with plenty of trails that will give you the chance to spot out many endangered and rare bird species of the island.
Family friendly activities in Boca Grande
If you are planning to make your trip to Boca Grande with your family, try out these activities all together. Head on over to Paddleboard Adventures for a fun day out in the water. This place will allow you to rent out a paddleboard and go discovering the sea creatures that inhabit the waters. Another great activity to do is visiting the Fish Cove Adventure Golf. While here you will be able to enjoy a fully equipped miniature golf course adaptable for kids of all ages.
Did you know that there are no gas stations in Boca Grande so most locals drive golf carts as their main mode of transportation?
Top 5 travel tips for Boca Grande
1. Boca Grande Lighthouse Museum
Visit the oldest structure on Gasparilla Island. The museum has artefacts and exhibitions that portray the cultural and social history of the island.
2. Gasparilla Golf Club
Play a round of golf. Go to this eco-friendly golf course with gorgeous palm trees, a scenic view of the Gulf of Mexico, and a full 18-hole greenery.
3. Pink Elephant
Take a break at a local favorite restaurant. This spot will not only provide you with delicious cocktails, but also fresh seafood dishes like tuna tartar, fish tacos and seafood gumbo.
4. Barbara Anne's Jewelry
Find some nice jewelry to purchase. This shop has been open for decades and locals have been coming here to get a variety of trinkets made in nautical and marine themes.
5. Boca Grande Art Center
Let out your creative side in Boca Grande. Here you will be able to enjoy art activities including paper crafts, wood art, drawing, oil painting and watercolor painting.
FAQs: Vacation Rentals in Boca Grande
How much do you pay, on average, for vacation rentals in Boca Grande?
Boca Grande is one of the most expensive cities in the USA. For a vacation rental here, you can expect to pay around $529 per night.
What time of year offers, on average, the best vacation rental prices in Boca Grande?
If it is your aim to save as much as possible during your visit to Boca Grande, travel in May ($484 per night on average), August ($490), or April ($497), to find the lowest prices for the whole year.
When are vacation rentals more expensive in Boca Grande?
It can be concluded, by analyzing the data from the previous year, that costs per night for accommodation here are usually higher, on average, during the months of February ($644), December ($618), and October ($542).
Is Boca Grande a good location for a last-minute getaway?
It is recommended that you book your stay with plenty of time when visiting Boca Grande, as only 13% of our accommodations are usually available throughout the year.
Which months offer the highest availability?
August, September and October are, in order of highest to lowest, the months offering the largest number of accommodations free, with an average availability of 32%, 31%, and 30%. However, even during these periods of time, when rental availability is the highest, the average is just 31%. So we highly recommend you always book a little in advance to make sure you get the rental of your dreams.
How many rentals does Holidu have in Boca Grande?
Our catalog features around 50 vacation rentals from 3 partners, giving you plenty of choices when searching for your next dream vacation rental!
Holidu compares hundreds of websites to find your perfect holiday rental for the best price.