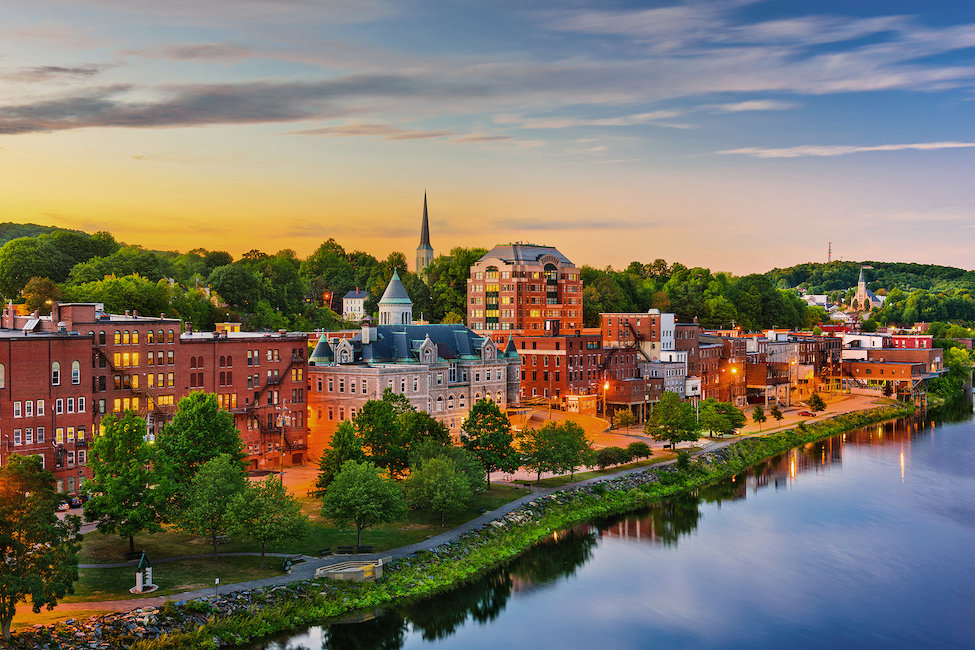 Prices and availability
Current Vacation rental prices in Bar Harbor
$550 annual average
Average price per week
Current vacation rental availability in Bar Harbor
15% annual average
Percentage of available rentals
Vacation rentals in Bar Harbor
Stunning destination in Bar Harbor
Plan your next trip to the wonderful destination of Bar Harbor. This destination can be found located on Mount Desert Island in the Hancock County of Maine, United States of America. With a population of just about 5,235 inhabitants, this is the perfect island destination for you if you are looking for a peaceful getaway. Prior to the European settlers, this island was inhabited by the Wabanaki Native Americans which used to call the island Pemetic, meaning"range of mountains." In the summer and fall season, this town becomes a popular destination for its natural landscape and numerous recreational areas.
Vacation rentals in Bar Harbor
There are countless stunning rental properties to choose from during your stay in Bar Harbor. You will be able to choose from accommodations located right by the beach as well as others situated closer to the town center. Imagine waking up in the morning and enjoying the sunrise from your porch while you sip on your warm coffee. Spend the afternoon sunbathing in your backyard or taking a swim in your private pool. Have a glass of wine on your balcony as you admire the sunset with your partner. These are some of the memories you could be making with an accommodation in Bar Harbor.
Vacations in Bar Harbor
The area and getting around
How to get to Bar Harbor
Making a trip to Bar Harbor will be quite easy and comfortable. If you choose to make the journey by car, the closest main road that will take you directly to Bar Harbor will be Route 1. This road is also taken by the Vermont Transit Bus Line which has daily buses from Boston to Bar Harbor. If you wish to make your journey by plane, then you will have to fly into Hancock County-Bar Harbor Airport. This airport provides commercial domestic flights and it is located just a short drive away from your destination.
Where to eat in Bar Harbor
You will be able to choose from plenty of different restaurants while you visit Bar Harbor. Check out a local staple by dining at the Chart Room. Here you will find a restaurant which has been providing some of the best seafood on the island for over 20 years. The specialties include the prime rib and the blackened fish. Another great eatery can be found at the Thirsty Whale Tavern. This spot is well known on the island for their lobster rolls, clam chowders and exquisite regional craft beers.
Travelers and activities
Outdoor activities in Bar Harbor
There are many different activities you can enjoy while discovering the natural landscape of Bar Harbor. Your first stop should be at the Acadia National Park. Here you will encounter 50,000 acres of pristine habitat which includes waterways, marshes and dunes. If you enjoy hiking, head over to the nearby Cadillac Mountains. These mountains are known to be the largest mountains on the United States of America´s Atlantic Coast. You can rest assured that the view from the peak will be breathtaking.
Family friendly activities in Bar Harbor
If you choose to bring your family on vacation with you to Bar Harbor, these activities could be a fun way to enjoy your trip. Do not miss out on trying a historical restaurant on the island. Head over to Jordan´s Pond House where you will find the only full service restaurant located in the Arcadia National Park. This farmhouse restaurant was built and has been running since the 1800s. On the other hand, you can always take a boat tour. Either rent a boat or go with a guide and pass across the coast where you will encounter a traditional fishing culture with bays filled with boats and houses from the 18th century.
Did you know that the first Hawaiian families settled in Kailua at least 1,500 years ago?
Top 5 travel tips for Bar Harbor
1. Great Maine Breakfast
Start off the morning with a hearty breakfast. This beloved café on the island will provide you a stunning view of sunrise over the Cadillac Mountains, as well as a menu filled with locally sourced ingredients only.
2. Thunder Holes
Visit a unique natural formation. This iconic landmark was formed from a break in the rocky shores that create a channel where the water of incoming waves passes through. This place is extremely mesmerizing, so make sure to bring a camera.
3. Gorham Mountain
Take a short hike. This mountain is not the tallest one on the island, however it still provides you with scenic views from a short two miles long walk.
4. Whale Watching
Admire at these gigantic sea creatures. The Gulf of Maine is situated between Cape Cod and Sable Island; this area attracts a wide variety of whale species throughout the year.
5. Mount Desert Oceanarium
Learn about local marine animals. This modernly renovated aquarium will teach you about the natural world as you experience it from up close. Here you will find interactive exhibits and a lobster hatchery.
FAQs: Vacation Rentals in Bar Harbor
What is the average price for vacation rentals in Bar Harbor?
At an average cost of $368 per night, Bar Harbor lies at the lower end of the price range for vacation rentals in the USA.
Which months allow you to save the most on vacation rentals?
]If you want to get the most out of your money, the cheapest months to visit Bar Harbor are April ($294 the average per night for accommodation), February ($323), and January ($341).
During which months are vacation rentals more expensive in Bar Harbor?
Last year, the month that offered the highest average prices in Bar Harbor was December, with an average price of $481 per night. This was followed by October, with an average of $421, and then August, with $395.
Are there usually many vacation rentals available in Bar Harbor?
It's worthwhile to be proactive in Bar Harbor as only 25% of the properties are available throughout the year, according to last year's data.
What are the best months for a last-minute getaway?
The most available months are, on average, November (with an availability of 56%), October (50%), and December (45%), according to the trends observed in the prior year.
Are there many rentals in Bar Harbor?
We have 100 rentals for you in Bar Harbor, provided by our 2 local and international partners.
Holidu compares hundreds of websites to find your perfect holiday rental for the best price.