Zugspitze Region Vacation Rentals
Start comparing over 100 rentals in Zugspitze Region and book at the best price!
Popular Accommodations in Zugspitze Region
Highlights Zugspitze Region
Winter sports area
Glaciers
Waterfalls
Hiking routes through the gorge
Fresh mountain air
Most popular in Zugspitze Region
Popular Destinations in Zugspitze Region
Prices and availability
Prices
November
December
January
February
March
Oct 17 - Oct 24
$671 per night
Oct 24 - Oct 31
$0 per night
Oct 31 - Nov 07
$396 per night
Nov 07 - Nov 14
$0 per night
Nov 14 - Nov 21
$0 per night
Nov 21 - Nov 28
$129 per night
Nov 28 - Dec 05
$147 per night
Dec 05 - Dec 12
$0 per night
Dec 12 - Dec 19
$166 per night
Dec 19 - Dec 26
$0 per night
Dec 26 - Jan 02
$0 per night
Jan 02 - Jan 09
$0 per night
Jan 09 - Jan 16
$0 per night
Jan 16 - Jan 23
$0 per night
Jan 23 - Jan 30
$0 per night
Jan 30 - Feb 06
$0 per night
Feb 06 - Feb 13
$175 per night
Feb 13 - Feb 20
$0 per night
Feb 20 - Feb 27
$0 per night
Feb 27 - Mar 06
$0 per night
Mar 06 - Mar 13
$0 per night
Mar 13 - Mar 20
$0 per night
Mar 20 - Mar 27
$0 per night
Mar 27 - Apr 03
$0 per night
Average price per week
Availabilities
November
December
January
February
March
Percentage of available rentals
Holiday apartments at the Zugspitze
Wonderful views of the surrounding mountain world
A holiday in the Zugspitze region offers you excellent opportunities all year round to spend your leisure time in the fresh mountain air. A holiday apartment near the Zugspitze cable cars is usually equipped with a balcony from which you have a fantastic view of the Zugspitze peaks. In summer, air conditioning ensures pleasant temperatures. The apartments also offer heating, a fully equipped kitchen, a garden and a playground in front of the house for a relaxing holiday.
Numerous choices when searching for a holiday home
From the rustic farmhouse to the dream villa you will find many offers around the Zugspitze to choose the perfect holiday home. Every vacation rental in the Zugspitz region is usually equipped with its own garden and parking spaces in front of the door. If you would like to spend your holidays with the family near the Zugspitze, you can rent a chalet that offers enough space for larger groups. In addition, a chalet is often equipped with a sauna, whirlpool and open fireplace.
Holiday at the Zugspitze
Location and orientation
Cross-border Zugspitze
The Zugspitze is with almost 3000 meters height the highest mountain peak of Germany. The Zugspitze massif is located in the north of Tyrol and southwest of Garmisch-Partenkirchen in Bavaria. For this reason you can find a apartment not far from the Zugspitze in Austria and in Germany. Innsbruck, the provincial capital of Tyrol, is located about 86 kilometres from the Zugspitze.
Travelers and Activities
Perfect location for winter sports enthusiasts
On the Zugspitze, winter sports enthusiasts will find excellent conditions to pursue their favourite hobby. Whether skiing, tobogganing, snowshoeing or snowboarding, with the Zugspitze cable cars you can quickly reach the most beautiful slopes from Bavaria or Tyrol. Glacier hiking is also a popular leisure activity, which you can try out on the Zugspitze.
Hiking and exploring the dreamlike landscape
Hikers will find some easy, medium and difficult paths in the Zugspitz region to enjoy the fresh mountain air and the wonderful surroundings. Whether through the gorge, through the Höllental or on the Schneekar, the routes are well signposted, so that even inexperienced hikers will surely find the right path. The Zugspitze is also a popular place for mountaineers, climbers and paragliders.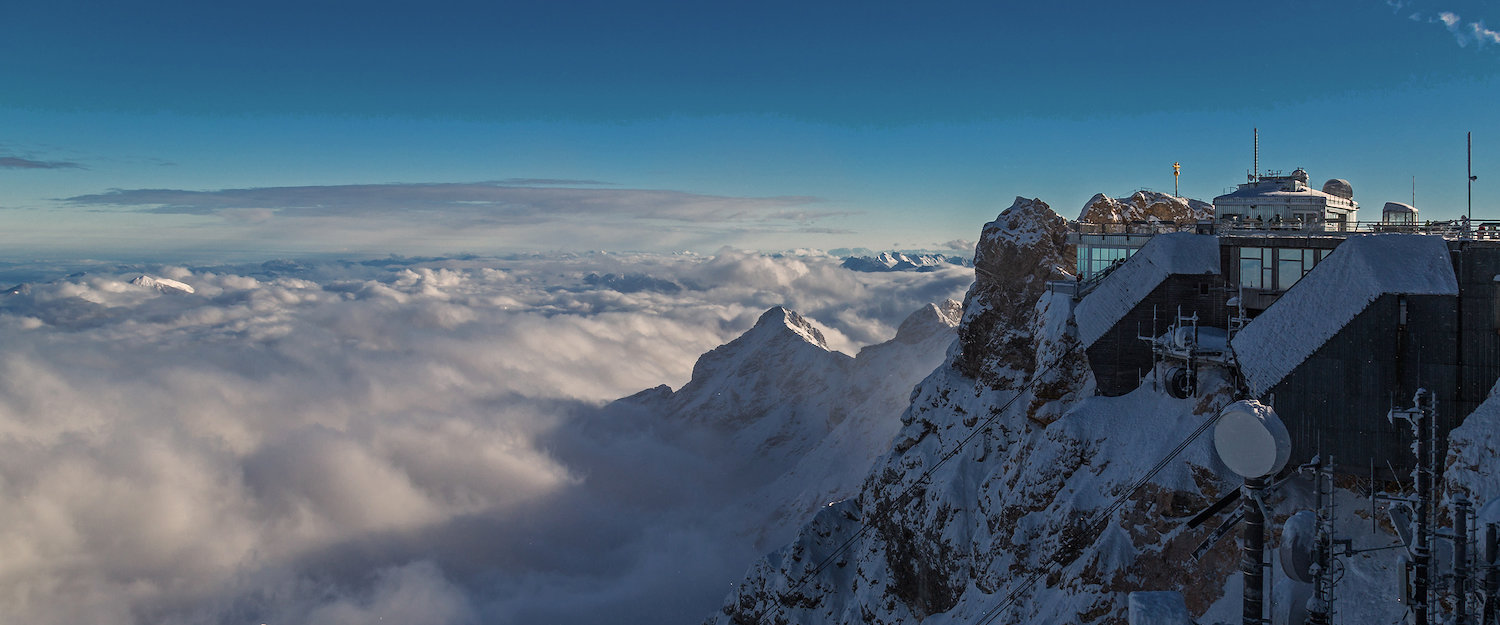 The Zugspitze probably got its name from the outgoing avalanches, which are also called train tracks, and are triggered on the summit top.
Top travel tips
1. Around the year to Partnachklamm
Away from ski tourism, the breathtaking natural landscape of the Zugspitze attracts visitors all year round. Visit the Partnachklamm to hike over the thundering water masses of the Partnach, which flow up to 80 meters into the depth. The gorge is about 700 metres long and offers galleries and passages in the rock, through which you can also walk through the gorge in winter. Then, however, the water masses turn into fairytale ice formations, which leave very special visual impressions.
2. To the highest waterfalls of Germany
The cow escape waterfalls can be found at Farchant, where they fall up to 270 meters into the depth. In winter, gigantic ice sculptures form here, which are particularly worth seeing. For children there is a forest adventure trail not far from the Kuhfluchtwasserfälle, which ideally rounds off a visit to the highest waterfalls in Germany.
3. Enjoy cultural events
In Zugspitzland you will be offered a varied programme in concert halls, museums and theatres. In June, the Richard Strauss Festival is well worth listening to. The cultural summer in Garmisch-Partenkirchen, which is always held in August and September, offers numerous spa concerts in a fantastic mountain setting.
Vacation destinations in Zugspitze Region
Vacation destinations nearby