Popular Destinations in Cyprus
Other holiday ideas and property types in Cyprus that might be interesting
Prices and availability
Current Vacation rental prices Cyprus
$245 annual average
Oct
Nov
Dec
Jan
Feb
Mar
Apr
May
Jun
Jul
Aug
Sep
Average price per week
Current vacation rental availability Cyprus
58% annual average
Oct
Nov
Dec
Jan
Feb
Mar
Apr
May
Jun
Jul
Aug
Sep
Percentage of available rentals
Vacation rentals in Cyprus
Holidays in the Mediterranean between dream beaches and historical backdrops
A look at the map to the right of the search results for your vacation rental or spacious vacation rental will show you where in Cyprus you can enjoy a sun-drenched holiday: Holiday accommodation bookable here is spread all over the island along the coastal towns and inland, so you can focus on sand and sea or nature and sightseeing from the holiday accommodation itself. With an exclusive vacation rental close to the beach, Limassol or Paphos are only a few metres away to recharge your batteries every day and enjoy cooling refreshments in the Mediterranean. With just one click you can decide for yourself how close your holiday in Cyprus should be to the water! Even in winter the water and air temperatures are suitable for bathing.
Enjoy varied holiday moods in the interior of Cyprus
The island capital Nicosia offers a strategically favourable location for a holiday home, from where you can get from the Cypriot to the Turkish part by foot. This is the right place for holidaymakers who want to enjoy a certain big city feeling with historical flair that can be seen and felt in many corners. In the interior of the island, the imposing mountain world with its idyllic villages, typical regional architecture and rich agriculture is a temptation. In line with the trend of rural tourism, you can enjoy wonderful views of a charming mountain landscape that invites you to hike with a holiday apartment beyond the coastal towns, e.g. in the popular Strovolos.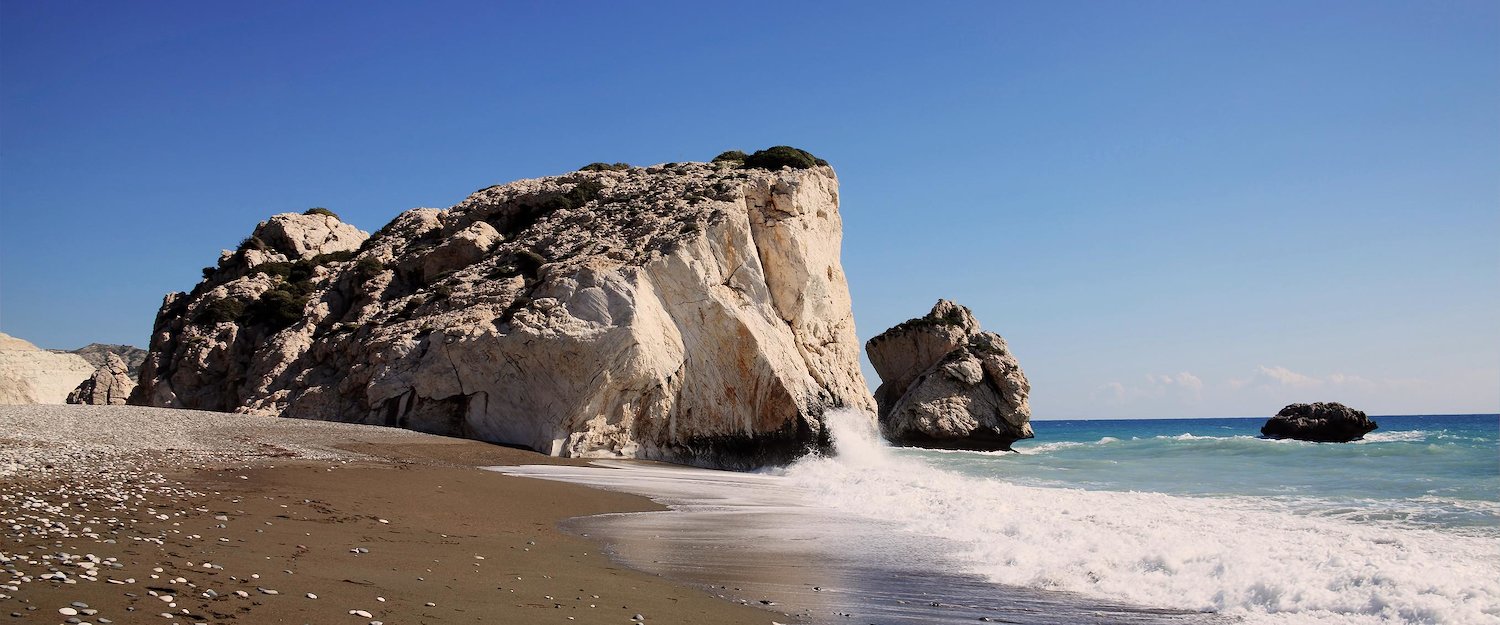 Holidays in Cyprus
Things to know for planning your trip to Cyprus
An island with two halves and cultures
Basically you have to distinguish between the southern and the northern part of a holiday on the third largest Mediterranean island. Both parts of the island are marked by a border running through the middle of the capital Nicosia (this is also called 'green line'). The southern part marks the Republic of Cyprus, which belongs to the EU, while the northern part is under the Turkish flag. This decision has little effect on the recreation or scenic attractions at the sea and inland, because both parts of the island offer an attractive infrastructure and well over 300 hours of sunshine and mild temperatures all year round for the holiday. However, a valid passport is required for travel to the Turkish part. Anyone crossing the border from the southern part only needs a valid identity card. In the north you pay with the Turkish Lira, but in many places also the Euro as a means of payment is welcome.
Eyes open in road traffic
From the cosy vacation rental 'Ferienhaus' you will surely be drawn to the hinterland and its picturesque villages, where you will literally drive best with a rental car. Please note, however, that there is left-hand traffic in Cyprus, which requires one or the other day of adjustment. In the numerous roundabouts you always have right of way. All in all, the road network is very well developed and reliably signposted, in Greek symbols and in English. Cheap buses and group fares are a good alternative for exploring Cyprus on your own. You should not be surprised, because in Cyprus it is usual to honk the horn in tight curves or in bad visibility.
Travelers and Activities
Cyprus: A holiday paradise for families
Cyprus has made a name for itself as a family-friendly holiday destination: In restaurants you are well prepared for small gourmets and also in the supermarkets the offer of baby food is very large, if you want to supply yourself flexibly in a holiday apartment. There will not be a lack of varied excursion destinations for large and small holidaymakers: The Aphrodite Waterpark in Paphos is a fast and full day excursion destination with many refreshing moments. In the ostrich park near Ágios Ioánnis Maloúntas not far from Nicosia, children can get close to this impressive animal species.
Many highlights for those interested in history and culture
Anyone interested in archaeology and historical buildings will love Cyprus! The historical and partly thousands of years old traces of the turbulent history of Cyprus can be admired in good condition in many places. For example, in the archaeological site of Paphos. On the spacious grounds you can let your joy of discovery run free. The amphitheatre of Kurion will also fascinate historically less interested people, as it is spectacularly situated between the Mediterranean Sea and the cliffs at a lofty altitude.
Top destination for water sports enthusiasts
If you don't just want to relax on the numerous sandy and pebble beaches, you can also enjoy the finest water sports in Cyprus. The offer can be seen in all larger coastal towns. Especially surfers and those who want to become surfers find best wind and water conditions on many days. The diving areas off the Mediterranean island can also be seen in the truest sense of the word: Reefs, sea caves and a colourful underwater world provide impressive holiday views with mostly clear visibility. A highlight is the diveable wreck Zenobio in front of Larnaka Bay on the east coast.
In Cyprus's mountain world, holidaymakers will find renowned ski slopes such as 'Aphrodite' and 'Zeus' at an altitude of 2,000 metres in winter, on which even Olympic athletes train.
Top 3 Travel Tips Cyprus
Authentic holiday flair in the old town of North Nicosia
If you move into your vacation rental in the southern part of Nicosia, you should take the exciting walk across the border to get to the old town of the northern part, which is well worth seeing. You will be transported back a few centuries and discover one exciting shop after another in the labyrinthine alleys. Snacks and cafés invite you to linger, so that you can leave everyday life completely behind you. Experience pure culture in the imposing mosques or in a relaxing way in a traditional Hamam.
Lara Beach: Beach holiday of the finest (sand)
This magical beach in the west on the Akamas peninsula can be reached via a bumpy road. The beach, with its soft powdery sand and impressive limestone cliffs, is considered one of the most beautiful in Cyprus. Nevertheless, it is still a good insider tip, because mass tourism has not yet spread here. With a bit of luck you may also see turtles laying their eggs on this beach. Stay until sunset to enjoy wonderful photo motifs including goose bumps atmosphere.
Fairytale city Kyrenia in the northern part of Cyprus
Many places are worth seeing next to the lively capital Nikiosa and the tourist centers by the sea, but the old city of Kyrenia stands out especially. If you are travelling by rental car, you should visit this small town. Surrounded by a wall and towers, the living tradition of this fairytale world shows itself in an authentic way. The inhabitants welcome visitors friendly and with a rich gastronomic offer. Relaxation does not have to be neglected here either, because a beautiful beach is also at your feet.
FAQs: Vacation Rentals in Cyprus
On average, how much do vacation rentals in Cyprus cost?
Based on last year, Cyprus had an average price of $203 per night, a relatively high one compared to the countries in Asia.
Which months allow you to save the most on vacation rentals?
Travelers who want to be budget-friendly should travel to Cyprus in January, February, or March, the cheapest months of the year, with average prices of $165, $166, and $167 per night, respectively, based on the previous year.
When does the price of vacation rentals in Cyprus go up the most?
Last year, the month that had the highest annual average in Cyprus was August, with an average price of $275 per night. This was followed by July, with an average of $263, and then September, with $236.
Are there usually many vacation rentals available in Cyprus?
So you don't run out of accommodation options in Cyprus, we recommend you to think ahead as 46% of rentals are usually booked, according to last year's data.
What time of the year can I find more available vacation rentals?
April, March and May are, in order of highest to lowest, the months offering the largest number of accommodations available, with an average availability of 71%, 66%, and 64%.
When will it be harder to find an available vacation rental in Cyprus?
The accommodations in Cyprus reach their peak in demand in August, with an availability rate of 32%. The second most requested month is July, with 41%, and the third is October with 45%.
Are there many vacation rentals in Cyprus?
Holidu offers around 9,300 properties in Cyprus from 27 different providers, so find the perfect type of accommodation you are looking for. You can count on us!
Vacation destinations in Cyprus
Holidu compares hundreds of websites to find your perfect holiday rental for the best price.