Vacation Rentals in Vancouver
Start comparing over 425 rentals in Vancouver and book at the best price!
Popular Vacation Rentals in Vancouver
Pet-friendly Vacation Rentals
Vacation Rentals with Pool
Vacation Rentals with Internet
Vacation Rentals with Air Conditioning
Find Vacation Rentals in Vancouver
Highlights Vancouver
Vancouver Maritime Museum
Vancouver Art Gallery
Celebration of Light
Port region
Gay and lesbian scene
Most popular in Vancouver
Prices and availability
Prices
December
January
February
March
April
Nov 20 - Nov 27
$260 per night
Nov 27 - Dec 04
$252 per night
Dec 04 - Dec 11
$250 per night
Dec 11 - Dec 18
$254 per night
Dec 18 - Dec 25
$269 per night
Dec 25 - Jan 01
$268 per night
Jan 01 - Jan 08
$275 per night
Jan 08 - Jan 15
$233 per night
Jan 15 - Jan 22
$252 per night
Jan 22 - Jan 29
$299 per night
Jan 29 - Feb 05
$253 per night
Feb 05 - Feb 12
$199 per night
Feb 12 - Feb 19
$645 per night
Feb 19 - Feb 26
$677 per night
Feb 26 - Mar 05
$580 per night
Mar 05 - Mar 12
$568 per night
Mar 12 - Mar 19
$214 per night
Mar 19 - Mar 26
$0 per night
Mar 26 - Apr 02
$223 per night
Apr 02 - Apr 09
$268 per night
Apr 09 - Apr 16
$315 per night
Apr 16 - Apr 23
$275 per night
Apr 23 - Apr 30
$283 per night
Apr 30 - May 07
$253 per night
Average price per week
Availabilities
December
January
February
March
April
Percentage of available rentals
Vacation rentals in Vancouver
Comfortable accommodation in a prime location
Vancouver is both by the sea and in the mountains, so in addition to its many cultural attractions, this city also offers a wide range of excursions. If, for example, you choose an apartment in Vancouver not far from the harbour, you can enjoy the maritime flair in the early morning hours and reach the Harbour Center in just a few minutes on foot.
Using pretty townhouses as an oasis for relaxation
There are centrally located holiday apartments from which you can quickly reach the city's art galleries and museums. In addition, the Canadian metropolis offers some pretty townhouses in idyllic locations from which you can enjoy the beautiful views of the surrounding mountains. A vacation rental in Vancouver is usually comfortably furnished with king size beds and an American kitchen.
Vacation in Vancouver
Location and orientation
Holidays on the west coast of Canada
The city of Vancouver is located in the southwest of British Columbia, between the Coast Mountains and the Strait of Georgia. The border to the USA is about 45 kilometers from the city center. The urban area, which is located on the Burrard peninsula, is interrupted by several estuaries such as English Bay and False Creek.
Things to know
Mild days through the coastal region
Compared to the average climate in Canada, temperatures in Vancouver are particularly mild due to its proximity to the sea. Often it does not get colder than three degrees Celsius in winter. In summer there are average daily highs of around 22 to 26 degrees.
Interesting facts about the gay and lesbian movement
In British Columbia, same-sex marriage has been constitutionally recognised since 2003, which is why a large homosexual scene has developed here. This is concentrated mainly around Davie Street in the centre of Vancouver. In addition, one of Canada's largest gay pride parades takes place here every year.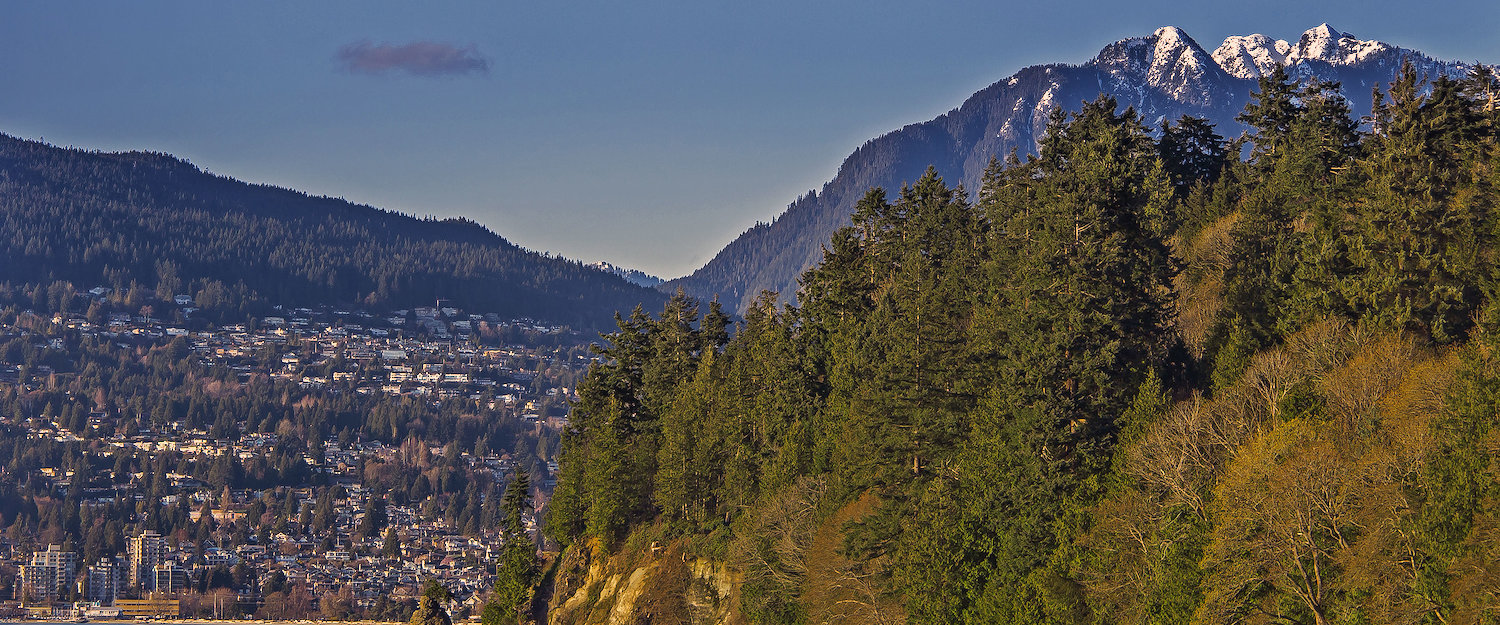 "In Gastown you will find the unique Steam Clock, a public clock powered by steam that makes a distinctive whistle sound every 15 minutes."
Top travel tips
1. Discover the most important sights while walking through the town
The metropolis on the west coast of Canada has a number of buildings worth seeing that you can easily reach from a centrally located vacation rental in Vancouver. Vancouver's landmark is the Marine Building, built in the Art Deco style around 1930. Visually, this building is reminiscent of the Empire State Building in New York. Inspired by the architecture of a coliseum, the Vancouver Public Library is one of the city's most interesting sights.
2. Admire unique masterpieces in the galleries
There are galleries and museums in Vancouver, of which the Vancouver Art Gallery, with more than eight thousand works of art, is one of the largest art museums. The museum also presents numerous works by Marc Chagall and Emily Carr on the premises of the former courthouse. The Vancouver Maritime Museum presents the schooner St. Roch. Also worth seeing are the Museum of Anthropology and the Museum of Vancouver.
3. Visit pompous celebrations in summer
Every year towards the end of July and beginning of August, the Celebration of Light takes place on the beaches of English Bay. This event is a fireworks competition, accompanied by musical performances. The annual parade of the Chinese New Year festival in June is also rich in experiences. On the occasion of the festivities, you can witness a unique dragon boat race on False Creek.
FAQs: Vacation Rentals in Vancouver
On average, how much do vacation rentals in Vancouver cost?
Based on its annual average cost of $332.89 per night, Vancouver is the city in Canada that forces you to spend the most to go on vacation.
During which months can you find the best price for vacation rentals in Vancouver?
If it is your aim to save the maximum during your vacation to Vancouver, travel in November ($215.23 per night on average), December ($219.11), or February ($306.84), to find the lowest prices for the whole year.
During which months are vacation rentals more expensive in Vancouver?
In 2020, the month that had the highest annual average in Vancouver was August, with an average price of $394.66 per night. This was followed by May, with an average of $387.58, and March, with $359.78.
Is Vancouver a good location for a last-minute getaway?
It's worthwhile to be proactive in Vancouver as only 24% of the properties are free throughout the year, according to our 2020 data.
What time of the year can I find more free vacation rentals?
April, May and June are, in order of highest to lowest, the months that present the largest number of properties free, with respective average availability figures of 32.25%, 32%, and 28%.
Which months is it more difficult to find available vacation rentals?
The accommodations in Vancouver reach their peak in demand in August, with an availability rate of 19.4%. The second most requested month is October, with 19.8%, and the third is February with 20.2%.
Are there many vacation rentals in Vancouver?
In Vancouver we offer you an extensive catalogue of approximately 1100 properties, with options to suit everyone, thanks to our 5 local and international providers.
Vacation destinations nearby
Holidu compares hundreds of websites to find your perfect holiday rental for the best price.