Vacation Rentals on Barbados
Start comparing over 1,215 rentals in Barbados and book at the best price!
Popular Accommodations in Barbados
Vacation Rentals in Barbados
Vacation Rentals where Pets Allowed
Vacation Rentals with Pool
Vacation Rentals with Internet
Highlights Barbados
Beautiful tropical beaches
Delicious Bajan food
Vibrant music festivals
Water sports
Superb golf courses
Lively nightlife
Prices and availability
Prices
November
December
January
February
March
Oct 17 - Oct 24
$257 per night
Oct 24 - Oct 31
$277 per night
Oct 31 - Nov 07
$279 per night
Nov 07 - Nov 14
$279 per night
Nov 14 - Nov 21
$271 per night
Nov 21 - Nov 28
$249 per night
Nov 28 - Dec 05
$294 per night
Dec 05 - Dec 12
$292 per night
Dec 12 - Dec 19
$262 per night
Dec 19 - Dec 26
$288 per night
Dec 26 - Jan 02
$264 per night
Jan 02 - Jan 09
$237 per night
Jan 09 - Jan 16
$299 per night
Jan 16 - Jan 23
$395 per night
Jan 23 - Jan 30
$377 per night
Jan 30 - Feb 06
$318 per night
Feb 06 - Feb 13
$353 per night
Feb 13 - Feb 20
$383 per night
Feb 20 - Feb 27
$354 per night
Feb 27 - Mar 06
$336 per night
Mar 06 - Mar 13
$319 per night
Mar 13 - Mar 20
$330 per night
Mar 20 - Mar 27
$373 per night
Mar 27 - Apr 03
$478 per night
Average price per week
Availabilities
November
December
January
February
March
Percentage of available rentals
Barbados Vacation Rentals
Stay in an idyllic vacation rental on Barbados
One of the jewels of the Caribbean, Barbados is full of beautiful and comfortable vacation rentals, and you'll find plenty of options through Holidu. Some of the most luxurious of all are rental villas in locations like Speightstown, Holetown, and Oistins. Complete with pools, huge yards and spacious interiors, these villas are ideal for families who want to be close to the beach but have as much privacy as possible.
Choose a rental home by a tropical beach
You could also check out vacation rentals by Barbados' gorgeous beaches. There are holiday villages with serviced rental properties and private stretches of beach, which provide a middle ground between having your own apartment or villa and staying in a hotel. Pick one at resorts near Bridgetown like Bayshore Beach, or go further afield to the north of the island. Wherever you go, you'll find welcoming staff and comfortable furnished properties.
Vacationing on Barbados
An island paradise in the Lesser Antilles
It may be just 14 miles wide and 21 miles long, but Barbados is a global superpower when it comes to beach tourism. Enjoying months of tropical sunshine every year, and offering plenty of superb accommodation, the island is a few hours away from Florida by plane, and also a staple of Caribbean cruise ship tours.
Barbados is easy to reach from the USA
When you rent vacation homes in Barbados, getting there won't be a problem. Flights touch down every day at Grantley Adams International Airport from American cities like Charlotte, Miami, Fort Lauderdale, Atlanta. New York, Boston and Newark, with Delta, JetBlue and American all serving the island. So booking flights should be simple.
A classic cruise ship destination
The other option for getting to Barbados is to book a cruise from Florida. Ships dock weekly at the island's capital, Bridgetown, and you can stopover at Cuba or Jamaica on the way, making Barbados part of a Caribbean adventure.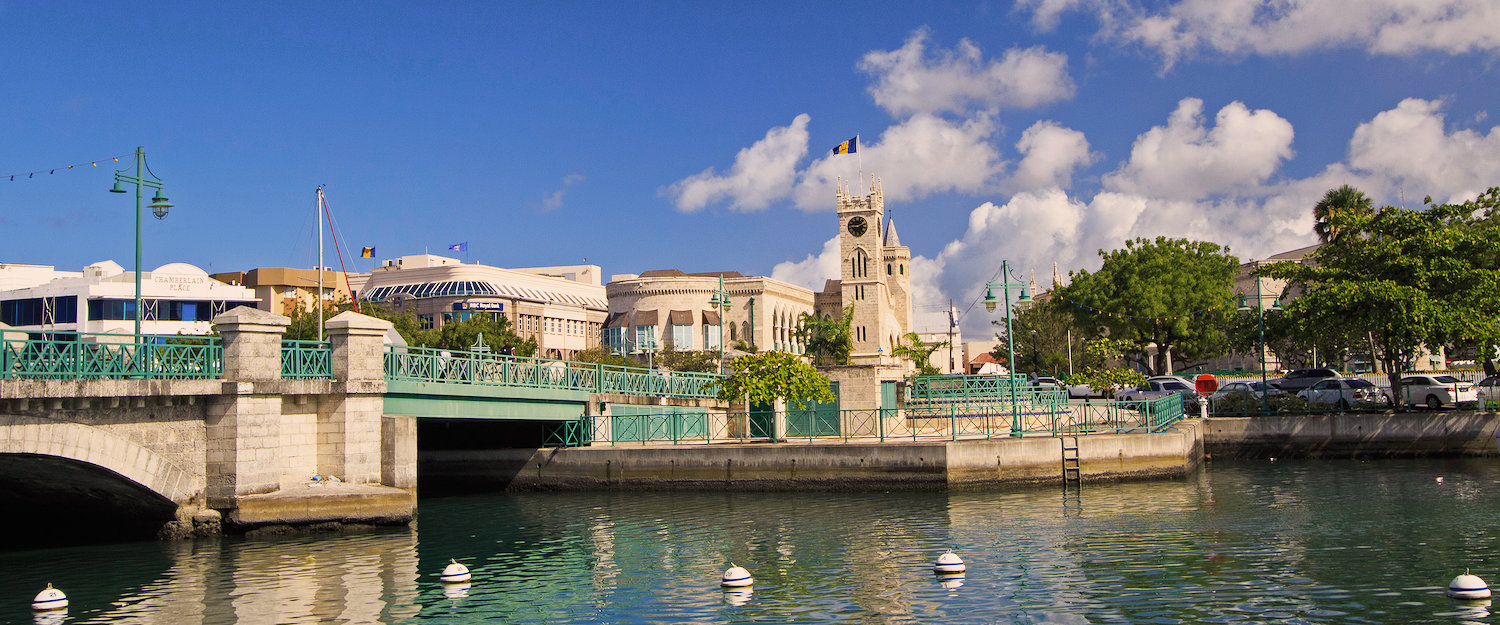 Activities
A superb destination for beach lovers
Barbados is first and foremost a beach destination. The island possesses some sublime coastal spots, including Bathsheba, Silver Sands and Dover Beach, where diving, windsurfing and kayaking are all on the agenda.
A great golfing destination
The island also has some excellent golf resorts, with highlights like Royal Westmoreland, Green Monkey and Sandy Lane (which once hosted golf's World Cup).
Great fun for history lovers
Barbados has a rich and fascinating history, encompassing pre-colonial times, slavery, emancipation and the modern age. Check out imposing prisons and fortresses, plantations and some of the Caribbean's best museums.
Top 5 things to do on Barbados
1. Enjoy an afternoon at Shark Hole
Don't worry about the name. There are no great whites at Shark Hole, just a picture-perfect secluded cove which is one of the most beautiful (and sunny) beaches in the world.
2. Take a plantation tour
For over a century, Barbados was the world's largest sugar producer – and this economic prosperity was built from the labor of thousands of slaves. See how the elites lived and learn about the past at beautiful 18th and 19th century plantations like St Nicholas Abbey.
3. Pay a visit to Bathsheba
Probably the island's most appealing small town, Bathsheba features the gorgeous Andromeda Tropical Botanic Gardens with their colorful Flower Forest, while its beach is littered with spectacular rock formations and is a great place to swim or snorkel.
4. Try some Bajan cuisine
The food of Barbados is also a delight. Don't miss local specialties like cheese cutters (cheese sandwiches on Bajan salt bread), fish cakes made from Caribbean seafood and, of course, an endless variety of rum cocktails.
5. Take a tour of historic Bridgetown
Barbados' capital is crammed with attractions, from the impressive UNESCO-protected Parliament Buildings and the 18th century Garrison to the Barbados Museum and the Kensington Oval – one of the most famous cricket stadiums in the world.
Barbados' parliament is the third oldest in the world, having been in existence since 1639.
Useful Information
Climate
Barbados has a tropical climate, which US visitors should bear in mind when making a vacation rental booking. Generally speaking, the best time to visit the island is between January and April, when the humidity relents and rainfall is relatively low. Hurricane season runs from August through October, so is probably not the time to go, although May and June can be pleasant, as can trips in November and December.
Events
Another good idea is to time your visit to coincide with the island's festival season. Bajan culture revolves around spectacular public events, when the island's communities get together. The largest of all is Crop Over, which has its roots in the sugar harvest of the 1700s. Head to Bridgetown in late July for calypso music, barbecued food and a blaze of color as the people of the capital celebrate Crop Over in style.
Music
Music is another major part of Bajan society, and there are plenty of ways to share in the island's passion. The biggest event of all is the Barbados Reggae Festival in late April, which features huge dance events at Kensington Oval and beach parties as well.