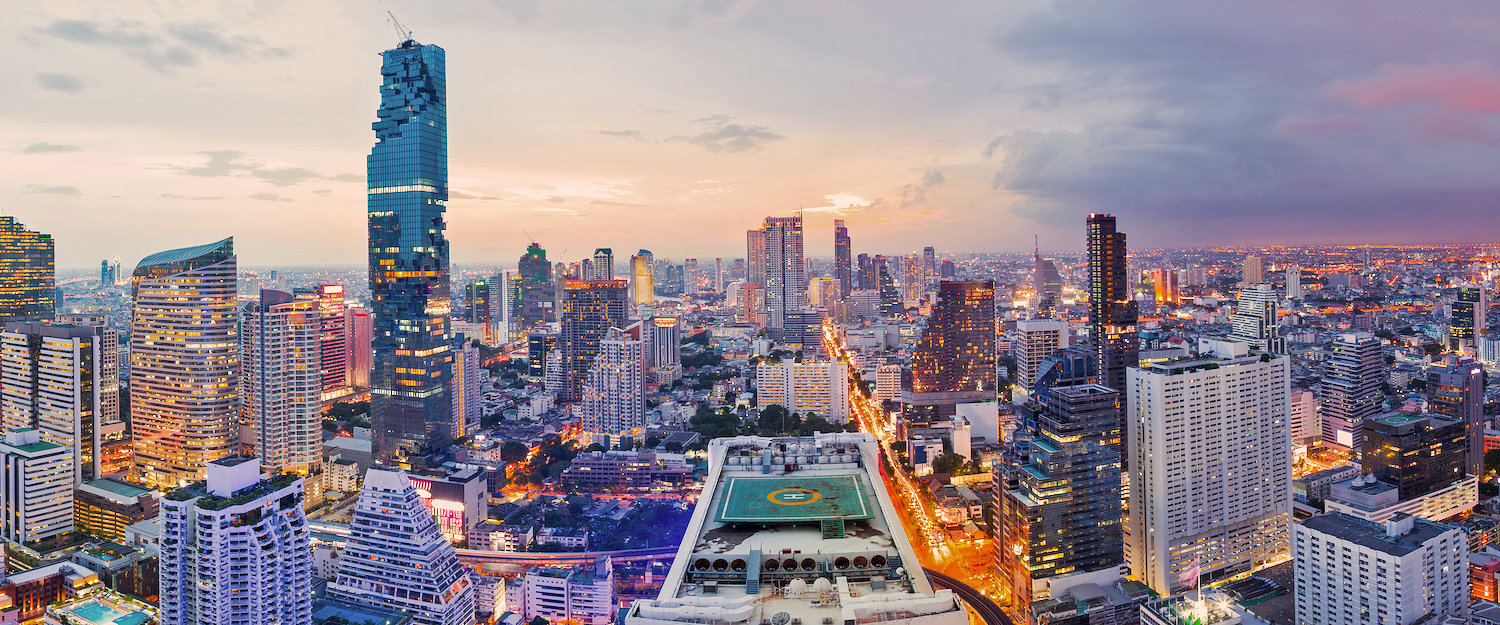 Villas in Bangkok
11 properties for Villas. Compare and book at the best price!
Popular Villas in Bangkok
Highlights in Bangkok
Vibrant city
Amazing nightlife
colorful temples
Exotic food
Most popular amenities for Villas in Bangkok
Other property types in Bangkok that might be interesting:
Villas in the historic capital of Bangkok
Bangkok, a city where the familiar and the exotic collide, it is no longer the go-through point to get to the rest of the country, having reinvented itself as a world-class destination in its own right. For easy access to its magnificent temples, find a villa in the area of the historic center that stretches along the Chao Praya River. For gigantic, ultra-modern shopping malls, many of the city's best restaurants and much of the Thai capital's nightlife, search for a villa in or around downtown Bangkok, in the area around Sukhumvit Road.
Villas outside the center
Villas in the Silom Road area give you direct access to Lumphini Park, Bangkok's largest green space, as well as Bangkok's fabulous 'sky bars' housed on the top floors of its many skyscrapers. If you are looking for a villa where you can truly immerse yourself in authentic Thai living, head for nearby Thonburi, where vendors sell noodles from Thai long tail boats and locals prefer to cycle through the multitude of bustling streets.
Travelers and activities
Bangkok for nightlife
Bangkok has some of the best nightlife in the world. But how much can you fit in during your time in the city? The nightclub Iron Fairies is home to the trendy, hip Bangkok set, and just oozes cool. Saxophone Pub & Restaurant offers professional jazz musicians every night of the week and an old-world ambience. DJ Station is one of the most popular gay clubs in the city, mainly due to its cabaret show that really draws in the crowds. Moon Bar at the Banyan Tree hotel is the finest 'sky bar' in the city, where you can feast your eyes on splendid city vistas Bangkok with a refreshing cocktail in hand and chat with friends.
Bangkok for temple seekers
A visit to the temples of Wat Phra Kaew, Wat Pho and Wat Arun are a must-do in Bangkok. They have an incredible historical, cultural and religious value and are perfectly preserved despite being built hundreds of years ago. Feast your fortuitous eyes on the tall white structures, with their golden roofs and colorful green and blue mosaic walls set against the clear blue sky, then hire a guide for just 400-500 baht, who will take you around the temples and tell you all about Thailand's cultural heritage and bring the expositions to life.
Bangkok for lovers of street food
The sheer volume of street food in Bangkok can overwhelm. New to the city? Consider going on a street food tour where you can learn all about Thai cooking culture and get insights on how to pick the best places for street food. Bangkok is famous for its mango sticky rice. You can find this iconic Thai dessert in many restaurants and street food stalls, but only a few places know how to elevate the dish to the next level. Sor Boonprakob is arguably the go to spot for this dish in the city. A near-legendary shop-house in the Bangrak district, it is simply an unforgettable treat!
The largest Chinatown in the world is in Bangkok, and is a particularly colorful and vibrant place to shop and eat!
Top 7 travel tips in Bangkok
1. Browse the famous outdoor markets
To experience Bangkok life at its most authentic, head to Chatuchak market, one of the largest in the world with more than 15,000 stalls selling a diverse array of merchandise and food. Open on the weekends, it attracts over 200,000 people a day!
2. Pay a visit to Jim Thompson House
An American architect who fell in love with Thailand in the 1950s. He decided to devote his life to bringing the splendor of silk production back to the country. So he built a fine residence in Bangkok according to Thai traditions that can be now visited on a fascinating guided tour.
3. Spend a lazy afternoon in Lumpini Park
A green jewel right in the heart of this bustling city. It attracts diverse people including joggers, exercisers, and dreamers. Take a paddle boat in the lake, and marvel at Bangkok's most attractive urban park.
4. Visit the largest aquarium in Southeast Asia
Sea Life Bangkok is no ordinary aquarium. Ride on the glass bottom boat through the shark tank, traverse the underwater tunnel, and experience 5D cinema! You can even take a dive into one of the tanks! (shark-free, fortunately!)
5. People watch in Kao San Road
This famous nightlife, shopping and food hub draws travelers from around the world and is a fascinating place to people-watch. Take a seat in a roadside bar, order a classic bucket of whisky and the all-Bangkok Red Bull, and join in the debauchery!
6. Discover the airplane afterlife
I don't think there is anything quite like this attraction anywhere else! Unexpectedly located on a plot of land among modern apartments, two MD-82 planes and a jumbo jet rest in peace in this graveyard. You can enter the planes via the cargo compartment and climb up a ladder into the main deck. A memorable experience!
7. Take in a bout of Thai fighting
Unlike in many Thai seaside resorts with staged fights, in Bangkok you can see authentic Muay Thai fights attended by animated locals who bet on the winners and support their man with passion! Local life at its most animated!
FAQs: Villas in Bangkok
Which types of services are available at the villas in Bangkok?
Among the facilities you can find on Holidu, it appears that the villas in Bangkok benefit from everything that travelers search for! Here, the villas generally have a variety of amenities, the most popular being: air-conditioning (100%), internet (73%), and balcony (70%)...Are you convinced yet?
How do travelers usually rate villas in Bangkok?
According to Holidu's database, most villas in Bangkok get a score of fewer than 4.5 stars. It may therefore be a little more difficult for you to find a highly-rated villa here.
Are the villas in Bangkok child-friendly?
Holidu's data reveals that 68% of villas in Bangkok are child-friendly, it should therefore be very easy for you to find the ideal villa for you and your children.
Are the villas in Bangkok suitable for travelers and their furry friends?
Certainly! In Bangkok, 30% of the villas give you the opportunity to bring along your furry best friend, 54% also have a garden!
Do the villas in Bangkok mostly come with an internet connection?
Certainly! According to Holidu's data, 73% of villas in Bangkok include an internet connection. It is therefore no problem, you will be able to access your emails and favorite social media sites throughout your stay!
How much does it cost for villas in Bangkok?
According to last year's data, there are few villas in Bangkok that are less than $100 per night. They can be quite expensive, 16% are even at more than $500 a night.
Do the villas in Bangkok usually have a pool?
Yes! According to the data collected last year, many of the villas in Bangkok are equipped with a pool. Perfect for spending your summer vacation by the pool! 22% even have a barbecue!
Are the villas in Bangkok suitable for vacations with several people or better for a weekend break as a small group?
Here, according to the data collected last year, 73% of villas welcome groups of up to eight people, 68% of these villas have at least four bedrooms. But 95% of villas are also perfect for families of up to four people, and 95% of the villas are made up of at least two separate bedrooms. This is therefore the perfect destination for big and small families alike!
Holiday destinations nearby for Villas
Holidu compares hundreds of websites to find your perfect holiday rental for the best price.