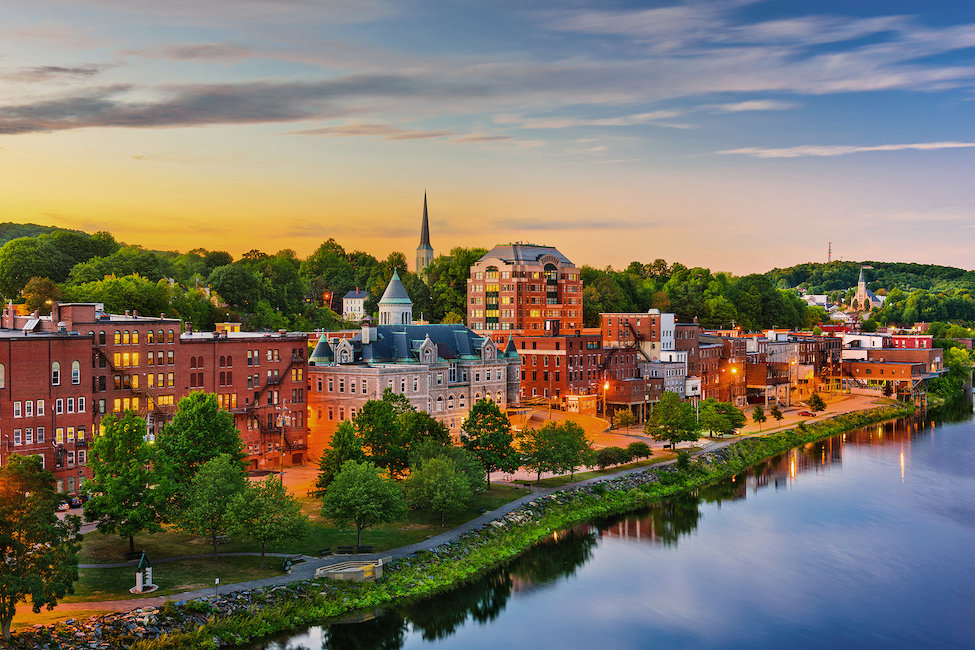 Other holiday ideas and property types in Old Orchard Beach that might be interesting
Top 7 travel tips on Fire Island
1.Spend the day in Ocean Beach
Whimsical Ocean Beach oozes seaside charm and is just an hour or so from Manhattan depending on traffic! Hop on board one of the frequent city ferries after work and be transported to another world for a memorable long weekend. This lovely town with its iconic wood built homes is located to the west of the island and spans the 0.5 mile width of Fire Island! This gem of a place has a unique, peaceful, seaside town community vibe that is enhanced by the fact that there are no cars! Walking and biking are relaxing and enjoyable options for getting around to the beautiful shops, art galleries, ice cream parlors, restaurants, local movie house and dazzling white sand shoreline of this carefree family friendly town that will have you returning again and again!
2. Take a Great South Bay boat cruise
Hop on board a boat cruise and explore the deep blue sea between Fire Island and Long Island by charter boat. You will have an opportunity to admire the gorgeous coastline from the bay in the salty sea breeze and warm, relaxing sunshine. There are a range of charters including a paddle wheel cruise that departs from Long Island or Fire Island. Experience the thrill of the Great South Bay at sunset with a 3 hour, small group charter cruise that will provide you with an experienced Captain at the helm as you learn all about this glorious bay area!
3. Bike the Fire Island Lighthouse Trail
This lovely trail features wild flowers in season and begins just outside Ocean Beach. Rent a bike in Ocean Beach and cycle a leisurely 10 miles on a flat, easy route suitable for cyclists of all skill levels. Expect to see beautiful, white tailed deer along the way! Stop at the lighthouse for a look around before climbing the 168 feet to the top where you will be able to see the New York skyline on a clear day and a sweeping view of the surrounding area. Head back to Ocean Beach for a leisurely lunch and a well deserved triple scoop ice cream!
4. Explore Wertheim National Wildlife Refuge
Spend a day at this fabled nature sanctuary located on Long Island a hour and 10 minutes by car from Fire Island. The refuge is accessible from Robert Moses State Park to the West of Fire Island along the scenic Great South Bay Bridge and Sunset Highway, Long Island. This pristine, aquatic, wildlife sanctuary is one of the last undeveloped estuaries on Long Island. Here you will find a series of intertidal salt marshes as well as freshwater marsh and pine tree and old oaks that provide a habitat for over 300 types of birds. Expect to see plenty of wild ducks and turkeys! There are over 6 miles of beautiful trails to hike here and the river offers some of the best canoeing opportunities in the vicinity.
5. Picnic at Sunken Forest
Sailors Haven Beach is a boating sanctuary with a wonderful picnic area and snack bar. This destination is perfect for day trippers. There is a 45 slip marina, a lifeguarded public beach and there are well maintained restrooms. Pack a glorious picnic basket and head to this stunning, secluded beach spot that will also give you the opportunity to explore Sunken Forest, a unique maritime environment located in the lee of a sand dune that gives the forest the strange appearance of being below sea level! There are lovely, well maintained boardwalks for exploring the area.
6. Camp under the stars for a night
The Fire Island High Dune Wilderness features 7 miles of wild raw beauty of an undeveloped and uninhabited wilderness. Hike along the trace of the old Burma road for a splendid walk in this gorgeous zone. For the very adventurous, backcountry camping permits are available for spending the night in a tent under the stars nestled in between the dunes. Reserve a backcountry permit online and wake up to the most breathtaking, coastal wilderness dawn! Have a camp breakfast before returning to the luxury of your beach house rental for a hot shower and coffee!
7. Smith Point County Park
Spend a perfect beach day at Smith point at this exquisite beachfront park on the east end of Fire Island with it's 6 miles of champagne colored sandy beaches and the roar of the Atlantic surf. This is a stunning oceanside haven for surfers and beach lovers. There is a lovely seafood eatery called Smith Point Beach Hut nearby that serves delicious seafood and people come from far and wide in the summer season to enjoy the wonderful swimming, surfing and fishing opportunities that can be found here. This is the place to make summer memories, splashing in the ocean and relishing the fresh air and warm sunshine!
FAQs: Beach Rentals in Old Orchard Beach
Which types of facilities can you find at the beach houses in Old Orchard Beach?
In regards to the services available on Holidu, it seems that the beach houses in Old Orchard Beach have everything that vacationers desire! Here, the beach houses generally have a variety of amenities, the most popular being: internet (100%), fireplace (71%), and barbecue (71%)...What are you waiting for?
What are the reviews like for the beach houses in Old Orchard Beach?
On average, the beach houses here are quite well rated. Judging by the Holidu data, 43% of beach houses have a rating of 4.5 stars. This is a relatively high ratio which allows us to confirm that you will without a doubt find the ideal beach house for a wonderful vacation!
Are the beach houses in Old Orchard Beach suitable for family vacations?
Judging by the Holidu data, 57% of beach houses in Old Orchard Beach are suitable for vacations with children, it will therefore not be difficult to find the perfect beach house for you and your family.
Are the beach houses in Old Orchard Beach pet-friendly?
Yes! In Old Orchard Beach, 14% of the beach houses are pet-friendly, 29% even have a garden!
Do the beach houses in Old Orchard Beach tend to offer Wi-Fi?
Yes! Based on the last year, 100% of beach houses in Old Orchard Beach offer internet connection. You will be able to access your emails and favorite social media sites throughout your stay!
What are the prices like for beach houses in Old Orchard Beach?
Many beach houses in Old Orchard Beach are generally fairly expensive. According to Holidu, 43% are at more than $500 per night.
Do the beach houses in Old Orchard Beach typically have a fireplace or a pool?
Of course! According to Holidu, 71% of the beach houses in Old Orchard Beach are equipped with a fireplace. It's the perfect destination for a winter getaway!
Are the beach houses in Old Orchard Beach suitable for stays with a big group or rather for a vacation as a couple?
In Old Orchard Beach, according to Holidu, 71% of beach houses are suitable for up to eight travelers, 57% of these beach houses have at least four bedrooms. But 100% of beach houses are also suitable for up to four people, and 86% of the beach houses include at least two separate bedrooms. This is therefore the perfect destination for groups of friends of all sizes!
At the beach houses in Old Orchard Beach are you able to have a beautiful view and spend time outside?
71% of beach houses have a balcony or terrace, and 43% have a view, but since it is not very common so availability can be selective. If this is important to you, you should start your research early, and use the filters that suit you the best to be sure to find what you are looking for. However, 29% of beach houses in Old Orchard Beach have gardens, where you can enjoy the outdoors. If you like to have lunch or dinner outside, and especially if you like barbecues, 71% of the beach houses have them.
Most popular amenities for Beach Rentals in Old Orchard Beach
Holidu compares hundreds of websites to find your perfect holiday rental for the best price.
Beach Rentals Old Orchard Beach